Jose Suarez continues to cement his place in Angels' starting rotation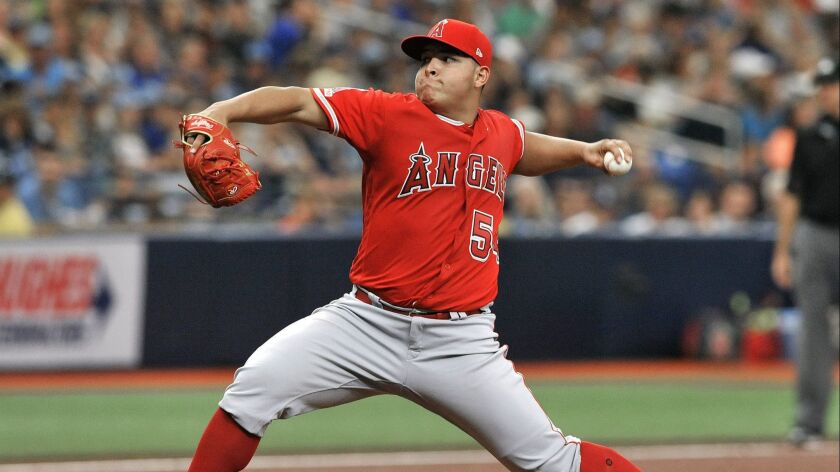 Reporting from ST. PETERSBURG, Fla. —
The Angels had not planned for left-hander Jose Suarez to become part of their rotation so quickly. They figured at most they'd use him for spot starts during the first half.
Suarez is now three starts in. Veterans Trevor Cahill (sore elbow) and Matt Harvey (upper back strain) remain on the injured list, and only Cahill is on this three-city trip. Following Saturday's 5-3 victory over the Tampa Bay Rays at Tropicana Field, there seems to be no end in sight for Suarez's major league apprenticeship.
One pitch — a changeup on the outer edge of the plate spoiled by the Rays' Yandy Diaz, who shot it the other way for a three-run home run — changed the complexion of Suarez's line. Still, the 21-year-old, who gave up five hits and three runs and a walk in 5-2/3 innings, proved again that he major league assignments aren't outside of his wheelhouse.
"This was his best [outing] by far," manager Brad Ausmus said. "I thought he gave us a chance to win in the first couple. Obviously his very first start in Seattle, we did win. But I thought in terms of pitch usage and efficiency and stuff, I thought this was his best."
Suarez, the team's second-best pitching prospect behind Griffin Canning, has allowed a home run in each start and given up eight earned runs in 16 innings. He has a 4.50 ERA. But the numbers don't paint an accurate picture of Suarez's brief time with the Angels.
"I'm impressed with his confidence," catcher Kevan Smith said. "I'm impressed with all the young guys, [infielder Luis] Rengifo, Canning, Suarez. They act like they've been up here for a few years. It's awesome. It's comforting. … They go out and trust their stuff and compete. That's all you can ask."
The Rays entered Saturday's game in sole possession of first place in the American League East, baseball's toughest division. They trotted out a lineup that featured five batters with on-base-plus-slugging percentages better than .850.
Like fellow rookie Canning did when he faced the Dodgers in an eventual win earlier in the week, Suarez did not cower when tasked with his toughest challenge. He cruised, instead, and held the Rays to two hits through five innings.
"I heard a lot about that team and that it was really good," Suarez said in Spanish. "But this game is about staying focused and doing my job."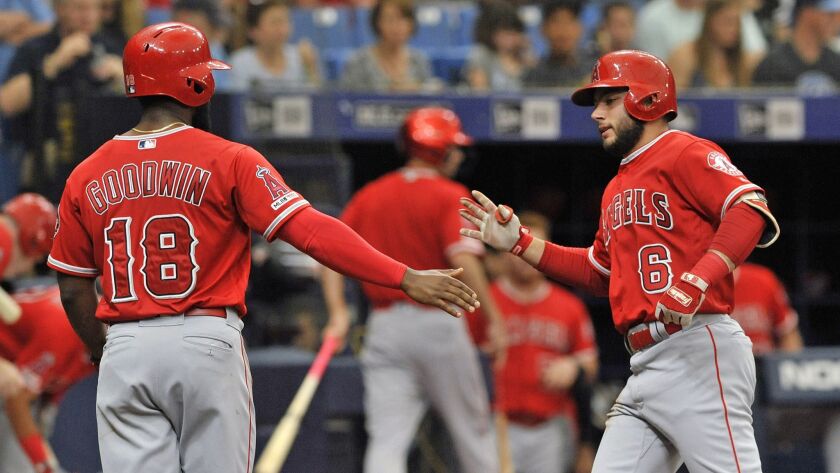 He executed that plan almost to perfection. On his way to his second career victory, Suarez made it through five innings on 64 pitches and didn't allow anyone to advance beyond second base until Avisail Garcia, who singled and took the bag on Tommy Pham's bloop hit to right field in the sixth.
Suarez's success was predicated on his arsenal. He incorporated more breaking balls, throwing nearly twice as many in this start than he did in the Angels' loss to the Mariners last week. It allowed Suarez to keep hitters off the scent of his changeup, a pitch that generated weak contact outside of Diaz's home run.
Sign up for our daily sports newsletter »
"He did everything we needed him to do today," said Smith, who scored on David Fletcher's two-run, fence-scraping homer in the second and added insurance with his own home run in the eighth. "We needed him to go deep in the game, attack those hitters in the zone. He did it with all his pitches, kept them off balance, and we were able to get to our horses in the bullpen and close the game out."
The Rays' three-hit rally was a blip on the radar. Angels relievers faced one batter above the minimum hours after cutting ties with veteran reliever Cody Allen, who gave up four runs in the midst of a bullpen meltdown Friday night. Cam Bedrosian allowed a hit in 1 1/3 innings of pristine work before Ausmus called on Ty Buttrey to pitch a quick eighth and Hansel Robles to collect his 10th save of the season in an uneventful ninth.
"It's good to get that back," Ausmus said. "We had a rough one yesterday out of the 'pen, but to come back less than 24 hours later and get the job done, it certainly makes it a lot easier to enjoy dinner."
---
Get the latest on L.A.'s teams in the daily Sports Report newsletter.
You may occasionally receive promotional content from the Los Angeles Times.