Angels' Cody Allen designated for assignment amid ongoing struggles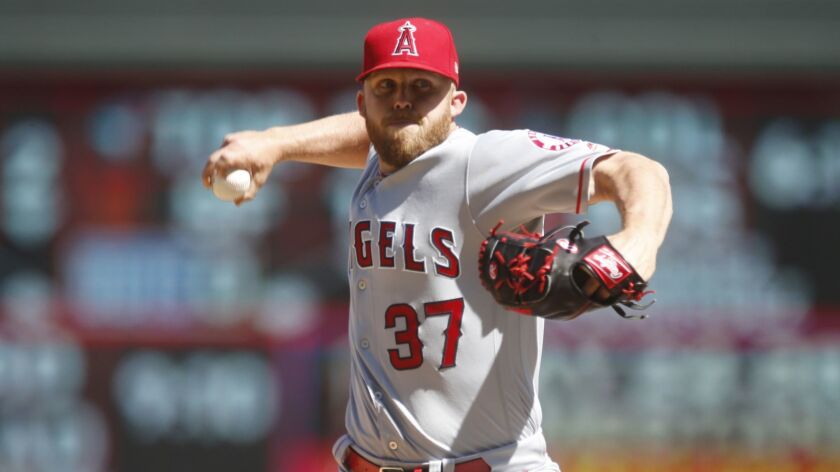 Reporting from St. Petersburg, Fla. —
Some 12 hours after giving up four runs in 2/3 of an inning and putting a one-run game out of reach, veteran Angels reliever Cody Allen was designated for assignment Saturday morning.
The Angels have struggled for more than a month to reach .500. They couldn't afford to stay the course with Allen, who signed a one-year, $8.5-million contract in the offseason and provided little on-field value.
"I'll say this: Billy [Eppler] wants to win," Angels manager Brad Ausmus said of his team's general manager. "If he feels a move is going to help us win, then he's going to make the move."
Friday's defeat capped Allen's turbulent stint with the Angels. He had a 6.26 ERA in 25 games and allowed 3.5 home runs per nine innings, both the worst marks in his eight-year career. He started the season as the Angels closer but lost the role by April 24.
"The numbers I've been carrying are the numbers I've been carrying around for a little bit," said Allen, who became the Cleveland Indians' all-time leader in saves (149) before joining the Angels this season. "I mean, the organization has a responsibility to put the best product on the field, and I just haven't been that."
Allen, 30, hasn't been a reliable reliever for a sustained amount of time. He ended his 2018 season with a 4.70 earned-run average. His average fastball velocity had dipped, as had his strikeout rate.
The Angels, having declined to offer a contract to Blake Parker, who saved 14 games for them in 2018, gave Allen a chance anyway. They even got more money to make the move; Eppler said he had to ask owner Arte Moreno to stretch the budget after Eppler spent $23.35 million on free-agent acquisitions Matt Harvey, Trevor Cahill and Jonathan Lucroy. Eppler and the Angels baseball operations team were confident that Allen could thrive in a new organization, one that wanted to maximize his pitches and his mechanics with the help of advanced technology.
"He was a professional and he worked his tail off," Ausmus said. "He cared. He wanted to get back to where he was."
Allen flailed. He struggled to throw his fastball in its customary mid-90s range. He had trouble keeping baseballs on the ground, allowing fly balls 65.2% of the time. He waffled between being comfortable with the adjustments he and the coaching staff made and falling back into old habits.
Sign up for our daily sports newsletter »
"I feel like through a lot of this stuff, I kind of almost, I don't know, I lost my identity a little bit as a pitcher, trying to make so many different adjustments and all this stuff," Allen said, "instead of, just kind of being yourself, and being able to bottle that up, and go forward and do it consistently, day in day out."
Allen had five scoreless appearances to open the season before walking nine and striking out seven in his next four innings. In a span of six games, his ERA jumped to 6.00 and he was demoted from the closer role he'd been signed to fill. Then, he hit the injured list because of a lumbar spine strain in late April.
He made 14 outings upon return, most of them when the Angels had a handy lead or trailed by more than three runs. But in recent weeks, Allen has drawn higher-stress assignments. He entered with the Angels losing by one run to the Seattle Mariners on Sunday and again Friday at Tropicana Field. Each time, he gave up extra-base hits that put comebacks out of reach.
After Friday's drubbing, Allen said, "Either I'm going to get better, or they're going to find someone else who does."
The Angels recalled right-hander Taylor Cole to replace Allen, who was one of the sport's most dominant closers from 2014-17. He had a 2.62 ERA and saved 120 games for the Indians in that span.
"There's been a ton of effort, a ton of work put in from numerous people," Allen said. "Not just myself — from Doug White, from Andrew Bailey, from baseball ops guys, from everybody involved. And you try so hard, you invest so much into something and when it doesn't come to fruition it's frustrating.
"They've put forth a valiant, valiant effort, and there's been a lot of people that have cared deeply about my success," he added later. "And that's greatly appreciated."
---
Get the latest on L.A.'s teams in the daily Sports Report newsletter.
You may occasionally receive promotional content from the Los Angeles Times.