Justin Upton rejoins Angels after long injury layoff and sparks win over Blue Jays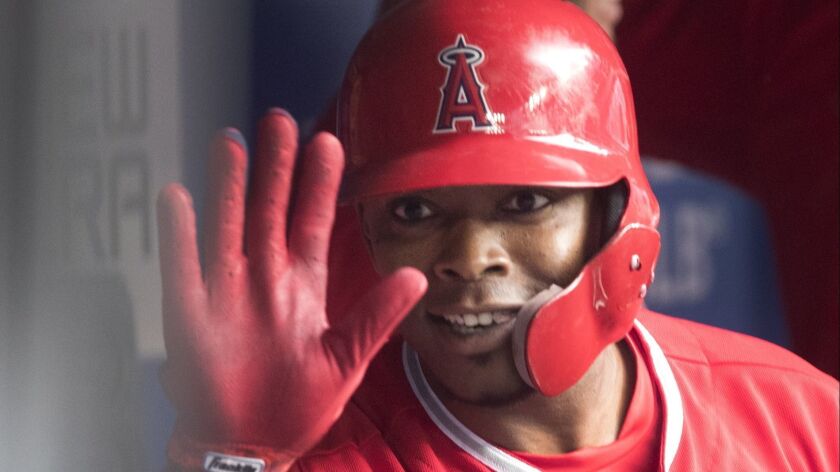 Reporting from TORONTO —
For months, the Angels shuffled along, searching for a couple of successful lineups to carry them through the first 70 games of the season without outfielder Justin Upton in the mix.
They found some treasures. Brian Goodwin, claimed off waivers not even 24 hours before opening day, has hit around .300 since being cast off by the scuffling Kansas City Royals at the end of spring training. Tommy La Stella morphed into an everyday infielder who can make consistent contact and hit for power after spending four years as a pinch-hit specialist for the Chicago Cubs.
Along the way, Shohei Ohtani returned and rejuvenated a lineup that was batting .232 to start the season.
Still, the Angels scuffled. They failed in each attempt to get to .500 since reaching 8-8 on April 15. They saw two of their starting pitching acquisitions, Matt Harvey and Trevor Cahill, succumb to injuries after posting ghastly earned-run averages.
On Monday night, they finally got Upton back from a toe sprain that sidelined him for the first 72 games of the season. And in a 10-5 victory over the Toronto Blue Jays that improved the Angels' record to 36-37, Upton made his presence known seconds after stepping into the batter's box at Rogers Centre.
He had no qualms about his timing at the plate. He just stuck out the barrel of his bat on the first pitch thrown by Blue Jays pitcher Edwin Jackson (1-5) in the second inning. And he crushed it, sending it 424 feet to left-center field for a home run.
"It was nice, I can't lie about that," Upton said. "I didn't expect a homer in my first at-bat. But I was pretty confident I prepared myself. I just happened to get a good result."
The homer started a seven-run inning for the Angels. Kole Calhoun followed Upton with a home run of his own, jogging himself out of a slump that saw him go one for 16 in a four-game series against the Tampa Bay Rays. Later in the same inning, Mike Trout scorched a bases-loaded line drive over the head of left fielder Cavan Biggio for a two-run double. Ohtani, the Angels' No. 3 hitter in the lineup, hit Jackson's very next pitch, a slider that hung out over the plate, a long way to left field for a three-run blast, his ninth homer of the season.
So it went for the Angels as they built a 10-1 lead against a faulty Toronto pitching staff that has surrendered 84 more runs than the team has scored this season. Trout later homered and singled twice, coming a triple shy of the cycle. Everyone in the Angels' lineup reached base at least once.
Of course, the team has had other games in which the offense has clicked so thoroughly this season. But to do it with Upton carried some weight.
"In theory, it should," Angels manager Brad Ausmus said. "I think what's difficult for pitchers and catchers is you're always looking for breaks in the lineup. Where is there an easier out? But if you keep running guys up to hit that are hitters that pitchers can't lose their concentration on, even for one pitch, it can wear them down."
It wasn't long ago that Upton, 31, stood in a corner of the visiting clubhouse at Oakland Coliseum and expressed frustration with his how slowly his recovery was going. He had never been on the injured list for so long in his 13-year career. He had been out of a walking boot for almost a month at that point, but he still hadn't been able to test his injured left big toe by running in cleats.
"It's been taxing mentally more than anything," he said May 28.
Then his rehabilitation escalated quickly. He did drills in the outfield, ran bases in practice and tinkered with Angels hitting coaches, trying to gain an edge at the plate so he wouldn't find himself lagging behind his teammates when he was eventually activated. On rest days during his rehab assignment last week, Upton set up a machine to throw him high-velocity pitches in the cage. He wanted to get himself up to speed, he said.
Sign up for our daily sports newsletter »
The work came to fruition during an open-roof evening in Canada. Seven balls flew over the stadium's outfield walls for home runs. One of them left Upton's bat at 109 mph and hit off the facade of the second deck in left-center field. About 15 minutes later, Upton returned to the plate in the same inning and got another hit, a single, off Jackson.
The Angels' wait had finally ended.
"You see the impact," Trout said. "It didn't take him long. One pitch, homer. He had two hits in one inning. That's tough to do. Just to have that bat back, to miss him for 72 games, it's huge to get him back."
---
Get the latest on L.A.'s teams in the daily Sports Report newsletter.
You may occasionally receive promotional content from the Los Angeles Times.