Kole Calhoun experimenting with a new approach, looking for old results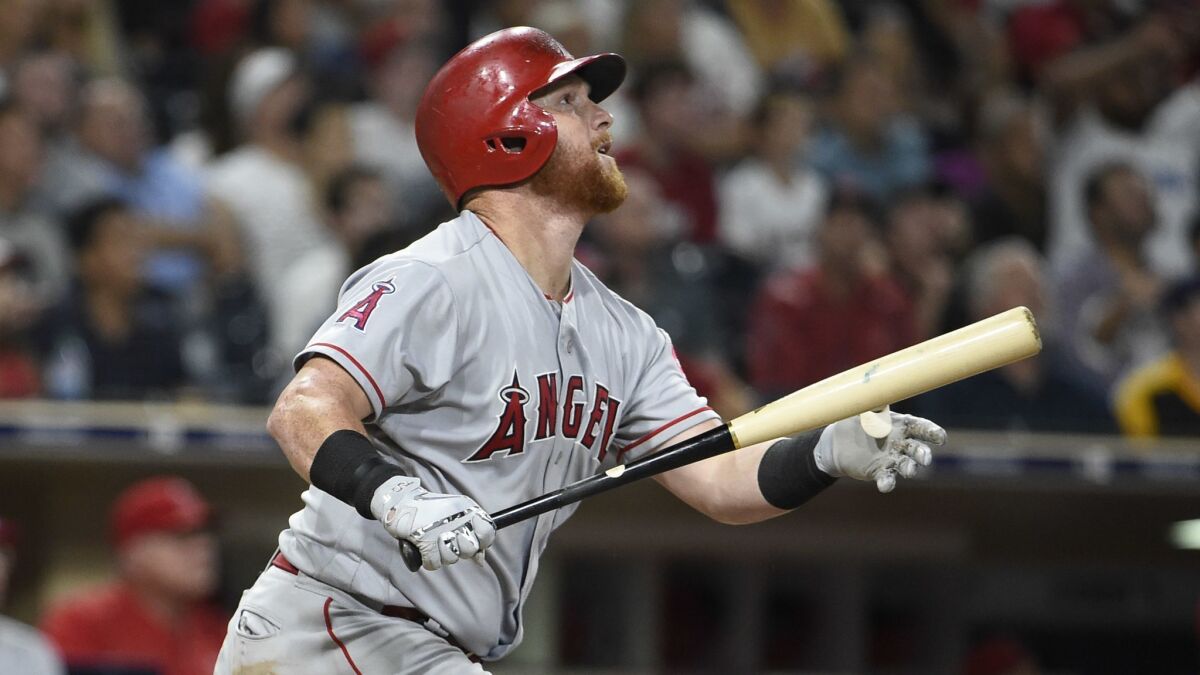 Reporting from Scottsdale —
After the worst offensive season of his career, Angels outfielder Kole Calhoun is not trying to reinvent himself at the plate. He is instead trying to find balance as he heads into the final guaranteed season of his three-year contract, which has a club option for 2020.
In an effort to strike that equilibrium, he attempted a batting drill at the plate in Wednesday's 9-7 win over the Colorado Rockies that he hopes will help him eliminate bad habits.
Calhoun set himself up in a more open stance. He aligned his front foot parallel to the outside edge of the left-handed hitter's box. He does not intend to use this positioning, which new hitting coach Jeremy Reed encouraged him to try, during the season, but it could help remind his body of the types of movements it needs to find a better bat path.
Although Calhoun was hitless in three at-bats, he said he noticed a difference.
"The box score isn't going to show it," he said. "But the moves I want to make with my body were there. So that's exciting."
Reed and Angels assistant hitting coordinator Shawn Wooten last season helped Calhoun find a solution to problems with his posture, part of which were caused by an oblique strain that sidelined the veteran outfielder in early June. The change in stance allowed Calhoun to get more power out of his swing after starting the 2018 season with a .374 on-base-plus-slugging-percentage through May. Calhoun posted a 1.018 OPS in 35 games from June 18 to July 31. He ended the season with a .652 OPS.
Manager Brad Ausmus believes Calhoun, 31, can rebound from a campaign in which he batted .208 with a .283 on-base percentage and .369 slugging percentage.
"I don't think the first two months of Kole Calhoun was Kole Calhoun, so I don't even factor that into the equation, really," Ausmus said last week. "I think when he came off the DL, that's more the guy we're going to get."
Ohtani inches closer in rehab
For a second straight day, Shohei Ohtani increased the number of swings he took off a tee and stood motionless in front of a pitcher throwing a bullpen session on the backfields at Tempe Diablo Stadium. He said after his workout Wednesday, which included 40 swings off the tee, that he did not feel discomfort in his surgically repaired right elbow after an increase in workload over the last two weeks.
Wednesday's was an incremental step in Ohtani's rehab. But in the grander scheme of his recovery from offseason elbow ligament replacement surgery, the progress was still important.
The further removed he is from his October procedure, the closer Ohtani gets to his two biggest targets: taking swings against pitchers and appearing in major league games. At this rate, the latter might come sooner than the nonspecific May date Ausmus offered when pitchers and catchers convened for spring training two weeks ago.
The Angels' timeline for Ohtani's return has always been conservative. The Angels fear pushing their two-way star too quickly because they do not know how a setback on the hitting side could affect his eventual return as a pitcher.
But Ohtani has hit every benchmark in his rehab on time, if not ahead of schedule. Just over a month after surgery, he had already regained full range of motion in his elbow. He started taking swings without a baseball within two weeks of being cleared to resume strength training on his right arm.
Before Ohtani can face live pitching, he must hit pitches flipped to him by a coach.
"I just need to focus on what's in front of me right now and keep on going with that," Ohtani said.
Sign up for our daily sports newsletter »
Get the latest on L.A.'s teams in the daily Sports Report newsletter.
You may occasionally receive promotional content from the Los Angeles Times.