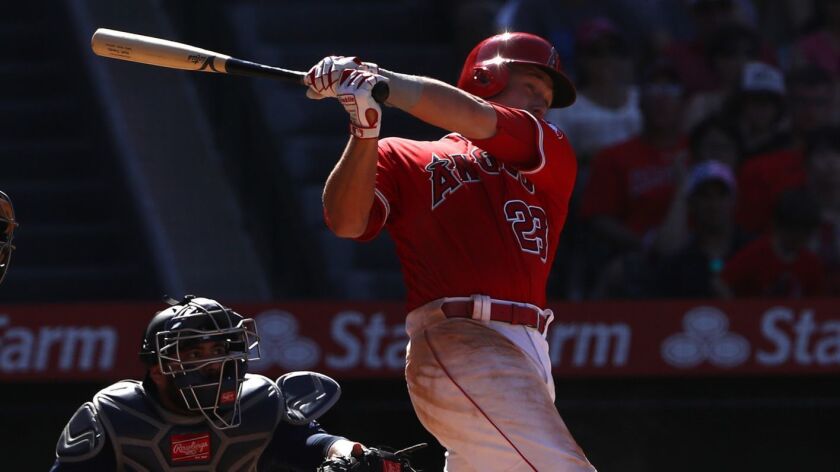 In the minutes after launching a game-winning three-run home run, Angels rookie Matt Thaiss sported an inscrutable expression. He was excited, and admitted as much, that the first homer of his major league career had lifted the Angels to a 6-3 victory and a three-game series sweep of the Seattle Mariners on Sunday.
He smiled and accepted the congratulations. When Albert Pujols playfully punched him a second time in the dugout following Thaiss' two-out shot to right field in the eighth inning, Thaiss indulged the display of affection.
But the significance of the moment hardly inspired an outpouring of emotion. Thaiss summed up his experience succinctly: "It's been a special week."
Indeed. Two days earlier, on a night the Angels honored late teammate Tyler Skaggs, Thaiss, playing third base, was celebrated in the dugout for his defense. He dived on a ball hit toward shortstop, snared it as his face bounced off the dirt and got rid of the ball in time to record a sixth-inning out that preserved the Angels' combined no-hitter.
Thaiss was called up in the aftermath of a tragedy. On his first day in a major league clubhouse, he acknowledged he had to put the circumstances of his promotion out of his head and "go out and do what you do."
Despite an 0-for-13 streak that followed a double in his first at-bat, Thaiss has done that in multiple ways.
Thaiss, 24, was drafted as a catcher and moved to first base after he signed. He didn't begin playing third base until this season, a directive implemented by the front office intended to improve his versatility and expedite his major league arrival. In two games at Angel Stadium, he has not performed like a novice.
"He's a guy that we've thought highly of for a few years," manager Brad Ausmus said. "His transition from catcher to first — now first to third, and playing both — he's handled it all extremely well. We think there's some power in that bat that as he matures will start to come more frequently."
Without Mike Trout to spark the lineup, the Angels were held to one hit — Kole Calhoun's leadoff homer in the second — through four innings. It wasn't until catcher Dustin Garneau drew a walk to start the fifth and Thaiss roped his skid-breaking single to right that momentum began to roll again.
"He deserves to be up here," said Trout, who left the game after the second inning because of right calf tightness and will undergo an MRI on Monday to determine the severity of the injury. "You saw it today with a big hit, a game-winning hit. … I'm just happy for him. He works hard every day. He came up big for us today."
Thaiss' heroics headlined a nearly 3 1/2-hour game started by rookie Jose Suarez. The left-hander turned in a mixed performance. He struck out seven, matching his season high, but gave up two solo homers and hit a batter and lasted only 4 1/3 innings.
The Angels' bullpen held the Mariners scoreless the rest of the way. Noe Ramirez, Cam Bedrosian, Ty Buttrey and Hansel Robles each notched two strikeouts.
The Mariners tried to maximize the few baserunning chances afforded them. Each attempt failed. Kyle Seager was thrown out trying to steal second to end the third inning. In the next inning, Dylan Moore boldly took off for the plate from third on Suarez's pickoff move to first base only to be thrown out by Albert Pujols.
The plays kept the Mariners (39-58) from damaging a strong pitching performance and allowed the Angels (48-46) to stay above .500. They remained five games out of second place in the wild-card race a day before welcoming the division-leading Houston Astros (59-35) for four games.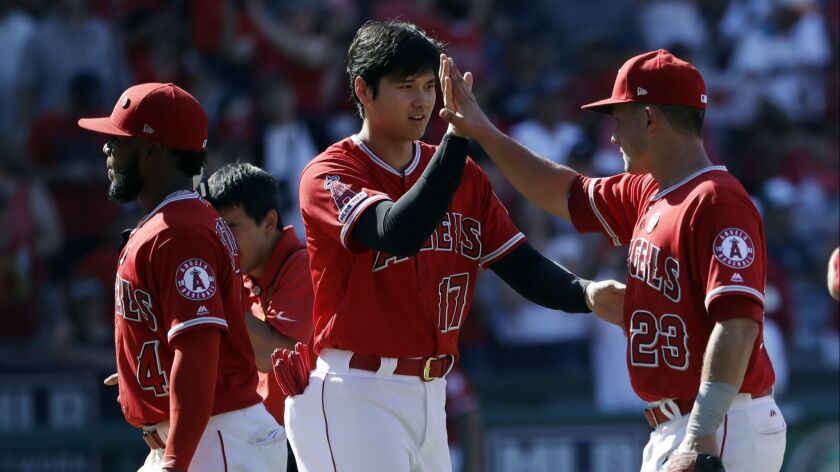 Calhoun hit his 21st homer for the Angels and Shohei Ohtani got his 100th major league RBI with a game-tying sacrifice fly.
Buttrey (5-4) pitched the eighth, and Robles finished for his 13th save.
Seattle starter Yusei Kikuchi yielded just two hits, but the Japanese left-hander also walked four and couldn't get an out in the fifth inning. Ohtani walked and struck out in his latest meeting with his fellow product of Hanamaki Higashi High School in Japan.
Andrelton Simmons drew a bases-loaded walk in the fifth in his second plate appearance after replacing Trout in the lineup. Ohtani followed with a long fly that gave him 100 RBIs in 160 games with the Angels.
Sign up for our daily sports newsletter »
Trout's incredible recent success at the plate was interrupted when he played just two innings. The All-Star lined out to first in his only plate appearance, and he didn't emerge from the dugout to start the third. He said after the game that he did not believe the injury was serious.
---