How Mike Scioscia led the Angels to the promised land
The greatest season in Angels history, the one that ended with manager Mike Scioscia lifting the 2002 World Series trophy over his head with general manager Bill Stoneman and former owner Jackie Autry at his side, was on the verge of collapse late in April that year.
A 15-6 thrashing at the hands of the Seattle Mariners on April 22 and a 1-0 loss in Safeco Field the following night dropped the Angels to 6-14, their worst 20-game start in franchise history.
Pitchers had a 5.22 earned-run average and allowed a major league-high 30 homers through 20 games. Hitters produced a .607 on-base-plus-slugging percentage and a major league-low eight homers.
A team with division title hopes was already 10½ games back, and Stoneman was fielding calls from reporters asking if the manager's job was in jeopardy.
"We had a team meeting in Seattle, and that was the first time he had to air us out," former Angels right fielder Tim Salmon said of Scioscia, who is expected to step down after this season, his 19th with the Angels.
"But it was more of a plea. 'Look, we have a good thing here, but if we don't get this thing going, we're going to get back home, and they're going to blow this thing up.' That was the first time we had seen another side of him, the frustration."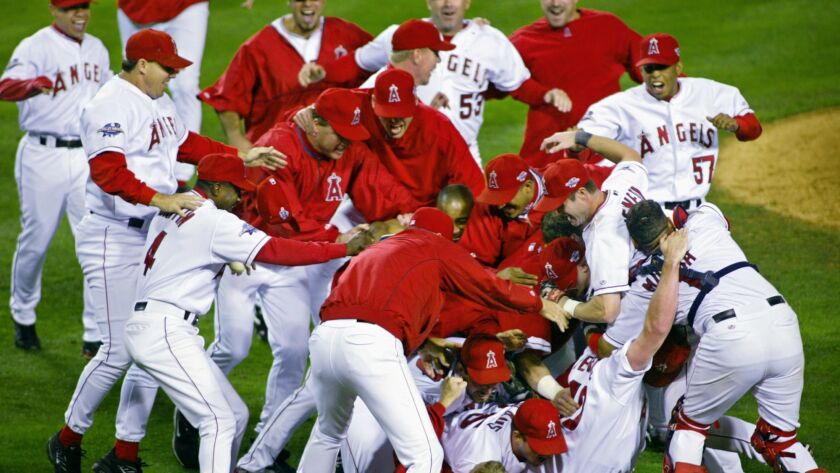 Scioscia, in his third season at the Angels' helm, raised eyebrows the next day by inserting light-hitting reserve outfielder Orlando Palmeiro in the No. 3 spot. Palmeiro had three hits and two runs in a 10-6 victory over the Mariners, sparking an eight-game win streak that trimmed the division deficit to 5½ games.
The Angels won 12 of 13 games from May 8 to 22, cranking out 24 hits in a 19-0 win over the Chicago White Sox on May 10, to move to within 1½ games of first place.
While the eventual AL West-champion Oakland Athletics won 20 straight from Aug. 13 to Sept. 4, the Angels, like a second-place race car drafting behind the leader, won 18 of 20 games from Aug. 29 to Sept. 17, en route to a 99-win season that netted a wild-card berth.
"I think the 2002 team was exactly the type of team he wanted to manage, personnel-wise," pitcher Jarrod Washburn, the ace of the 2002 staff, said of Scioscia. "It was a bunch of no-nonsense, gritty, unselfish players who were willing to do the little things.
"We ran the bases hard and took the extra base. We went first to third [on singles]. We'd steal a base when it was there without being silly aggressive. And Scioscia was never afraid to bunt and move guys over when you had to."
The 2002 Angels were polar opposites of the 2018 Dodgers. They didn't need to hit home runs. They manufactured runs with on-base ability, aggressive baserunning and clutch hits.
They had scrappy table-setters at the top of the order in David Eckstein and Darin Erstad, some heft in the middle with Salmon, Garret Anderson, Troy Glaus and Brad Fullmer, and good production at the bottom with Scott Spiezio, Bengie Molina and Adam Kennedy.
The Angels ranked 10th in the American League with 152 homers but first in batting average (.282), third in doubles (333), third in stolen bases (117), fourth in OBP (.341) and tied for first in average with runners in scoring position (.290).
They led the league in sacrifice hits (49), hit by pitches (74) and had the fewest strikeouts (805). They had 43 come-from-behind wins, 12 when trailing after six innings.
The offense was supported by a solid rotation and a rebuilt bullpen that went from shaky in April to lights out in September.
The promotion of rookie right-hander John Lackey from triple-A in late June pushed left-hander Scott Schoeneweis to a relief role, bolstering the rotation and the bullpen.
Scot Shields was called up in mid-June. Brendan Donnelly was recalled for good in mid-July. A little-known 20-year-old right-hander named Francisco Rodriguez was called up in mid-September.
A bullpen that leaned heavily on the likes Lou Pote, Donne Wall, Al Levine, Dennis Cook and Mark Lukasiewicz in April turned ferocious by September, with Donnelly and Rodriguez, with his wicked fastball-slider mix, setting up closer Troy Percival. Ben Weber, Shields and Schoeneweis provided middle and long relief.
As the wins piled up for the Angels, their confidence grew. The self-doubt of April was replaced by a September swagger. The Angels steamed toward October with the steady hand of Scioscia keeping them on track.
"It's easy as a player to say, 'Oh, yeah, I'll do anything you want to win,' they all say that," said Boston Red Sox bench coach Ron Roenicke, the Angels' third base coach in 2002. "But to have players who truly feel that way? To get a whole team doing that? That's pretty special.
"That was definitely the goal in 2002, and you could see by the way they played. I don't think there's any way we would have won if players didn't buy into that quickly. I think what Mike brought in allowed those good players to play better and some of the other fringe players to play really well."
Scioscia preached one game at a time. He was even-keeled, almost stoic, in the dugout and clubhouse. Nothing seemed to rattle him.
"He was the same guy at 6-14 as he was when we won 18 of 20," Washburn said. "It didn't matter if you won the night before by a lopsided score or suffered a huge loss. You showed up the next day and knew exactly what you were getting."
That approach paid immediate dividends in the playoffs. The Angels were heavy underdogs in the division series, with the projected lineup of the New York Yankees holding a 296-0 edge in games of playoff experience.
With two outs in the bottom of the eighth inning of Game 1 and the Angels clinging to a one-run lead in Yankee Stadium, Scioscia summoned Schoeneweis — and not Percival, who was ready — to face Jason Giambi with two on.
Giambi hit a single to tie the score. Bernie Williams followed with a three-run homer off Donnelly to lift the Yankees to an 8-5 victory.
The following day, before any questions could be asked in a news conference, Scioscia grinned and said, "Who would have brought Percival in? Give me a show of hands! Everybody's hand has got to go up."
Scioscia's humor seemed to defuse the controversy and disarm reporters. The Angels scored four runs in the final two innings of both an 8-6 win in Game 2 and a 9-6 win in Game 3. They clinched the series with a 9-5 Game 4 win, blowing the game open with an eight-run fifth inning.
"We had never been to the playoffs, but I think we were able to relax and play the way we had all year because Mike didn't change," Washburn said. "He had been down that road before [with the Dodgers]. He knew what to expect, and we were kind of feeding off him.
"The next day after that Game 1 loss, we showed up and everything was the same in the clubhouse as it was for the past four months. So we were like, 'Oh, I guess we're just going to play another game today.' We rebounded nicely."
The Angels throttled Minnesota in a five-game AL Championship Series. Kennedy hit three homers in the Game 5 clincher, the Angels sending 15 batters to the plate during a 10-run, 10-hit seventh inning.
The Angels won a seven-game World Series over the San Francisco Giants, with Spiezio's dramatic three-run homer in the seventh inning highlighting a 6-5 come-from-behind victory in Game 6 and Anderson's three-run double in the third inning keying a 4-1 victory in Game 7.
Scioscia chose the 24-year-old Lackey to start Game 7 over Ramon Ortiz. Lackey gave up one run on four hits in five innings. Donnelly, Rodriguez and Percival combined for four scoreless innings of relief.
The Angels were champions. After hoisting the World Series trophy over his head, Scioscia handed the hardware to Salmon, who took it on a victory lap around Angel Stadium.
Neither Scioscia, nor the Angels under him, would experience such joy again, but the fact that they were able to do so in 2002 was a credit to the manager.
"We were a very blue-collar, nose-to-the-grindstone team, and he pushed all the right buttons with the hit-and-runs, the pinch-hitting, the bullpen moves and the defensive replacements," Salmon said. "It was like he threw all the ingredients in a pot and they were brewing and brewing, and it all came together."
Twitter: @MikeDiGiovanna
---
Get the latest on L.A.'s teams in the daily Sports Report newsletter.
You may occasionally receive promotional content from the Los Angeles Times.