How and why Mike Trout and the Angels agreed to a historic contract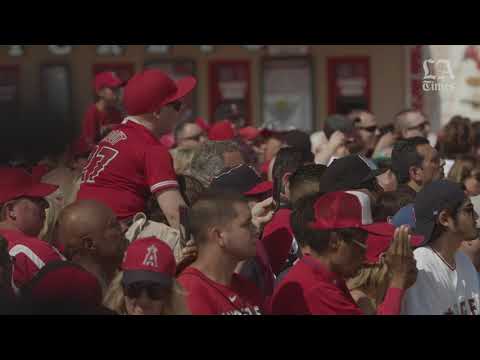 Center fielder Mike Trout signs a record-breaking contract to stay with the Los Angeles Angels for 12 more years.
For years, Mike Trout has heard that the Angels are wasting his talent.
He is a two-time recipient of the American League most-valuable-player award, yet he has never won a playoff game. He has seven times been named an All-Star, yet his team hasn't posted a winning record since 2015.
He has accrued more than 64 wins above replacement, more than any other player through his age-26 season, according to Baseball Reference, yet Trout has been to the postseason only once in his career.
So why would Trout, a native of New Jersey who could have had his pick of teams if he'd hit free agency after the 2020 season, want to stay with the Angels?
"I see what they are doing," he said Sunday, sitting inside an interview room at Angel Stadium several days after his new 12-year contract became official.
Trout, 27, believes in the Angels and the vision of their owner, Arte Moreno. He believes in the moves general manager Billy Eppler has made to improve the organization, such as bringing in a fresh coaching staff and bolstering the farm system.
In short, he said he believes in the Angels' future because they've done everything they can to make him part of it.
"The relationship I have with Billy, compared with past GMs, the relationship is great," Trout said. "He relates to the players more than anybody. That's the biggest thing I like. When he asks something or something comes up, he asks me and I relay it to the guys, and the guys give me feedback and we go from there. The communication in the whole organization is top-notch."
In Trout's mind, there was little doubt Anaheim was where he wanted to be. Still, questions had followed Trout around all winter.
Baseball fans in Philadelphia asked the Angels' star center fielder if he wanted to play on the East Coast. They wondered whether he felt a pull to relocate his career to near his hometown of Millville, N.J. He shrugged them off with a simple, "I can't predict the future."
The questions followed him to spring training in Arizona, where reporters picked his brain about his desire to remain in an Angels uniform the day he reported to camp in mid-February. The inquisition picked back up two weeks later when Bryce Harper, one of the top free agents of the offseason, signed a 13-year, $330-million contract to play for the Phillies and said he was going to recruit Trout to join him there for the 2021 season. Trout again declined to comment.
Trout had known for more than a month that he was committing the next 12 years of his career to the Angels. The rumors ended last week when he signed a $426.5-million contract that does not include opt-out provisions and should keep him in an Angels uniform through 2030.
Trout was reintroduced to fans in a pregame rally Sunday before the start of the exhibition Freeway Series with the Dodgers. With his wife Jessica beside him on a dais, and his family members and teammates looking up at him from the crowd, Trout declared that Anaheim was his home.
"I said, 'I want to deal with it now if not I'm going to explore free agency,'" Trout said to a small group of reporters. "I didn't want to go through the next few seasons thinking, 'Am I going to get a deal or not?' I want to know."
::
Eppler sat in John Wayne Airport in Santa Ana last Monday, clicking on and off phone calls for 40 minutes.
On one, he talked with Moreno and team President John Carpino, going over once again what the Angels could offer in terms of a long-term deal to Trout. On another, he and Carpino discussed those particulars with Trout's agent, Craig Landis.
They laid out their proposal, which was free of opt-out provisions. They felt confident, assured by Trout's unflagging loyalty to the Angels, that this was the one that was going to end the monthlong conversation about Trout's future in an Angels uniform.
Eppler, who had been in Southern California at an event for season-ticket holders last Sunday, told Landis that he needed to board a flight to Phoenix so he could rejoin the Angels for the final week of spring training. He told Landis he would be reachable via messages, not phone calls, if Trout came to his decision while Eppler was still in the air.
Eppler hung up the phone, boarded his flight and hooked up to the plane's wireless internet. Some time later, messages from Landis popped onto his iPad. One said, "Just tried to call you and it went to voicemail." The other, "Well, we have an answer."
Eppler's plane was still about 30 minutes away from Phoenix. Eppler was antsy. Signing Trout had been one of his top priorities since he took over as Angels general manager in October of 2015.
"It's been on my mind at least since like a month since I got on the job here," Eppler said.
Eppler implored Landis to take pity. Landis delivered.
"He goes, 'I guess I won't make you wait until you land,'" Eppler recalled. "He said, 'Mike Trout's going to be an Angel for the rest of his life.'"
::
In the months leading up to his contract agreement, Trout considered his options.
He could wait out the end of his previous six-year contract and hit free agency, as he'd seen so many of his friends around the game do. Or he could forgo the open market, save himself the heartache of waiting around for the best offer, and take the safe bet.
He saw the way other players were treated in free agency, frozen out by teams hesitant to pull triggers on long-term investments. He spoke with Harper and Manny Machado, two of the top free agents entering the 2019 season, and became disheartened by their experiences. Neither signed with their respective clubs — Machado with the San Diego Padres and Harper with the Phillies — until spring training had already started.
"It drew a red flag for me," Trout said.
So Trout stopped entertaining the idea of leaving Anaheim. He saw value in sticking with the organization that selected him with the 25th pick of the 2009 draft, signed him to a $1,215,000 bonus and promoted him to the major leagues at the age of 19.
"We always thought that this was a fit for him," said Trout's father, Jeff. "He's a loyal guy. They took a shot at him when no one else did."
But more than anything, Trout believed in the team's direction.
Moreno had already green-lighted prudent acquisitions to improve the talent and depth of the team. He parted with a top pitching prospect and veteran shortstop Erick Aybar to nab Gold Glove shortstop Andrelton Simmons. He signed outfielder Justin Upton to a five-year, $106-million contract. He convinced Shohei Ohtani to choose the Angels over six other teams that had made the two-way player's final cut.
"Obviously the record is not there, but the feeling I had and the winning mentality, bringing in a new manager, shaking things up," Trout said, "I think that's the key to winning, trying to fit all the pieces together."
Trout conveyed his beliefs to Moreno in an hourlong conversation in manager Brad Ausmus' office at Tempe Diablo Stadium a few weeks ago. Trout and Moreno talked about life, about baseball players they admired, about what was in store for the Angels' future. Eppler described the conversation as one of the turning points in their negotiations with Trout, but Moreno waved that off.
"Billy had been talking to him quite a bit, Carpino had been talking to him quite a bit," Moreno said.
Still, the chat did mean something in the end. It represented the deep relationship Trout had with the Angels, one he didn't want to surrender for another team.
"You want to get respected and I felt that way with the Angels," Trout said. "They are top notch in everything they do."
Sign up for our daily sports newsletter »
The Angels had already approached Trout's agent about beginning negotiations at the start of 2018, 15 months before they would finalize the contract. The Angels and Landis finally began the process of hammering out details in mid-February. Discussions escalated in March, after the meeting with Moreno.
Eppler said the Angels' offer to Trout went through several iterations within the organization. There was some back-and-forth talks with Trout's agent but progress was never impeded.
After about 40 days of talks, the final offer was made. Eppler boarded a plane, sat down and buckled his seatbelt. He wasn't going to fall out of his chair, like he said he did when he learned two-way player Shohei Ohtani had chosen to play for the Angels in December 2017.
When the pilot's voice came over the plane speakers, informing passengers that they were 100 miles outside of Phoenix, Eppler remained calm and fired off a text message to Moreno.
"I said, 'Congratulations. Mike Trout will be an Angel for the rest of his career. He'll be going into the Hall of Fame wearing our hat, and he's the first player born and raised here that will do that,'" Eppler said. "I thought that was pretty special."
Said Trout: "It was a crazy process the last few weeks, but I'm happy. I'm relieved. If we hadn't gotten a deal done it would have been tough for me. I obviously wanted to be here."
Get the latest on L.A.'s teams in the daily Sports Report newsletter.
You may occasionally receive promotional content from the Los Angeles Times.