Mike Trout remaining an Angel for 12 more years begins to sink in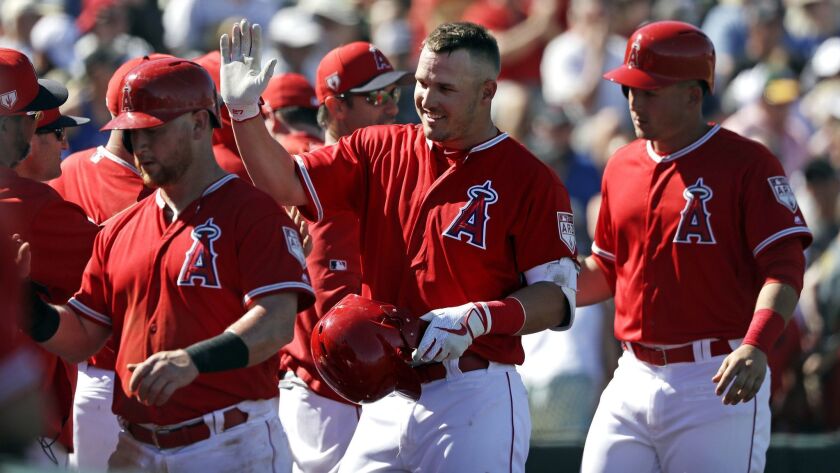 Reporting from Tempe, Ariz. —
With two teammates as passengers, Mike Trout whipped a golf cart up a sidewalk at the Angels' complex at Tempe Diablo Stadium a few days ago and maneuvered through a crush of several dozen fans. They wanted autographs, pictures, anything to commemorate the moment.
This scene is familiar to Trout. He has spent eight seasons in an Angels uniform, knocking down records and building the cornerstones of a legacy that should cement him among the all-time greats.
The noise of people clamoring for his attention will grow louder. A week before the regular season, the Angels made official the news fans had been waiting to hear: Trout agreed to a 12-year, $426.5-million contract that presumably will keep him in Angels red for the rest of his career.
Angels fans are relieved and thrilled.
"My boys were so worried about Mike Trout leaving," said T.J. Salinas, a resident of Temecula who brought his kids to Tempe last week so they could watch Trout take batting practice. "The boys were like, 'He just needs to sign, he just needs to sign, the Angels need to try to give him a contract.'"
Said Salinas' stepson, Gavin, 11: "I've liked him since I was like 2 years old. … He's my favorite player because I'm from Los Angeles and he was the first person on the Angels that my dad introduced me to. Whenever he introduced me to him, I just started liking him."
That could be the case for anyone growing up in Southern California and beyond through the next decade. By the time Trout's contract is up after the 2030 season, Gavin expects to be out of college. He'll have added to his growing collection of Trout gear, and he'll be able to point to the bobbleheads he keeps in boxes as proof of his devotion.
Others like him will own Trout-branded shirts and jerseys for years. They'll become tattered, like the "Troutstanding" tee 5-year-old Blake Wilson inherited from his brother Hollis, 8. But they will never go out of style. Not with Trout an unassailable role model and an Angel for life.
"He plays the game the right way," said Brian Wilson, who wore a white Trout jersey he might one day pass on to his sons. "You can tell he's having fun and enjoying it. He works hard and is always hustling. It seemed like he had a lot of choices but he knew he'd been treated with respect by the Angels and he wanted to stay with that. That shows devotion."
Trout's signing means as much to the stability of the franchise as it means to the identity of the fans who dedicate their time to it.
"I grew up in an era where there was a coolness to [Cal Ripken Jr.] staying an Oriole," Angels general manager Billy Eppler said. "Just that population of guys that play in one uniform, I believe that's good and I'm glad we can do that for the Angels fans."
Three decades ago, Eppler was like the children adoring Trout. He grew up in San Diego, part of a family that held season tickets to games at Jack Murphy Stadium. He watched Hall of Fame inductee Tony Gwynn, who won eight batting titles and five Gold Gloves and spurned more money to stay in a Padres uniform. He watched other teams come through Southern California with their own franchise pillars — the Baltimore Orioles and Ripken, the Milwaukee Brewers and Robin Yount.
Later, as a member of the New York Yankees front office from 2004 to 2015, Eppler watched Mariano Rivera, Jorge Posada and Derek Jeter win their fourth World Series rings together. They contributed to a club that rattled off seven American League pennants and won five World Series from 1996 to 2009. He observed at a close proximity the impact players make when given the opportunity to be loyal to their original team.
Now Eppler can cultivate something similar in Anaheim.
The task will be difficult. Angels owner Arte Moreno and team president John Carpino are the longtime custodians of a franchise that has played in the postseason only once in Trout's tenure. They've tried multiple roster permutations, spent millions on players in their 30s — Vernon Wells, Albert Pujols, Josh Hamilton and C.J. Wilson among them — who didn't provide the expected on-field impact and wasted their Octobers watching other teams hoist trophies.
Trout should be different.
He does not turn 28 until August, and he's already climbed into the top 10 in franchise history in several categories. Most notable: home runs (third, with 240), runs (fifth, with 793), triples (third, with 44), and stolen bases (second, with 189).
It's impossible to predict the numbers he'll amass by the end of his career, but Trout has a chance to race to the top of nearly every leaderboard in baseball history — all while in an Angels uniform.
The Angels have never been able to brag about such a thing. They can claim Hall of Famers Nolan Ryan and Vladimir Guerrero, but neither played in Anaheim their entire career and only Guerrero is in the Hall with an Angels cap.
Signing Trout for the long haul reinforces the Angels' foundation. In terms of their roster. In terms of their fan base. And in terms of their developing and sustaining a championship culture.
"He is Mr. Angel," said Angels pitcher Tyler Skaggs, a Santa Monica native. "He's going to go down as the best player ever. Greatest Angel of all time. Mr. Angel. Mr. Everything."
Sign up for our daily sports newsletter »
Twitter: @maria_torres3
---
Get the latest on L.A.'s teams in the daily Sports Report newsletter.
You may occasionally receive promotional content from the Los Angeles Times.