Angels GM Billy Eppler's affinity for franchise icons spurred Mike Trout extension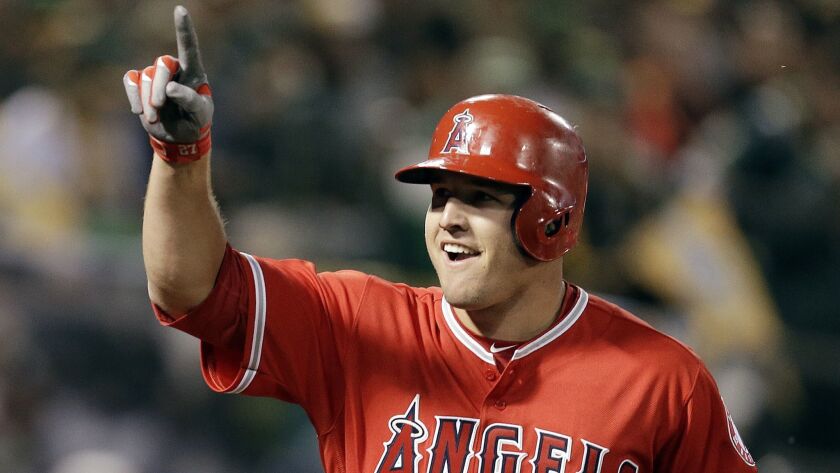 Reporting from TEMPE, ARIZ. —
Angels general manager Billy Eppler came of age in San Diego during the 1980s.
His family held season tickets to the Padres, so he spent his childhood watching Tony Gwynn patrol the outfield at Jack Murphy Stadium. He also observed franchise cornerstones that came through Southern California with their teams: Robin Yount and the Milwaukee Brewers; Cal Ripken Jr. and the Baltimore Orioles.
"I grew up in an era where there was a coolness to Cal Ripken staying an Oriole," Eppler said.
So when Eppler on Thursday addressed for the first time his team signing Mike Trout to a 12-year, $426.5 million-contract this week, he acknowledged that Trout's importance in Southern California goes beyond his on-field impact. Trout, a two-time American League MVP and four-time runner-up for the award, will spend the rest of his career with an Angels logo on his chest — and that's meaningful to fans too.
"Seeing Tony Gwynn and Robin Yount and just that population of guys that play in one uniform," Eppler said, "I believe that's good and I'm glad we can do that for the Angels fans. And, just in general, for the baseball community I think it's a good thing."
It was owner Arte Moreno's prerogative to ensure Anaheim remained Trout's long-term home for that reason. He has often cited the fan experience as his main inspiration. Eppler and other members of the Angels' front office expended much of their energy the last couple of months on making sure they could provide Trout their best possible offer.
Outside the Angels' cocoon, speculation had run rampant. Trout's allegiance to sports teams in Philadelphia, which are based about an hour south of his hometown of Millville, N.J., prompted fans on the East Coast to speculate that Trout wanted to play near his home. The rumors intensified when outfielder Bryce Harper signed a 13-year, $330-million deal with the Phillies and said he would recruit Trout to join him.
But Trout had always expressed loyalty to the Angels. Eppler said he noticed Trout's commitment to the organization soon after taking control of the Angels' baseball operations in October 2015. He often received text messages from Trout after both had vacated Angel Stadium following regular-season games. As Eppler sat at home combing through minor league box scores, Trout offered his own impressions.
"I would get a text from him and he would say, 'Look at what so-and-so did tonight,' or 'How about so-and-so?' I hadn't really seen that from players before," said Eppler, who spent more than a decade with the New York Yankees, working his way up from the scouting department to become an assistant general manager. "That was unique."
When his monster deal was finalized Wednesday night, Trout said in a statement released by the Angels, "This is where I wanted to be all along."
The Angels targeted this offseason as the best time to make an extension offer — so they could "operate in the dark as much as we could," Eppler said — and quietly put together a lifelong deal that replaced the final two years of Trout's previous six-year contract and extended it for 10 additional years.
By doing so, they silenced the incessant questions about Trout's future.
The "coolness" of spending a career in one uniform is coming back in style across baseball. Nolan Arenado's eight-year extension with the Colorado Rockies is one recent example of a team investing in the future of a homegrown player. Trout's agreement, which unlike Arenado's does not include an opt-out clause, is just the latest.
"[Trout's] got two homes," Eppler said. "He's got his upbringing home and his offseason home, but we're his baseball home. To be able to keep him here and keep him home, as far as his professional life is concerned, was important to us. I'm very glad we were able to get that done and very thankful to Arte for making it a focal point of our organization. Between Arte and [team President] John Carpino and myself, we all have the same goal in mind and we were able to achieve that."
Sign up for our daily sports newsletter »
---
Get the latest on L.A.'s teams in the daily Sports Report newsletter.
You may occasionally receive promotional content from the Los Angeles Times.