Angels and Mike Trout close to record 12-year, $426.5-million contract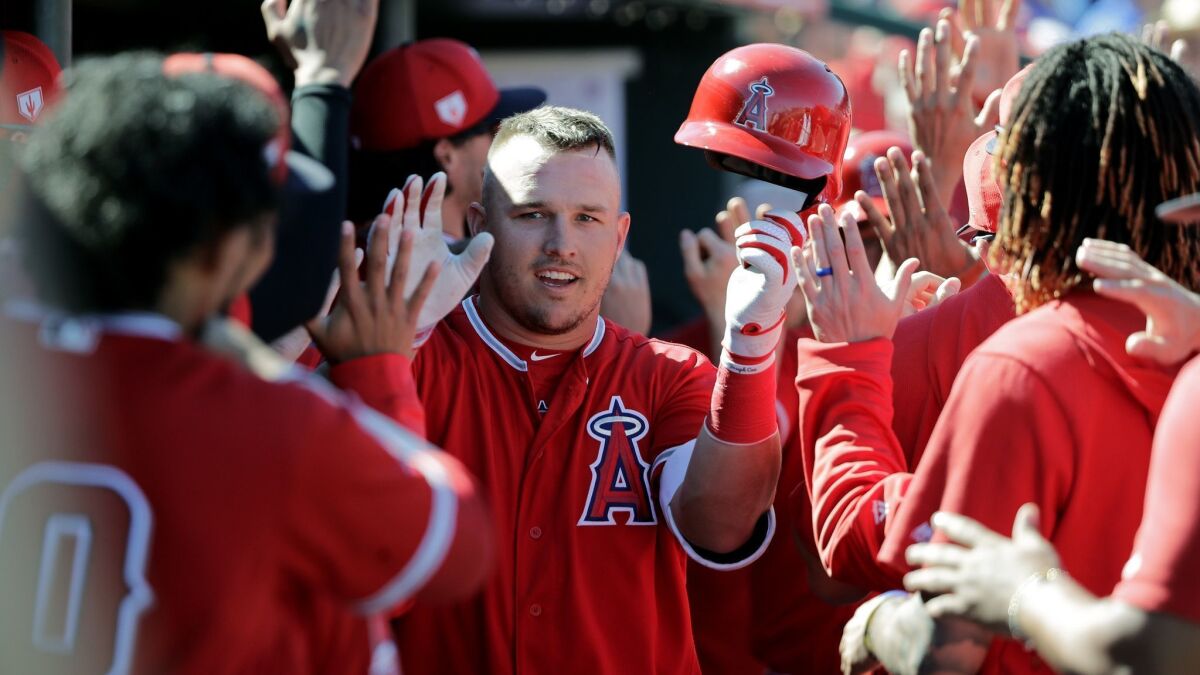 The Angels and star center fielder Mike Trout on Tuesday were finalizing a 10-year, $360-million extension that would keep him under contract over the next 12 years for $426.5 million, according to a source familiar with the negotiations but unauthorized to comment publicly.
The deal, which has no opt-outs, would be the largest in professional sports history. It would net the two-time American League MVP more money than Philadelphia Phillies outfielder Bryce Harper, who this month signed a 13-year, $330-million contract — a deal then the most lucrative in baseball history.
And it would keep Trout, who is still searching for his first playoff victory in Anaheim, in an Angels uniform through 2030.
Trout was unavailable for comment Tuesday afternoon at Tempe Diablo Stadium. A cadre of national baseball reporters had made the Angels' spring training camp a last-minute stop on their tour of the Cactus League, and Trout was nowhere to be seen. Asked why he was absent, manager Brad Ausmus said, "Guys get days off. Sometimes they're scheduled. Sometimes they come up for other reasons." Pressed for the reason, Ausmus said, "I can't tell you what that was."
Ausmus' coyness did not bleed into the Angels clubhouse, where longtime teammates Albert Pujols, Kole Calhoun and Tyler Skaggs each praised Trout's greatness as a player and person.
"One of the best," said Pujols, whose 10-year, $240-million contract with the Angels was previously the largest in franchise history. "I have had a really blessed career to play with some great players back in St. Louis and even here. But Trout is one of those players who comes around once every 50, once every 100 years. I'm blessed to wear the same uniform as him."
Trout, 27, is owed $33.25 million each of the next two seasons. His annual salary will rise to $36 million for the 10 years that follow, unless the Angels and Trout decide to shift a small part of the new $360-million extension to the final two years of his current contract.
Trout's future has been the subject of speculation for months. A native of Millville, N.J., he was tied to the Phillies before Harper signed there. The rumors increased when Harper signed, however, because Harper said on multiple occasions that he'd do what he could to lure Trout back to the East Coast. He told a Philadelphia radio station: "If you don't think I'm gonna call Mike Trout to come to Philly in 2020, you're crazy."
Though Trout recently built a house in Millville and is an avid fan of Philadelphia's football (Eagles) and basketball (76ers) teams, he seems to enjoy living in Southern California. Trout, whose six-year, $144.5-million deal with the Angels took effect in 2015, has demonstrated that he likes his teammates and feels a deep sense of loyalty to Angels owner Arte Moreno.
"I was a little nervous after I saw some of the things in the media in the past three or four months," said Skaggs, who was picked 40th overall in the 2009 draft, 15 spots after Trout, and lived with Trout their first two years in the organization. "But I know Mike, and he's very loyal. Loyal to a fault."
Trout may be East Coast born and bred, with a South Jersey blue-collar work ethic, but the laid-back Southern California lifestyle seems to suit him and his wife, Jessica Tara Trout.
"We've all known that he's loved it here," Calhoun said. "It's just nice to see both sides just kind of working towards the same thing."
The Angels have reached the playoffs only once since Trout, a first-round pick in 2009, was called up to the big leagues in the summer of 2011, getting swept by the Kansas City Royals in the 2014 American League division series after winning 98 games and the American League West title.
The Angels' impotence did not inhibit Trout from flourishing. He won his second MVP award in 2016.
Since his debut, his .307 batting average is tied for fourth-highest, his .416 on-base percentage ranks second and his .573 slugging percentage is the best in baseball.
For comparison: Pujols, whom the Angels signed before the 2012 season, has slugged only .453 in 400 fewer plate appearances as an Angel.
Trout has been valued by FanGraphs at a majors-leading 64.9 wins above replacement since 2011. That figure is 17.6 wins better than San Francisco's Buster Posey, who during that span helped lead the Giants to their second and third World Series championships of the decade in 2012 and 2014.
The numbers might even be higher if injuries hadn't kept Trout from playing wire-to-wire the last two seasons. A torn ligament in his left thumb limited Trout to 114 games in 2017 and wrist inflammation sent him to the disabled list for two weeks last August. Those shortened seasons came after he averaged 158 games per year from 2013 to 2016.
"I think with his success, even in his first year winning rookie of the year [in 2012], and winning two MVPs, he just wants to get better," Pujols said. "He cares about winning and he puts so much time into his workouts. You guys only get to see it sometimes. … I've said it before and I'll say it again: Nothing he does surprises me. Every day he does something pretty special. The fact he wants to get better is pretty scary."
Now it's up to the Angels to reward Trout's loyalty.
Trout thought the Angels made enough moves before 2018 — convincing two-way star Shohei Ohtani to play in Anaheim, signing left fielder Justin Upton to a five-year extension, acquiring veteran infielders Zack Cozart and Ian Kinsler and catcher Martin Maldonado — to contend for a playoff spot.
Injuries ravaged the rotation and the lineup, and the Angels finished 80-82, far out of the playoff picture for a third consecutive season. They made incremental moves to upgrade the pitching staff and lineup last winter, but they're hardly a lock to make the playoffs in 2019 despite Moreno green-lighting the highest opening-day payroll in team history.
Sign up for our daily sports newsletter »
Still, Trout has been encouraged by the direction the club has taken under the leadership of general manager Billy Eppler. Trout earlier this spring raved about his team's chances for the upcoming season. He was confident that if everyone remained healthy for the majority of the season, the Angels could make headway on their first postseason appearance since 2014. He was encouraged by other changes made on the club's peripheries, such as bolstering the use of technology and analytics and bringing in a new coaching staff.
Plus, the Angels' farm system, among the worst in baseball earlier this decade, has improved dramatically. Jo Adell, a 19-year-old outfielder, is ranked among the top 10 prospects in baseball, and right-hander Griffin Canning and left-hander Jose Suarez are on the cusp of the big leagues. The influx of young, high-caliber talent would ensure that the Angels remain competitive through the duration of Trout's career.
Trout's new contract will add about $11.4 million to the Angels' luxury tax payroll this year. They will still be about $24 million under the threshold, which provides enough wiggle room for the Angels to take on another salary during the season if they have the opportunity to chase a playoff berth.
Trout said in February upon arriving at spring training that all he cared about was getting the opportunity to win. It seems he now might have enough time to meet that goal.
"You locked up the best player in the game, so that's a big first step to take," shortstop Andrelton Simmons said. "You can build off of that. That's a good base for the house, basically. That's the number one priority, they got it done. I'm happy for the Angels front office, but I'm also happy as a teammate. He deserved that contract and even more."
---
Get the latest on L.A.'s teams in the daily Sports Report newsletter.
You may occasionally receive promotional content from the Los Angeles Times.