Mike Trout's record-breaking Angels contract made official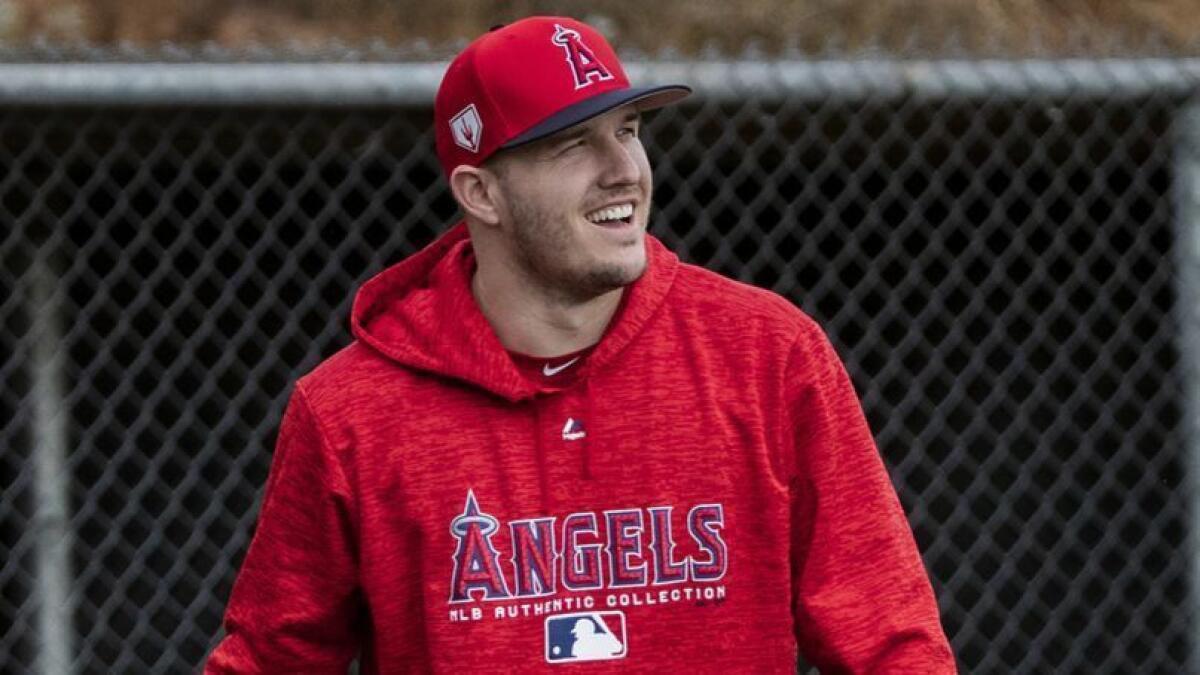 More than 24 hours after news broke of his record-breaking extension, Mike Trout was officially made an Angels player for life Wednesday night.
The Angels announced that Trout, a two-time MVP and the club's star center fielder, agreed to the terms of a 12-year, $426.5-million contract. The 27-year-old will remain in Anaheim through the 2030 season.
"This is where I wanted to be all along," Trout said in a team press release.
Trout returned to Tempe Diablo Stadium on Wednesday, played in a minor league game and hit a home run in one of his seven plate appearances. But as he wandered the Angels' spring training complex, Trout did not address his extension with the media. He will not publicly do so until Sunday at Angel Stadium, where the team will hold a public press conference at 3 p.m. ahead of its Freeway Series opener against the Dodgers.
"I have enjoyed my time as an Angel and look forward to representing the organization, my teammates and our fans for years to come," Trout's statement said. "I want to thank [owner] Arte and Carole Moreno for their efforts. Their leadership and commitment to winning played a key role in my decision. Thanks also to my teammates, coaches, [president] John Carpino, [general manager] Billy Eppler and his baseball operations staff, the entire front office and Angels fans for all their support. It has made a tremendous difference not only for me, but for my family as well!"
Trout's contract, which absorbs the final two years of his previous six-year deal, has an average annual value of $35.54 million. His annual salary will change beginning this year, according to a source who was not authorized to speak publicly on the matter.
Under his previous contract, Trout was due to earn $33.25 million each of the next two seasons.
By the end of the new contract, Trout will have played in an Angels uniform for 20 seasons. He would be the longest-tenured Angels player in franchise history, a mark currently held by Garret Anderson (1994-2008) and Tim Salmon (1992-2006).
"This is an exciting day for Angels fans and every player who has ever worn an Angels uniform," Arte Moreno said in a statement. "Mike Trout, an athlete whose accomplishments have placed him among the greatest baseball players in the history of the game, has agreed to wear an Angels uniform for his entire career."
Sign up for our daily sports newsletter »
Get the latest on L.A.'s teams in the daily Sports Report newsletter.
You may occasionally receive promotional content from the Los Angeles Times.