Mike Trout doesn't want to become the next Ernie Banks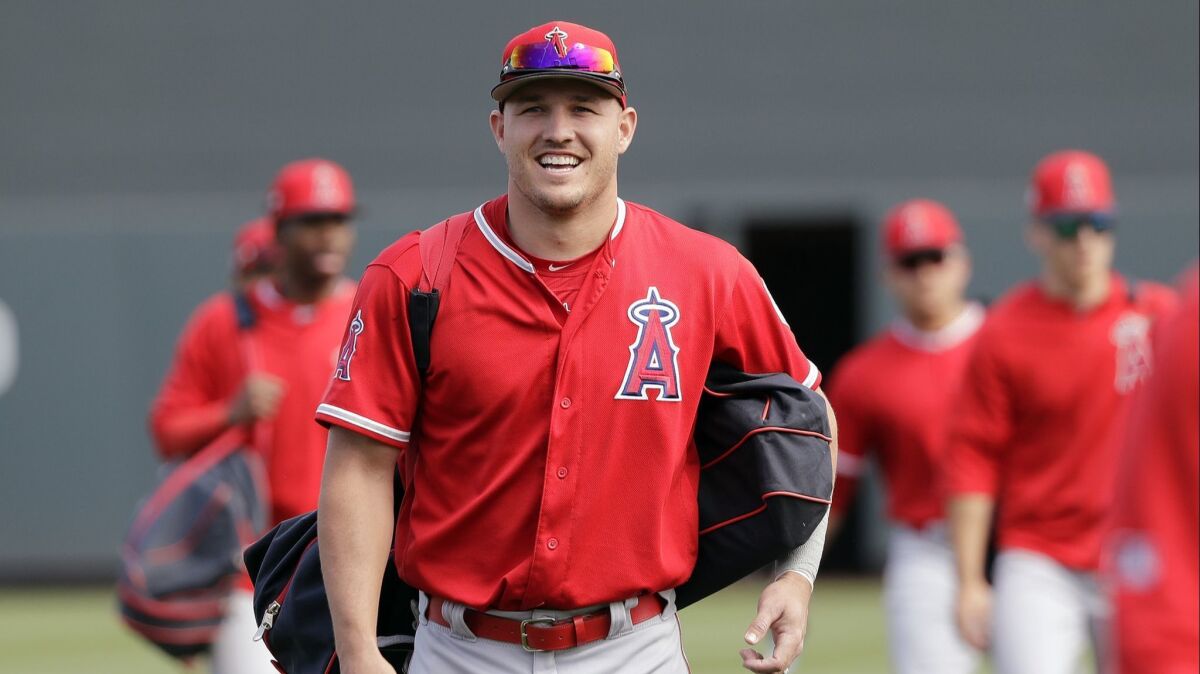 While the Angels and their fans open the baseball season breathing a sigh of relief because Mike Trout is not going to leave them, I find myself reacting to the news with one terrifying thought: What if Trout becomes the next Ernie Banks?
While researching a biography of Banks that has just been published, I began to see an uncanny, almost creepy resemblance between the first six seasons of his career and Trout's.
Both players won two most valuable player awards. Both were the leading power hitters of their time. Both were superb fielders. And neither had so much as a glimpse of the World Series.
From 1955 to 1960, Banks hit more home runs and drove in more runs than Willie Mays, Hank Aaron, Mickey Mantle, Eddie Mathews and every other hitter in baseball. He also reinvented playing shortstop, showing that long-ball hitters could play it as well or better than little guys who specialize in bunts. For Banks' trouble, his woebegone Chicago Cubs finished a total of 123 games under .500 during those six seasons.
It hasn't been quite that bad for Trout as he established himself as the most feared hitter and finest center fielder in baseball today. The Angels actually won a division title in one of his seven seasons. But they've finished more than 20 games out of first place the last three years and didn't significantly upgrade this offseason, which doesn't inspire much confidence going forward.
Trout, like Banks, is certain to be elected to the Baseball Hall of Fame the first year he becomes eligible, and therein lies the rub.
When Banks entered the Hall in 1977, only a dozen players before him had been selected the first time their names appeared on the ballot. I don't want to say Cooperstown was an exclusive club, but Joe DiMaggio didn't make it on his first try. Neither did Roy Campanella, Yogi Berra, Jimmie Foxx or Mel Ott. As I say, tough get. Since then, either the Hall's standards have become less exacting or modern players are superior to their predecessors because now there are more than 50 first-ballot Hall of Famers.
But Banks had another distinction when he was elected. He was the only first-timer who had never played in the World Series. (He has since been joined by Rod Carew, Frank Thomas and Ken Griffey, Jr.)
Banks may have been the most cheerful man to play major league baseball. The sun was always shining, the confines were always friendly and the Cubs were always going to win the pennant. He is, in fact, the only great player I know of who is better remembered for something he said — "Let's play two" has become a much quoted, and much parodied, part of the American vocabulary — than for all the home runs he hit.
So it was no surprise that Banks nearly always put a lighthearted gloss on the one great failure of his career, insisting that it was worthy of nothing more than a sigh and a wistful smile.
The truth is it drove him stark raving mad.
As Banks, who died in 2015 at age 83, returned to Cooperstown year after year during hall of fame weekend, the enormity of what he had missed began to sink in. While his pals traded war stories and joshed each other about glory days gone by, he would feel uncomfortably out of place.
"I think it bothered him," Jeff Idelson, the president of the Hall of Fame, told me. "He was so proud to be a part of the Hall and the players he played against. I think he felt a little left out in the conversations not being able to speak about World Series moments."
Later, Banks admitted that missing out on the World Series was a hole in his life and eventually, whether at Cooperstown or old-timers' games, he would ask Mantle or Killebrew or Lou Brock or Reggie Jackson or Warren Spahn what it had been like to play in the World Series. Their answers left him even more frustrated.
"They'd just laugh," Banks said. "It was almost like it was funny to them that I played for the Cubs, and you'll never get in the World Series if you play for the Cubs."
Sometimes, Banks would have dreams about playing in the Series. Or were they nightmares? "It was always the seventh game and we were playing the Giants and I hit three homers and Willie Mays said, 'Man, how'd you get those kind of pitches to hit?' '' he said. And when, at a banquet or golf tournament, he ran into Jackson, who did hit three home runs in one World Series game, he would say, "Reggie, that was me." Jackson, like the other hall of famers, just laughed at him.
At one point, Banks' anguish weighed on him so heavily that he saw a psychiatrist. "There wasn't much he could say," Banks told me. "Just that I'd done the best I could and it wasn't meant to be."
There is, of course, one major difference between Banks' plight and Trout's. Banks had no control over his destiny. In the era before free agency, he was stuck with the Cubs for life. Trout, on the other hand, had a chance to seek his fortune elsewhere after next season, but after due consideration has chosen to . . . stick with the Angels for life. Oh, boy.
Now $426.5 million can ease a lot of pain and suffering. A quick back-of-the-envelope calculation shows this comparison: Banks' 19-year career earnings, adjusted for inflation, were about $8 million. Trout will earn close to $6 million every two months!
But if the Angels don't get cracking and improve in a big way while Trout is still in his prime, all the money in the world isn't going to keep him from becoming a pitiable figure. By the time Banks finally found himself in a pennant race worthy of the name, in 1969, he was 38 years old. And though he played well, it wasn't enough to stave off the charge of the Miracle (they have another word for it in Chicago) Mets.
So off Trout heads into the great unknown, hoping the Angels can change things soon. And knowing all too well that if they don't he'll have nobody to blame but himself.
--------
Ron Rapoport is a former sportswriter for the Times and the author of "Let's Play Two: The Legend of Mr. Cub, The Life of Ernie Banks," published by Hachette Books. The book will be available for purchase Tuesday. Rapoport will appear at the Los Angeles Times Festival of Books on April 13-14 at USC.
Get the latest on L.A.'s teams in the daily Sports Report newsletter.
You may occasionally receive promotional content from the Los Angeles Times.