Mike Trout hits grand slam as Angels beat Rangers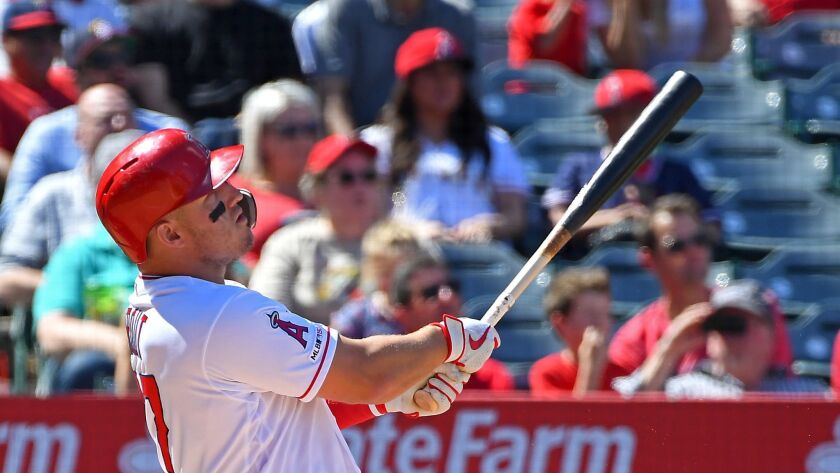 It was after 5 o'clock on Saturday afternoon and Mike Trout had just turned away from his locker at Angel Stadium to face the cameras.
The Angels star had stood in the same spot after three straight games. Each time, reporters thrust microphones toward Trout's face. Each time, they asked Trout to describe how he used his 6-foot-2, 235-pound frame to muscle a baseball over an outfield fence.
And each time, Trout indulged the questions. He couldn't escape them. Not after clobbering four home runs in his first three home games. Not after hitting a grand slam off Texas Rangers starter Drew Smyly to change a scoreless game and key the Angels' 5-1 win.
"I was just trying to get the runs in," said the 27-year-old, two-time recipient of the American League most valuable player award. "… I got a pitch to hit and hit it out."
There was no score in the fourth inning and the Angels had loaded the bases with one out. Trout usually would have been pitched around but there was nowhere for him to go. All Smyly could do was hope he could sneak some pitches by him.
Smyly tried. Trout fouled off a high fastball on the first pitch.
Then the last pitch came in at 91 mph, riding in at the top of the zone right over the middle of the plate. Trout timed it better, clipped it with his barrel and sent it soaring. The ball hurtled through the air at 109 mph and towered, traveling 458 feet and reaching a height of 128 feet before carrying over the Angels' bullpen and dropping into the left-field seats for Trout's first grand slam since Sept. 17, 2015, and fifth of his career.
Trout reached base four times for the 91st time since 2012: He drew a walk from Smyly in the first, was hit by a pitch in the third and walked intentionally in the sixth.
"Maybe I made him mad when I hit him and he ends up hitting a grand slam," said Smyly, who exited the game following the slam. "You don't want to make him mad. He's the best hitter on the planet. There's no denying it."
The Angels coaxed little from Smyly before Trout's blast. They stranded six runners through the first three innings. With the bases loaded in the first, Albert Pujols lost the grip on his bat as he lunged after a down-and-away slider and struck out. Then Jonathan Lucroy popped out to the infield. Kole Calhoun swung through a high fastball, couldn't get wood on it and struck out for the first of three times.
In the third, with runners on first and second, Lucroy flew out to left for the second out. Andrelton Simmons, who returned to the lineup after missing one game with back tightness, reached on a fielder's choice and stolen second base, then advanced to third on a wild pitch. But he was abandoned by Calhoun, who struck out to end that threat.
Manager Brad Ausmus was disappointed the bottom of the lineup didn't do much damage. He also conceded that some days, all they need is Trout to be on his game.
"Especially the way we kind of struggled offensively, Trouty's been the bulk of our offense these last couple games where we've won," Ausmus said. "I'd like to see more contribution up and down the lineup. But there are times when Mike Trout is going to be the bulk of our offense."
The Angels (3-6) weren't done scoring after Trout launched the third-longest home run of his career. Pujols hit the first pitch of the seventh into the Angels bullpen, dumping a 405-foot homer into the outstretched cap of reliever Noe Ramirez.
With his first homer of the season, Pujols matched Ichiro Suzuki for 22nd on the all-time hits list with 3,089.
Angels starter Tyler Skaggs reaped the rewards. He mowed down the Rangers' lineup for 6-1/3 innings, frustrating batters with a curveball that drew five misses and received nine called strikes. He gave up only one run.
Skaggs had left his first start frustrated that he couldn't get through five innings efficiently. He navigated trouble well, but allowed two runs in 4-2/3 innings and took a loss last Sunday at Oakland.
He didn't struggle Saturday. When he ran into a jam in the third, which started with Ronald Guzman's leadoff double, he escaped unscathed, stranding runners on the corners to keep the game scoreless.
Skaggs scattered five hits, issued one walk and struck out five. He threw 70 of 101 pitches for strikes and became the first Angels starter to earn a victory this season.
"He battled out there," Trout said. "He was throwing all the pitches for strikes. It's fun to play behind a guy like that who pumps it in the strike zone."
Sign up for our daily sports newsletter »
---
Get the latest on L.A.'s teams in the daily Sports Report newsletter.
You may occasionally receive promotional content from the Los Angeles Times.