Angels' Noe Ramirez made a quick fix and pitched himself into a bigger role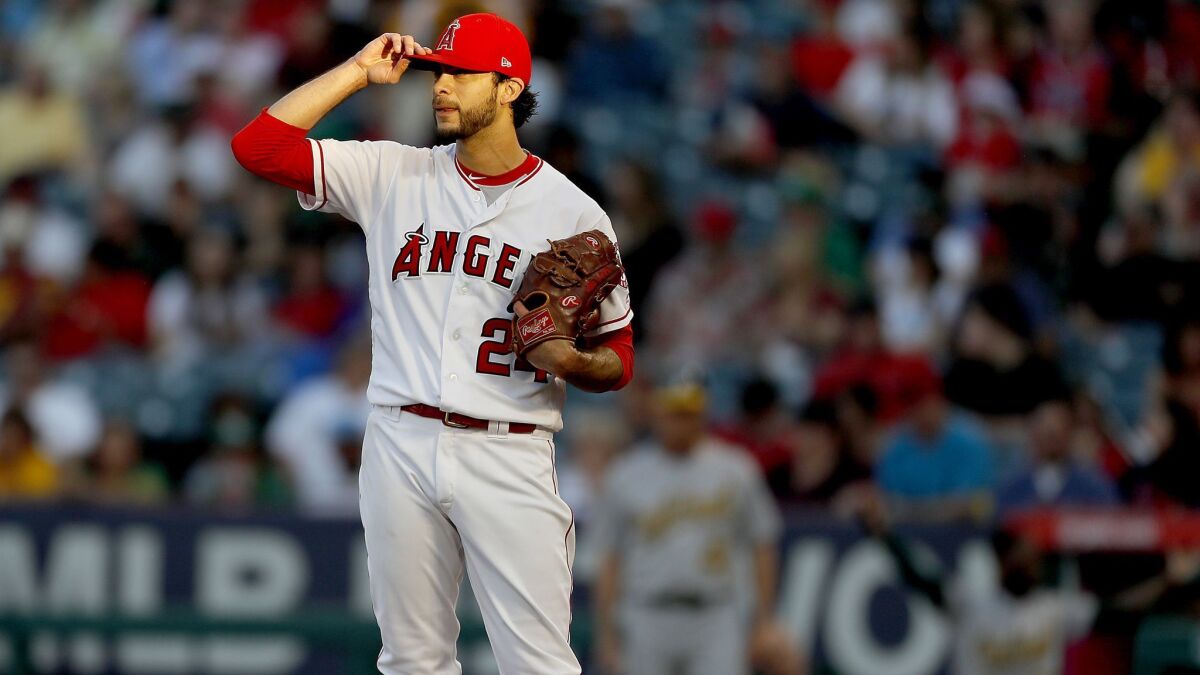 Noe Ramirez was at his worst a month ago.
He stood on the mound at Angel Stadium, slouched over in a way his body wasn't used to, and served up two home runs in one of the Angels' most embarrassing defeats of the year, a 16-7 drubbing by the Minnesota Twins.
The May 23 outing epitomized what had been a weird month for Ramirez. On the heels of allowing only one run in his first six games, the right-hander with a funky delivery that usually works in his favor had become susceptible to the long ball. He had allowed six homers and 12 earned runs over his last 14-2/3 innings.
"I was struggling," Ramirez said. "I think it was a pretty crappy run up until Minnesota when they hit two home runs off me and I thought, 'Man, I just feel really different. I don't feel right, and balls aren't coming out the way I usually feel them.' "
Rather than allow himself to languish any further, Ramirez self-corrected. He pulled up clips of himself from a year earlier, his first full season with the Angels. He noticed how much taller he stood, how he wasn't covering his front side or sinking too low on his back side. He enlisted the help of pitching coach Doug White to recapture that.
"I just really wanted to be more deceptive, really closed off to the hitter, and it backfired, pretty much," Ramirez said.
That's not really the case anymore.
One of the Angels' most unheralded pitchers, Ramirez had carved a niche for himself as manager Brad Ausmus' long relief man. For a long time, he was the guy who could bridge a gap between an inefficient starter and the back end of the bullpen. The one who could throw up to 40 pitches without a second thought.
But in the last month, Ramirez has played himself into bigger roles. He has opened games for "primary pitcher" Felix Pena, like he did in Friday night's 7-2 loss to the Oakland Athletics at Angel Stadium, and has been entrusted with retaining tenuous two-run advantages. He is rarely used in mop-up roles — and the last time he was, Ramirez pitched 2-1/3 innings of one-hit ball while his teammates surmounted a six-run deficit in a June 5 win.
"There's something about Noe's delivery where you can just tell by the swings hitters take that they don't pick up the fastball," Ausmus said after that appearance. "The 89 to 90, 91 [mph] plays up a little bit. There's a lot of late swings on it. Maybe he hides the ball or it's the arm slot. He's been outstanding, really."
Ramirez hasn't always been. He had a 4.54 ERA as opponents hit him at a .237 clip over 83-1/3 innings last year. He struck out 26.9% of the batters he faced but surrendered 15 home runs.
Ramirez has improved this season. He entered Friday with a 2.95 ERA and 30% strikeout rate through 26 games. He has suppressed home runs — he's allowed eight, but just one since giving up the two to Minnesota — and limited contact. Batters, striking pitches 69% of the time compared with nearly 75% last year, had a measly .199 average against Ramirez.
The numbers regressed a tad after Friday's first inning, in which he struck out three but issued a walk and a two-run homer by Oakland's Matt Olson to put the Angels in an early hole. That ended a 16-1/3-inning scoreless streak that stretched to May 29.
But it didn't mar Ramirez's otherwise pleasantly surprising season.
Ramirez (3-1) hasn't reinvented himself. He's still working with a low-90s fastball. But he makes up for his humdrum velocity with a wicked mid-80s changeup and equally nasty breaking ball. He has focused all year on improving his loopy slider, a pitch usually picked up as a curveball by stadium radar technology, and seen it pay off. The action on the pitch has been sharp enough that it draws 29% whiffs, an five-point increase over last year. Right-handers have had an especially hard time catching up to it, swinging and missing at 32.5% of the sliders he has thrown them.
"He's been locked in the whole time," White said. "He just went a little tricky for a couple outings because he didn't feel as comfortable as normal. Then we identified it on video, he made the fix immediately, he went back to rolling again."
Adell back to the Futures Game
He missed two months recovering from injury and has played only 25 games all season, but that didn't keep Jo Adell off this year's Futures Game roster. He was selected Friday for the second year in a row.
Adell, the Angels' top pick of the 2017 draft, played briefly at Class A Inland Empire before returning to double-A Mobile this month. Adell has hit .358 with a 1.046 on-base-plus-slugging percentage since returning from the grade 2 right ankle sprain and grade 1 left hamstring strain that cut short his first big league spring training. He started on such a hot tear, knocking 10 doubles and five home runs, that entering Friday he led Angels minor leaguers with more than 100 plate appearances in weighted on-base average (.469) and weighted runs created-plus (200).
Sign up for our daily sports newsletter »
Weighted on-base average applies different values to the methods of reaching base on a scale, so a home run is worth more than a walk. Weighted runs created-plus measures a player's ability to create runs in a formula that can be used to compare all hitters.
"We think very highly of him," Ausmus said. "… I don't really like to put labels on him, but we like the tools he has. He's come very fast over the last year through the minor league ranks from Burlington to I.E. to Mobile last year, then of course the injury's hampered him, but now he's back at Mobile. He's a guy who's got a lot of power, a lot of speed, a lot of athleticism. He's still developing."
Short hops
The Angels haven't landed on a date for Matt Harvey, who has improved steadily since re-aggravating an upper back strain this month, to start his rehab assignment because the team must grapple with the triple-A calendar. That level shares an all-star break with the major league break. The Angels want Harvey to make a few starts there before returning. … Catcher Kevan Smith will swing a bat Saturday for the first time since injuring his hand early last week.
Get the latest on L.A.'s teams in the daily Sports Report newsletter.
You may occasionally receive promotional content from the Los Angeles Times.