Angels executive Tim Mead named Baseball Hall of Fame president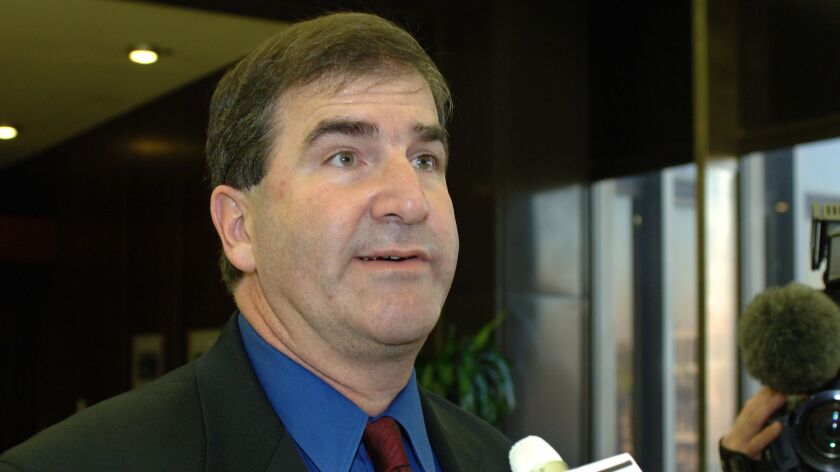 The Angels have been in business for 59 years. Tim Mead has worked for the team for almost 40 of them.
On Tuesday, he joined the Hall of Fame.
Mead was selected as the new president of the National Baseball Hall of Fame and Museum, replacing the retiring Jeff Idelson. Mead will become the man who makes the nationally televised announcement of the Hall of Fame class each January, and the man who makes the private phone calls welcoming each inductee in advance of the announcement.
"I was an employee who was blessed and privileged to be part of his favorite team," Mead said.
He said he expected to make it to 50 years with the Angels and then consider retirement. In spring training, when Idelson asked whether Mead might be interested in replacing him, Mead said he declined. Then, in April, he agreed to meet with Jane Forbes Clark, chairman of the Hall's board of directors, starting the process that resulted in his appointment to Cooperstown.
"It's the history of an institution," he said. "It's the spot where everybody wants to go."
Mead, 61, joined the Angels in 1980 as an intern from Cal Poly Pomona and never worked anywhere else. He was the Angels' unifying voice amid times of turmoil and tragedy. He organized compassionate responses after pitcher Nick Adenhart was killed by a drunk driver in 2009 and after manager Buck Rodgers nearly died in a team bus crash in 1992.
He represented the Angels under three owners, nine managers and six interim managers. Last year, Vladimir Guerrero became the first player to wear an Angels cap into the Hall of Fame.
Mead was a one-man alumni relations department, keeping generations of players connected to the organization, and he artfully navigated the tightrope of representing owners who did not always enjoy dealing with the media: Jackie Autry, wife of founding owner Gene Autry; Tony Tavares, the sometimes mercurial president installed by Walt Disney Co.; and current owner Arte Moreno.
"Tim's love of the game, his dedication to our organization, along with his extraordinary work ethic, have been invaluable to the Angels," Moreno said in a statement. "He is the perfect fit to represent the Hall of Fame's rich history and bright future."
Mead praised all three ownership groups: the Autrys, without whom there would be no team; Disney, which renovated the Angels' stadium and oversaw the team's lone championship; and Moreno, under whom the Angels shed their self-defining image as a small-market team with appeal limited to Orange County.
"I think, as long as he owns this team, he'll have a commitment to contending and not competing," Mead said, "and all of us in that office are grateful for that."
Mead once said he hoped to work for the Angels long enough for the team to win the World Series. They did, for the first and so far only time, in 2002. The championship ring meant the world to him.
Sign up for our daily sports newsletter »
He went back to work for the Angels after Tuesday's announcement. He will start his new job later this season, although the Angels always will be his team.
"You can't do something for 40 years and just think it's done," he said. "That'll be a box score I'll check every morning."
In those 40 years, Mead said, his favorite moment was the 1989 debut of Jim Abbott, who jumped directly from the University of Michigan and the U.S. Olympic team into the Angels' starting rotation. Abbott commanded tremendous interest not only because he was talented enough to skip the minor leagues but because he succeeded despite being born without a right hand, and he handled a horde of interviews gracefully and thoughtfully.
Abbott joined the chorus of congratulations for Mead on Twitter, as did two players Mead figures to welcome to Cooperstown: Albert Pujols and Mike Trout.
"You have been the definition of kindness, humility, and warmth," Pujols wrote. "I have been blessed to work with you and get to call you my friend."
Follow Bill Shaikin on Twitter @BillShaikin
Times staff writer Maria Torres contributed to this report.
---
Get the latest on L.A.'s teams in the daily Sports Report newsletter.
You may occasionally receive promotional content from the Los Angeles Times.