Angels pitcher Noé Ramirez suspended for hitting Astros' Jake Marisnick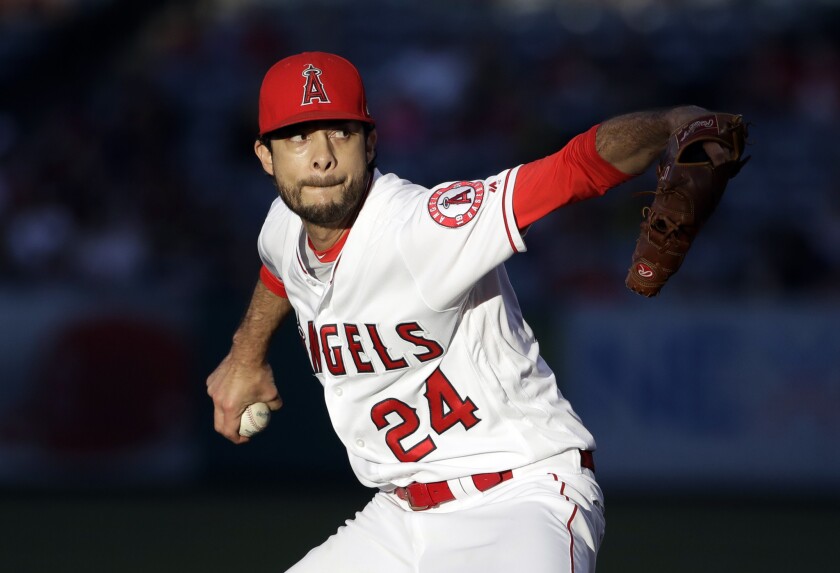 Angels reliever Noé Ramirez was suspended three games for throwing a pitch near the head of Houston Astros outfielder Jake Marisnick in the sixth inning of the Angels' 7-2 victory over the Astros on Tuesday night at Angel Stadium.
Angels manager Brad Ausmus was suspended one game for his role, and was required to serve his suspension Wednesday. Ramirez had the option of appealing his suspension, and did.
"I didn't necessarily like it, but it is what it is," Ramirez said. "I'm glad we can appeal it. It's just about moving on."
Ramirez plunked Marisnick between the shoulders with a 90-mph fastball on a one-and-one count 10 days after Marisnick collided with Jonathan Lucroy, leaving the Angels catcher with a concussion and broken nose.
Ausmus said it was unfair to presume intent on Ramirez's part because the first pitch to Marisnick was a called strike. He also pointed out that Ramirez has a funky delivery, "and sometimes people get hit."
Marisnick took his base calmly. Tempers spilled over when Lance McCullers Jr. began talking from his seat in the Astros dugout. Angels first baseman Albert Pujols appeared peeved and stepped toward the dugout railing, index finger wagging, to yell back. Marisnick waved his teammates off to no avail. Both bullpens emptied, but order was quickly restored.
Tensions simmered after the game in the Astros clubhouse, where manager A.J. Hinch held a closed-door meeting. Some 18 hours later, Hinch sat in the first-base dugout to declare the situation over.
"They have their guys to deal with and we have our guys to deal with, and we can all move on," he said.
"I think we will all be better served letting MLB be MLB and let us play the game on the field and get away from this issue."
The Angels, meanwhile, will deal with the long-term repercussions of the July 7 incident involving Marisnick and Lucroy for at least another week.
Short hops
Mike Trout's right calf strain was reevaluated by doctors Wednesday to determine if the Angels center fielder can play in Thursday's series finale. "It feels good right now," he said. "It's driving me crazy. Ask the hitting coaches and everybody on the bench. I can't sit still. I want to be out there." ... Infielder Zack Cozart addressed the left-shoulder inflammation that has dogged him since May by undergoing a season-ending cleanup procedure Wednesday. "They may have found the issue and hopefully resolved it," Ausmus said.
Noe Ramirez was suspended because his plunking of Jake Marisnick was interpreted as retaliation for Marisnick barreling over Angels catcher Jonathan Lucroy 10 days ago. Angels manager Brad Ausmus was also suspended.
---
Get the latest on L.A.'s teams in the daily Sports Report newsletter.
You may occasionally receive promotional content from the Los Angeles Times.