Angels designate struggling pitcher Matt Harvey for assignment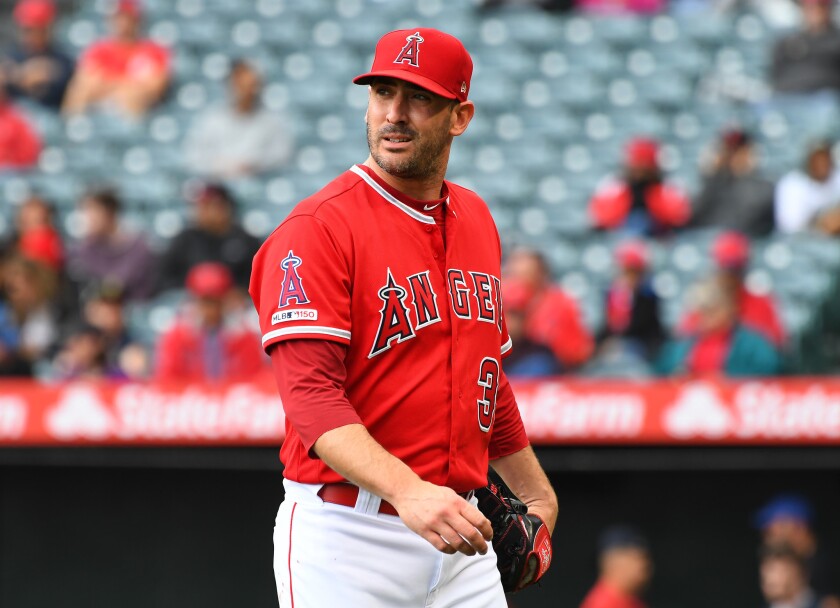 SEATTLE —
A one-year experiment designed to help Matt Harvey recover his "Dark Knight" form of yore came to a sudden, but not wholly unexpected, end Friday.
The Angels designated the struggling right-handed pitcher for assignment following his start Thursday at Angel Stadium, where he gave up six runs in six innings in a loss to the rival Houston Astros.
The Angels considered keeping Harvey on as a reliever, but they did not pursue the idea, Angels manager Brad Ausmus said. He added that he didn't think Harvey would take well to such a role.
"We felt it would increase our chances of winning games," to move on, Ausmus said. "Matt was a very well-liked teammate. A guy everyone pulled for, including myself. But we're in the business of winning baseball games."
Harvey often said he still felt like his old self, the one who could rear back for 97-mph fastballs and blow them by hitters. He was intent on getting back to the form he had before thoracic outlet syndrome in 2016 and a stress fracture in his scapula one year later sapped him of the powerful arsenal that made him a Cy Young Award contender and ace of the New York Mets earlier this decade.
The Angels were encouraged by Harvey's efforts. When they signed the 30-year-old to a one-year, $11-million contract, they thought the slight improvement Harvey saw in his fastball velocity during the latter half of 2018 might yield better results. They were enticed, too, by an improved strikeout rate and other peripheral statistics.
JC Ramirez was a reliable starter before he had Tommy John surgery, but his velocity was down during rehab starts, so he'll pitch out of the Angels' bullpen.
But Harvey posted a 7.09 ERA in 12 starts. A back strain kept him out of the rotation for more than a month. His fastball hovered around 93 mph, a far cry from what made him successful during his early years with the Mets.
"I've said this before: Pitchers who pitch in the major leagues for a long time, and I'm talking about starters, they generally don't throw 95 for 20 years," Ausmus said. "At some point in their career they develop a new pitch or a new style of pitching because the velocity generally does come down. The successful pitchers do that."
Within seven days, Harvey must be traded, released, placed on waivers or returned to the 40-man roster. It is unlikely Harvey, who was due a $250,000 bonus for each game started from his 15th to his 26th, will return to the Angels.
As they try to gain ground in the wild-card race and approach the July 31 trade deadline, the Angels will move forward, instead, with a starting rotation featuring Andrew Heaney, Griffin Canning and Félix Peña. Jaime Barria, who was recalled for Friday's series opener at T-Mobile Park and suffered his worst start, and left-handed rookie José Suarez, who returned to triple-A Salt Lake earlier this week, likely will fill in the back end.
"When you're there on a one-year contract and you have younger guys you want to look at, they're going to make their own decisions," said agent Scott Boras, who has represented Harvey throughout his career. "So I don't think [the move] has a lot to do with Matt Harvey as much as it does with what the Angels wanted to do."
This is the second time this season the Angels remained saddled with a contract for a pitcher who didn't pan out. The Angels pulled the plug on another winter free-agent acquisition last month when they designated for assignment reliever Cody Allen, who signed for $8 million in January.
Short hops
Fox Sports West will air the memorial service for Tyler Skaggs on Monday at 7 p.m. PST. They will follow the broadcast with a replay of the Angels' combined no-hitter from July 12, which occurred the night before Skaggs would have turned 28 years old. . . . Reliever Keynan Middleton, who was expected to rejoin the Angels bullpen in a few weeks, had a setback in his recovery from Tommy John surgery and was pulled off his rehab assignment. He was diagnosed with mild ulnar neuritis in his surgically repaired right elbow. An MRI confirmed that his reconstructed UCL is intact. Ausmus said Middleton might only be set back a few weeks. . . . Albert Pujols, who was removed from Thursday's game because of hamstring tightness, is expected to return to the lineup Saturday. … The Angels recalled first baseman and left-handed relief pitcher Jared Walsh from triple-A Salt Lake and sent down Jake Jewell. Walsh pitched a scoreless inning in Friday's 10-0 loss.
Times staff writer Mike DiGiovanna contributed to this report
---
Get the latest on L.A.'s teams in the daily Sports Report newsletter.
You may occasionally receive promotional content from the Los Angeles Times.