Angels get taste of playoff-like atmosphere in Seattle, pull out win
SEATTLE —
The Angels hope Friday night was a glimpse of things to come.
They were playing in October, in front of a sold-out stadium that provided a playoff-like atmosphere.
And, more importantly, they outpitched a division rival, dealing a major blow to the Seattle Mariners' playoff chances with a 2-1 win at T-Mobile Park.
"That's what it needs to look like," manager Joe Maddon said, adding: "Our guys got that opportunity to feel what it's like to be going to the playoffs. It definitely had that vibe tonight."
The Angels (76-84) have known for a while now that their season would end this week, long ago guaranteed of their sixth straight losing campaign and seventh without a postseason berth.
But before they go into the offseason, they're getting the chance to play spoiler, finishing the schedule against a Mariners (89-71) team that began the night tied for the American League's second wild-card spot — before slipping to one game back in the race.
"I love it. I think it's great. It should get your blood flowing," Maddon said. "It's a great little taste of the future, hopefully, for the guys. … This is what it's supposed to feel like this time of the year, playing meaningful games."
To make that reality come true, the Angels will need more pitching performances like they got Friday. Starter José Suarez finished his encouraging season with a five-inning, one-run start, bringing his final ERA to 3.75.
After the game, Maddon said Suarez, 23, had shown enough this season to be in line for a spot in the starting rotation in 2022.
"It's pretty much his to lose," Maddon said. "We really like what he's done a lot. We want him to be very specific in his offseason work."
The bullpen delivered Friday too, protecting the one-run lead the Angels took earlier on a two-run double by Brandon Marsh.
Mike Mayers pitched a scoreless sixth. Then, after he exited with runners on the corners and no outs in the seventh, José Quijada entered and got three straight strikeouts.
"He came in with a little smirk on his face, and I was like, 'He's gonna be OK,' " Maddon said. "But I wasn't expecting that."
Setup and closer duo Steve Cishek and Raisel Iglesias finished things off to send a capacity crowd of 44,169 home in silence — knowing the Mariners will now need help over the final two days of the regular season to end their 20-year playoff drought.
"It's way more meaningful for them than it is for us," Maddon said. "But it's a nice taste."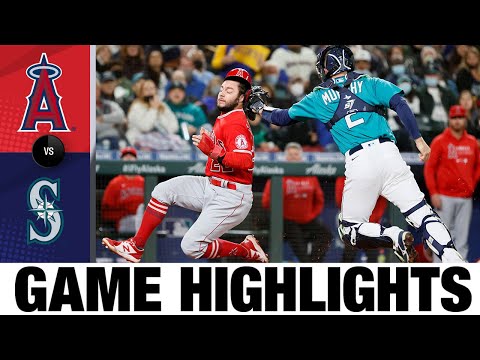 Highlights from the Angels' 2-1 victory over the Seattle Mariners on Friday night.
Jared Walsh finishing strong
Maddon has praise for first baseman Jared Walsh, who has been one of the team's best hitters over the final stretch of the season.
After suffering a slump following his first appearance in the All-Star game, Walsh is finishing his first full major league season with a hot bat. Entering Friday, he had a .315 batting average in 36 games since Aug. 19, including five home runs, 10 doubles, 22 RBIs, and only 27 strikeouts to 15 walks.
Angels two-way star Shohei Ohtani won't pitch for the remainder of the season, manager Joe Maddon said.
It has raised Walsh's season batting average to .276, best on the team among qualified hitters. He is second on the club in home runs (27), RBIs (92) and on-base-plus-slugging percentage (.838) — trailing only Shohei Ohtani in each category.
"It's great, in a way, when you struggle on the major league level and then overcome struggling on the major league level," Maddon said. "A lot of times guys come up in the minor leagues never having struggled before, and then they have their first one here and it can be destructive in a big way. But he's handled it great. He doesn't change his demeanor."
Reid Detmers to start finale
Rookie left-hander Reid Detmers will start in Sunday's season finale, Maddon said. The 2020 first-round pick hasn't pitched for the Angels since August after going on the injured list amid the team's COVID-19 issues at the end of that month.
Detmers made a two-inning start for triple-A Salt Lake last week, throwing 42 pitches. Maddon said Detmers would be on a limit Sunday of probably no more than 75 pitches.
Get the latest on L.A.'s teams in the daily Sports Report newsletter.
You may occasionally receive promotional content from the Los Angeles Times.