Newsletter: The Fight Corner: Inside Eddy Reynoso's 'house of champions'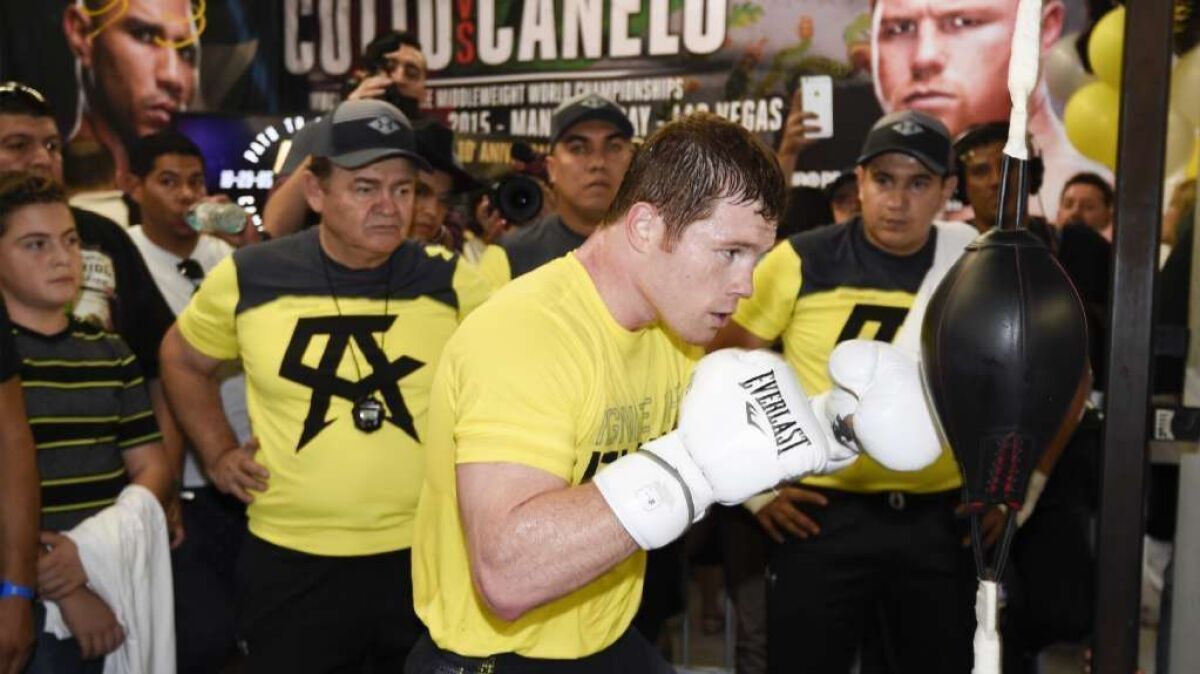 Welcome to our weekly boxing/MMA newsletter. My name is Lance Pugmire, and this newsletter will be delivered right to your inbox every week if you sign up here. Let's get right to it.
While his fighter, Canelo Alvarez, has grown his wealth, trainer Eddy Reynoso has expanded his stable in recent weeks, adding featherweight champion Oscar Valdez and Golden Boy Promotions' marquee prospect Ryan Garcia.
"Welcome to the house of champions," Reynoso beamed Friday while opening his San Diego training camp to the Los Angeles Times.
Reynoso, tutored throughout his boxing life by his cornerman father, Chepo Reynoso, has gained serious traction from the time when people wondered why a talent like Mexico's Alvarez would maintain loyalty to the trainers who raised him in Mexico while other, more high-profile trainers clamored.
But Reynoso boldly devised the aggressive fight plan that Alvarez implemented in delivering long-reigning middleweight champion Gennady Golovkin's first defeat, in September, a triumph that paved the way to a new 11-fight, $365-million deal with the new streaming service DAZN.
That deal starts Dec. 15, when Alvarez seeks a third division belt by fighting England's secondary World Boxing Assn. super-middleweight champion, Rocky Fielding, at Madison Square Garden.
"We saw the first fight, analyzed it and saw it was a good strategy to go forward and pressure him," Alvarez said. "We wanted to throw more punches and go forward, and we did it. Thank God we accomplished it and got the victory. [Golovkin] lost his way early in the fight when I landed those punches because he never thought my plan would be to go out and get him. He also had success — that's why it was a great fight — but I was better."
Eddy Reynoso has spent more than 13 years with Alvarez, so he knew what strategy to employ.
"The trainer has to guide his fighter, and then it's a matter of having the fighter execute it," Reynoso said. "[Alvarez is] a very obedient fighter who always believes what we teach him will lead him to victory."
Reynoso stopped short of calling the strategy his master stroke.
"What I consider to be my crowning achievement is the entirety of Canelo's career," he said.
But both that body of work and the September fight plan caught the eyes of 20-year-old lightweight prospect Garcia (16-0, 13 knockouts), who'll fight on the Dec. 15 undercard, and World Boxing Organization featherweight champion Valdez (24-0, 19 KOs).
Valdez said he was tiring of being in wars and seeks to enhance his defense.
"We chose Eddy because he also wants to make his own legacy," said Valdez, who fractured his jaw while defeating Scott Quigg in March while trained by his friend, Manny Robles. "[Reynoso] doesn't want to just be known as the trainer of Canelo Alvarez. He wants to be known as one of the great trainers. I see the energy and emotion he brings to the gym, I see him trying to bring in more fighters. This is a test. If he can work with my style and make me a better fighter, that will give him more stars as a trainer.
"He's underrated. People just see Canelo and think of Canelo making his own decisions. Eddy and Chepo helped him get there. Yes, I was nervous at first. Canelo's a big fish, and I'd say, 'Why would [Reynoso] look at me when he already has a big star?' I need attention. But he's been giving me 100%, with extra hours."
Garcia called his recent work in the ring "sloppy," and as the social attention and distractions increased for the fighter with model looks, he's sought to become a fighter of increased substance.
"This is how it's supposed to be in training," Garcia said. "Things were starting to go crazy around me — you get sidetracked, I thought I was going to knock all of the guys out, but I wasn't improving.
"I want to be real, relevant and [Reynoso] has the best fighter in the world, so he's going to tell me how good I am. I know I need a work ethic to match my talent. [Reynoso] hypes you up but reminds me, 'Work on this, you'll be even better.' If you settle in life, you don't go further. I want to show off [on Dec. 15] what I've learned — a boxing exhibition, break him down and knock him out. Eddy says I'll be ready for a championship shot in the next year."
Reynoso has assigned Garcia rugged sparring partners. In Friday's session, Garcia was roughed up in a corner, took a hard punch to the neck, but rallied with flurries and bloodied his opponent's nose, forcing him to quit.
"Defense is the basis of boxing. He's getting better, and in one year, all of you will see what he will be," Reynoso said.
"I see him as a fighter who knows how to use his distance — he's tall, quick. I saw he's a fighter I can teach, how to use his legs better, how to work off the ropes better. He will show more advances. The pretty face will just give him more fans, but he has a lot of good qualities and potential."
The promise, with Valdez due to defend his belt Jan. 12 in Tucson, motivates Reynoso to transcend from a mention in the trainer-of-the-year discussion this winter to winning the honor in 2019.
Exit with a message
HBO's departure from boxing after 45 years with Saturday's "Boxing After Dark" card at StubHub Center is disappointing, but at least the close comes with a trend-setting point.
In addition to the main event being headed by women's unified welterweight champion Cecilia Braekhus, middleweight champion and two-time Olympic gold medalist Claressa Shields of Michigan is fighting on the card three weeks after fighting in Kansas.
"We had discussed doing it [a quick turnaround] as long as I didn't get cut or hurt, and it's the last HBO card," Shields said. "I need to keep women's boxing on fire. Any opportunity that comes my way, I'm going to take it and make the best of it."
Shields (7-0) is taking a second fight since her planned November opponent, Christina Hammer, required a postponement until the first quarter of 2019. Shields also says she's willing to meet Braekhus at 154 pounds one day.
Her charisma shined at a Saturday lunch at El Cholo restaurant in Los Angeles, when she spoke of making the first girl she fought cry at age 11, and how she spars almost exclusively with men now to maximize her preparedness.
"Guys try to knock me out. I fight to make them back up, miss and pay with shots to the body and the head," Shields said, adding she can only remember crying from boxing once, following her lone amateur loss.
There might be reason for additional sadness if the International Olympic Committee opts in a review of the leadership of amateur boxing to keep the sport out of the 2020 Summer Games in Tokyo.
"I hope they don't take boxing out of the Olympics. I say that because it's such a big opportunity for so many people, especially for women. If I didn't have those two Olympic gold medals, maybe we wouldn't be here right now," Shields said. "It'd be a longer journey to TV and notoriety. It'll be harder for the men too — the promoters, managers and fans respect [Olympic success] more."
Shields would be the perfect athlete to speak in defense of keeping the sport in the Olympics.
"I hope they have a good talk and it gets smoothed out … boxers are getting ready for 2020 … it was a big part of my life," she said. "When I was 16, I didn't have a bed to sleep on until I went to the Olympic Training Center … I barely had any food to eat. There, I ate how I wanted, met my boyfriend, it changed my life … and people from home gained hope from me. I've brought casuals to boxing, older people, men and women. It means something."
Mystery to the max
UFC featherweight champion Max Holloway has said within earshot of his Saturday title-fight opponent Brian Ortega that doctors still haven't identified exactly how Holloway sustained concussion effects that required him to withdraw from their planned July fight.
They'll try to meet again in the main event of Saturday's UFC 231 in Toronto, but it's concerning that UFC President Dana White has taken to negotiating a backup opponent for Holloway — Renato Moicano — if Holloway experiences similar symptoms or can't make weight by Friday.
Ortega manager Ed Soares got White to commit that if Moicano fights Ortega, it will be for the featherweight belt. White posted an emoji of two thumbs up in a text to Soares, and that was good enough for Team Ortega.
Ortega (14-0) submitted Moicano in the third round last year in Anaheim.
"I'd be lying if I said there's not [concern for Holloway]," Ortega said. "I don't know if the [weight] cutting triggers something … he doesn't know what it is. If they say Max can't fight, regardless on Saturday, I'm going to fight."
Until next time
Stay tuned for future newsletters. Subscribe here, and I'll come right to your inbox. Something else you'd like to see? Email me. Or follow me on Twitter @latimespugmire
Get our high school sports newsletter
Prep Rally is devoted to the SoCal high school sports experience, bringing you scores, stories and a behind-the-scenes look at what makes prep sports so popular.
You may occasionally receive promotional content from the Los Angeles Times.