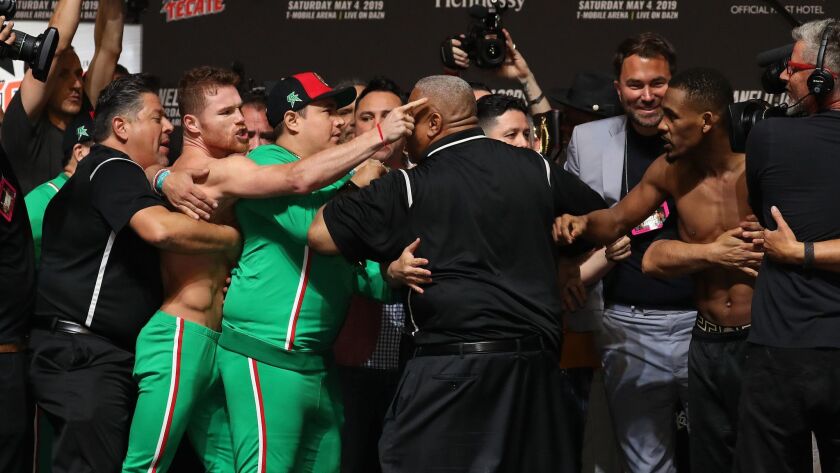 Reporting from Las Vegas —
Canelo Alvarez called it fear. Daniel Jacobs called it a message.
Following uneventful steps on the scale in which Alvarez weighed 159½ pounds and Jacobs weighed in at the middleweight limit of 160 pounds for their Saturday night main-event, three-belt unification at T-Mobile Arena, Jacobs quickly assumed his position on Alvarez's side of the stage for photos of their face-off. When Alvarez approached, Jacobs met him by aggressively pressing his forehead to the champion's.
The friction intensified to the point that there was more contact and a desperate need for both fighters to be restrained.
"Emotions flying high. I've never backed down from a challenge in my life," Jacobs said, invoking the occasional street tension of his Brooklyn neighborhood. "I'm from Brownsville. Everything I do is for Brooklyn, and for the culture, and we're about to do this for the city."
Jacobs yearns to replace Alvarez as the world's most dominant middleweight.
"This is the opportunity of a lifetime. I feel like I'm the best middleweight in the world and that [expletive] right there, he's going to get it tomorrow," Jacobs said.
The response was a swift departure from what had been a cordial fight week loaded with mutual respect. As the bout nears — and perhaps with a nod to attracting more media attention — the pleasantries vanished.
Alvarez, shirtless wearing green sweatpants, was visibly agitated by Jacobs' aggression and ready to meet it with a response after his trainer, Eddy Reynoso, shoved Jacobs back, and others worked to restrain the three-division champion from Guadalajara.
"I'm going to say this in Spanish so all of the Mexicans can understand: He can go … his mother," Alvarez said in Spanish. "For me, the people, my fans and my team, this [fight] is very important. This is a challenge we have tomorrow, and we're going to win tomorrow."
When reminded that Jacobs is saying he will wear all three belts Saturday night, Alvarez said, "He won't be able. He won't be capable."
---