Errol Spence feels at home as he faces biggest boxing challenge against Mikey Garcia in Texas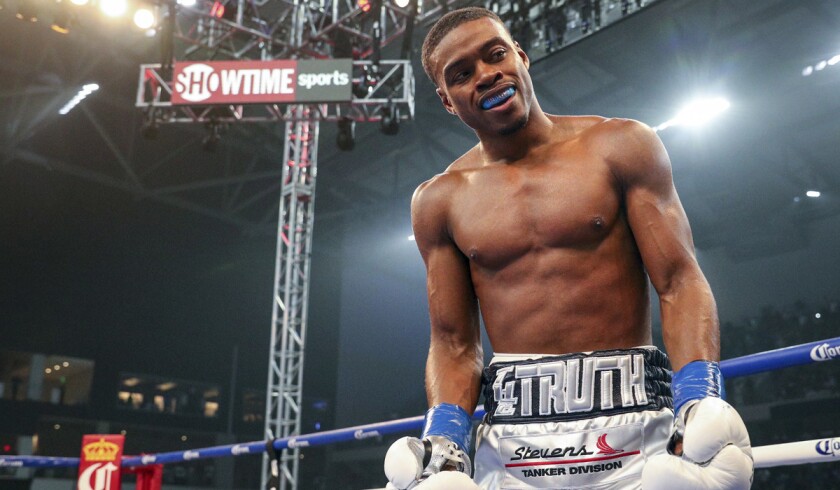 Errol Spence Sr. grew up in a home of nine children, anchored by a father whom the son never heard utter a swear word.
So when it came time to be a family man himself, Spence Sr. dedicated his life to emulating the behavior he'd witnessed while being raised.
His work as a contractor and his wife Deborah's 14 years at the U.S. Postal Service paid the bills and fed the family.
"Medically, physically, financially, we were all about the girls and E.J." the elder Spence said of Errol Jr. and his two sisters, Ebony and Kayla.
Saturday night, across the Dallas metropolis where the Spence's household was rooted for several years in Desoto, Texas, Errol Spence Jr. (24-0, 21 knockouts) gets the biggest opportunity of his career.
The 29-year-old unbeaten International Boxing Federation welterweight champion makes his pay-per-view debut against Oxnard's unbeaten four-division champion Mikey Garcia (39-0, 30 KOs) at AT&T Stadium.
"Other parents would tell me in the amateurs, 'Your son is so good … ' I never got into that because I don't look back," said Spence Sr., who has been married for 32 years. "So there's things I don't get involved in: the limelight, the TV, interviews. I always felt if I started being braggadocious, he'd start to mirror me.
"So after Saturday night comes Sunday morning. Get up, cut the grass, go to McDonald's."
This isn't your typical boxing story.
E.J. didn't need boxing. He played football, basketball and soccer growing up. He was directed to box at the age of 15 as a means to stay in shape in the summer.
"My dad being Jamaican, he was a big boxing fan so growing up he'd take me to the barber shop, and we'd watch the boxing fights, like Lennox Lewis and Mike Tyson," Spence Jr. said. "Football was my first love, but after I found boxing, I just kept boxing and decided to try to go to the Olympics."
Even if fighters had an edge in experience, E.J. compensated with natural talent.
"I was always strong with power, and I was always a quick learner," he said.
While the importance of a good education was emphasized in the Spence home, E.J.'s ability to learn through experience and thirst for competition enhanced his progress.
"It was easy around my home for me, only because I always saw my mother and father work hard," he said. "Every day, they got up and went to work. Seeing that first hand, it automatically built in me the work ethic — that if I wanted something, I was going to have to work at it.
Sign up for our boxing and MMA newsletter »
"They took me to the gym every day and never complained about it. Seeing that solid of a man gave me that type of focus. They drilled that into me. They instilled in me the morals you need to stick to that."
In the gym, his progress accelerated because he respected his coaches' instructions.
"You explain something to me, I can do it right off the bat," he said. "I never said I was that good in school. Sports caught my eye. I was the type of person that if I was into it, it had my full attention. I wanted to build myself into being better than any guy. I've always had that competitive spirit to be great."
Spence's drive earned him a spot on the 2012 U.S. Olympic boxing team, a squad supervised by famed Hollywood boxing trainer Freddie Roach, who labeled quarterfinalist Spence as the best of the crop.
Spence made his pro debut in 2012. He fought nine times in his first year and defeated 20 of his first 21 opponents in five rounds or fewer. By May 2017, he was given a title shot against England's Kell Brook in Sheffield, England.
He scored a late technical knockout of Brook, and has fought twice since, retiring Lamont Peterson in eight rounds and knocking out second-tier contender Carlos Ocampo in the first round in June 2018.
The next month, as he sat ringside watching Garcia defeat Robert Easter Jr. at Staples Center, Spence Jr. heard Garcia call him out for a rare showdown of two boxing champions at their peak.
"The crowd came out and supported him and that'll take a load off me because I know the people will come out and support me," Spence Jr. said.
"I can definitely impose my will to move him around the ring how I want him," he said of his size and weight advantage in excess of 10 pounds. "I have a lot of skill and I believe that, and my athleticism, will be the biggest difference."
He'd like to think his lifelong structure also has made a difference, but ...
"I don't know how that helps me on fight night. There were Hall of Famers who didn't have the greatest families. Someone once told me, though, that, 'Talent can take you places, but your character keeps you there.' You need the right character, mentality and values to stay at the top. I was brought up on that idea to reach for and stay at the top level."
Three years ago, Spence Jr. told his parents they'd worked enough. He bought them a $1-million, eight-bedroom home in McKinney, Texas, and visits with his children, Ivy and Violet.
"My mom was the foundation ... to see how strong she was in raising me and raising my sisters, making sure everything was good … and my dad, being there for the family … that's the type of man I want to be," he said.
"I always want to be around my daughters. You realize time spent with them is more valuable than spending money on them. I live by the guideline of what I saw my parents do, and that has made me a better father, a better man."
Twitter: @latimespugmire
---
Get the latest on L.A.'s teams in the daily Sports Report newsletter.
You may occasionally receive promotional content from the Los Angeles Times.