UFC 235: Jon Jones dominated Anthony Smith and yet came frighteningly close to losing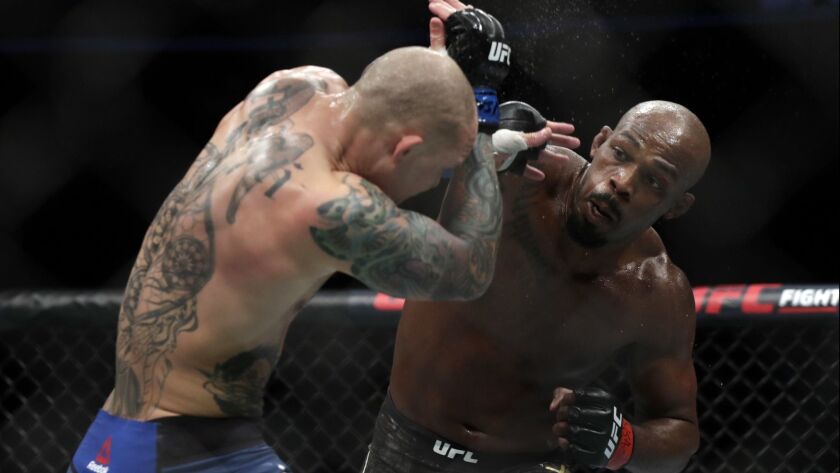 Reporting from las vegas —
Of the many tense moments during UFC 235, the seconds after Jon Jones kneed Anthony Smith in the head while he was defenseless on the canvas made time stand still the most.
After Jones spent nearly four years under suspension for drug and conduct violations, he suddenly was staring at losing a fight he was dominating — and once again losing his light-heavyweight belt — if Smith could no longer continue.
"It was nerve-racking. I was starting to pray. I had flashbacks," Jones said, recalling his only loss 10 years ago, which came as a result of delivering illegal elbows on a similarly decisively beaten opponent. "I'm like, 'Oh my goodness. …'
"But we locked eyes, and I gave [Smith] a look like, 'You're all right … .' I think the average person would've used that as a way out to become a champion. He was tired; I had hit him with the kitchen sink."
Referee Herb Dean, in a move allowed under new Nevada combat sports regulations, inspected the replay on the T-Mobile Arena big screen and judged the knee to be intentional, even though Jones later explained he thought it accidental because he felt Smith was rising from the canvas.
Smith, despite being hurt and confused, expressed that he could continue after the fourth-round pummeling. So Dean deducted two points from Jones — a minor penalty given the alternative — and Jones exhaled.
"He didn't take the easy way out. I owe him a beer, at least," Jones (24-1) said during the post-fight news conference after winning by unanimous decision. "There's a lot of great fighters in the UFC. I'm here to defeat them all."
Sign up for our daily sports newsletter »
The UFC wants Jones to fight Brazil's Thiago Santos (21-6), who has won eight of nine fights — including a technical knockout of Smith — since 2017.
Another potential matchup is a third fight against Daniel Cormier. Jones defeated Cormier in 2015 and 2017, although the second triumph was changed to a no-contest following Jones' second positive test for a performance-enhancing drug. Cormier then claimed the light-heavyweight belt in Jones' absence and the heavyweight belt, which he still holds.
Also looming at heavyweight is WWE star and former UFC heavyweight champion Brock Lesnar, but the UFC prefers Lesnar fight Cormier.
"A Brock Lesnar fight is extremely high risk and extremely high reward," Jones said. "All these fighters should get the opportunity. I believe in myself tremendously."
So does new welterweight champion Kamaru Usman, who dealt Tyron Woodley his first loss since 2014 with a dominating performance.
Usman revealed afterward that he was fighting with a fracture in his left foot, but was determined to win his first title fight.
"I was doing this for everyone, to motivate and inspire. This was for everybody," Usman said. "Once I heard that 10-second clap in the fifth round, I said, OK, I think I just became a new champion."
While Woodley labeled his flat performance "uncharacteristic" and said he'll work to regain the belt, Usman is expected to fight top-ranked contender Colby Covington next. Covington, who felt he deserved to fight Woodley for the belt, confronted Usman at a public workout last week and ribbed him again following the fight.
"I want to [mess] that guy up so bad. I can't be in a room with that guy. I can't wait to be healed up. I will enjoy brutalizing him," Usman said.
Another rising welterweight is Woodley's close friend and former two-time NCAA wrestling champion Ben Askren, who won his debut following a high-profile trade from Japan's One Championship by surviving a first-round pummeling by former champion Robbie Lawler, then applying a bulldog choke to submit him in the same round.
Dean, also refereeing that fight, found himself in controversy there, too, by stopping the fight to much outrage from Lawler, who bolted up and argued.
"Herb checked on me, so I gave him a thumbs-up," Lawler explained later. "I looked right at him. But it happens. He's a hell of a ref. He just made a mistake. … People make mistakes and I'm not one to whine about stuff."
The head of the Nevada State Athletic Commission saw it differently.
"Herb picked up Lawler's hand and it just dropped," executive director Bob Bennett said. "Robbie's a phenomenal warrior, but he was clearly out. So Herb decided to pull the plug and say he was submitted.
"It was right in front of me. It was like a no-brainer from where we sat. Could he have got oxygen back to the brain [to continue fighting]? Maybe. But when you see that arm drop, it's just not worth it to us."
The UFC wants Askren and Lawler to have an immediate rematch, but Askren (19-0) said "I'll pass" in his post-fight news conference. He said he'll venture to the United Kingdom to watch Darren Till fight Jorge Masvidal on March 16, and he wants to fight the winner next.
Twitter: @latimespugmire
---
Get our high school sports newsletter
Prep Rally is devoted to the SoCal high school sports experience, bringing you scores, stories and a behind-the-scenes look at what makes prep sports so popular.
You may occasionally receive promotional content from the Los Angeles Times.