Anthony Joshua taking a champion's approach to Wladimir Klitschko's mind tricks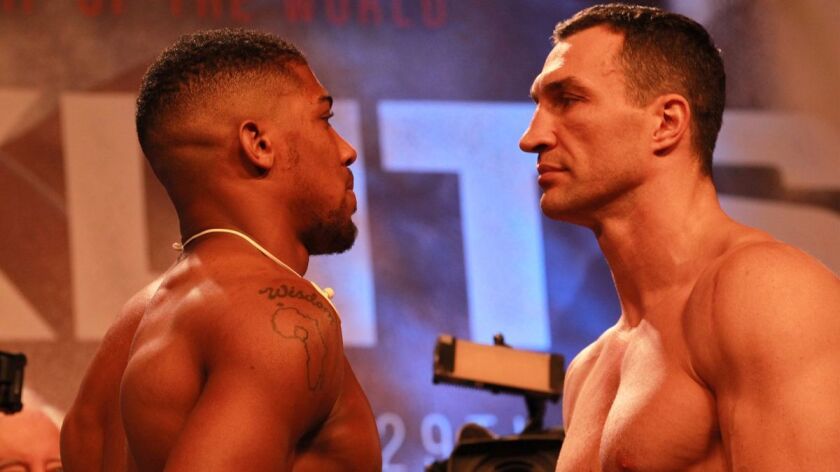 Reporting from London —
Anthony Joshua grinned through the pats on the back Wladimir Klitschko gave him during the promotion for their Saturday fight, but the youngster also has shown a keen understanding of the gamesmanship behind the veteran's treatment.
"It's just how you interpret it. I take it for what it is, don't let it get to me, and move on," Joshua (18-0, 18 knockouts) said in some of his final comments before he defends his International Boxing Federation heavyweight title in front of an expected crowd of 90,000 at Wembley Stadium.
Klitschko, 41, launched a few more mental missiles at his 27-year-old opponent in the late going this week, announcing he's recorded a breakdown message of how he'll beat Joshua on a USB memory stick that he'll auction off along with his robe to the highest bidder for his charitable foundation.
He also opined that Joshua, who weighed in Friday at 250 pounds to Klitschko's 240, looks "bigger than I've ever seen him."
Maybe Klitschko's trying to fluster or anger Joshua?
"Yeah, 'cause when I'm angry, I don't fight well," Joshua said.
Yet, in a possible precursor of the fight action, Joshua didn't flinch at the USB publicity ploy, labeling it a failed attempt.
"It took me back to the time I fought Kevin Johnson. He was saying he'd written a book about how he would tell the world how to beat me, that he had the antidote," Joshua said.
"[Back then], I was thinking, 'Has he actually written a book?' So when [Klitschko] said it, I thought, 'Aw, luckily, I've heard this before.' It's strategy, isn't it? But I'm just focusing on the fight. I'm not downloading no USB. I didn't really take it the way he was hoping."
So as Klitschko relies on the confidence of experience after 29 title fights against the 2012 Olympic champion, Joshua is resolute in keeping it simple and believes his greater power, quicker reflexes and improved boxing will win him the fight.
He understands boxing history and is aware that this is how it often goes among the heavyweights in torch-passing bouts.
From Rocky Marciano flattening Joe Louis, to Muhammad Ali ruining Sonny Liston, to Larry Holmes dominating Ali, to Lennox Lewis leaving Mike Tyson bloody-faced and on his back, it's an oft-repeated rite in the division.
Joshua promoter Eddie Hearn inflated the tension at Thursday's news conference by saying Joshua should more reasonably be fighting Klitschko "in 26, 27 fights' time.
"So why risk it now? The answer is [Joshua] wants to challenge himself. You want to see great fights. That's sport," Hearn said. "No one wants to know the answers before they sit down in their chairs. On Saturday night, the answers will unfold."
Turning toward Joshua, Hearn asked, "Is it too early?" Shifting to Klitchko: "Is it too late?
"Let's roll the dice," he answered himself. "Let's find out."
Joshua trainer Rob McCracken said Joshua has proven he's capable of elevating his skill to greater levels as the challenges heighten.
"As great a fighter as Klitschko has been, I think Father Time is a terrible person when he shows up, and I think he's already showed up," McCracken said. "Wladimir doesn't know himself if he's still there or not and he'll only find out Saturday, and he's against a ferocious opponent, that's for sure."
While former three-belt champion Klitschko (64-4, 53 KOs) did look woefully slow in his most recent fight, losing the belts in November 2015 to Tyson Fury, he's flashed a muscular, conditioned frame after working out in the Austrian Alps.
Freddie Roach, the seven-time trainer of the year who cornered Klitschko to five knockout victories earlier in his career, said that until Joshua meets Klitschko, the younger fighter is "untested" due to the former champion's devotion to his craft.
He thinks it's about him? Liar. It takes two to tango.
Anthony Joshua, on Wladimir Klitschko
"If a heavyweight comes into my gym now and tells me he can fight, I say, 'Can you run 12 800-meter sprints under three minutes 12 times in a row with one minute in between? Go try it and come back,'" said Roach. "No one's come back yet. This is one of their workouts. I know because I timed every one. Him and his brother [three-time heavyweight champion Vitali] are the hardest workers out there, and I'm sure that work ethic has not changed. That's why they're so good."
Joshua is placing more focus on his intention to deliver hurtful blows on Klitschko than paying homage to the longtime champion's legacy.
When Klitschko interrupted a news conference question to Joshua to tell the champion how he should handle losing, some saw it as another example of wanting to keep the young champion in his place — kneeling at the grail of the proud, older man.
Joshua again pulled a reversal.
"Is it the defining fight of my career? No. It's not the end of my career. When [Klitschko] gets beat, that could be the end of him. What represents him doesn't represent me," Joshua said.
"He thinks it's about him? Liar. It takes two to tango."
BOXING
Main event: Anthony Joshua (18-0, 18 KOs) vs. Wladimir Klitschko (64-4, 53 KOs) for Joshua's International Boxing Federation heavyweight belt and the vacant World Boxing Assn. heavyweight belt.
Where: Wembley Stadium, London
When: Saturday, ring walk, 1:15 p.m. Pacific; first bell 2 p.m. Pacific
Television: Live on Showtime; replay at 8 p.m. Pacific on HBO East
Twitter: @latimespugmire
---
Get the latest on L.A.'s teams in the daily Sports Report newsletter.
You may occasionally receive promotional content from the Los Angeles Times.