Errol Spence scores dominant unanimous decision win over Mikey Garcia to retain welterweight belt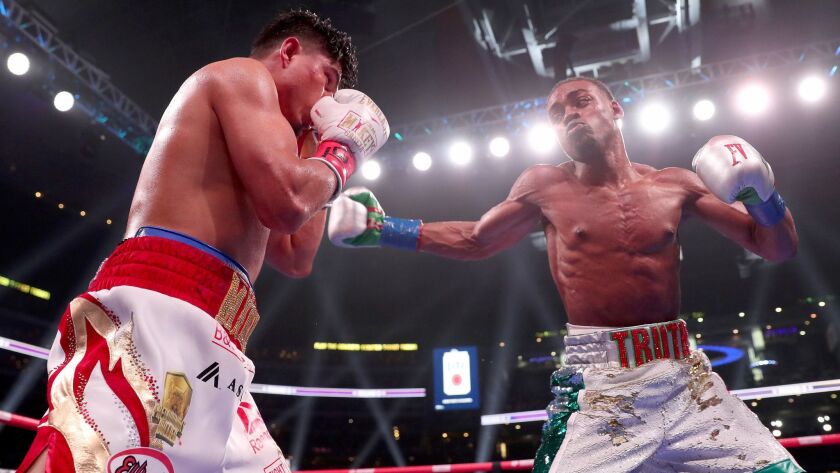 Errol Spence calls Manny Pacquiao over after the decision and Spence says he wants to fight him in his next fight.
Decision: All three judges give every round to Spence in a dominating performance to retain his welterweight title. One judge scored it 120-107 and the other two had it 120-108.
Round 12: Garcia is just trying to survive this round and take the unanimous decision loss as a morale victory. According to Fox the punches landed is 319-67 through 11 rounds. A very clear, dominating win by Spence. Uneventful round as both fighters seems comfortable going to the judges. An overall boring fight and it went as most thought with the bigger man dominating the smaller one. Spence is really hitting Garcia now with less than a minute. Garcia stays upright and gets shutout. Spence dominates.
LA Times Card: 10-9 Spence. Spence 120-108.
Round 11: Robert Garcia lets him go out again after Mikey Garcia asks to go back out. Valiant effort by Garcia and he is looking like he is trying to just finish the fight. Another strong combination by Spence and this is looking like it might not go the distance. Garcia is getting punished. Heart is the only thing that is going to get Garcia through this. You just hope Garcia doesn't take too much punishment here. Garcia gets through the round, but Spence is at target practice.
LA Times Card: 10-9 Spence. Spence leads 110-99.
Round 10: Spence is looking strong here and according to the Fox telecast, Garcia's trainer and brother Robert said in the corner that this would be the last round if Garcia didn't show him something. Nothing yet from Garcia and he is just eating Spence's punches. Great performance from Spence and Garcia is just facing a bigger man. Good exchange in the last minute, but it's all Spence.
LA Times Card: 10-9 Spence. Spence leads 100-90.
Round 9: Spence is tracking Garcia now he is starting to look like he has taken a lot of punishment. Strong left by Spence followed by an uppercut gets the crowd on their feet. Spence has Garcia on the run this is the beginning of the end for Garcia. A dominating effort by Spence.
LA Times Card: 10-9 Spence. Spence leads 90-81.
Round 8: More active start to the round with a nice exchange of combinations in the middle of the ring. Spence is working the jab really well and it is bothering Garcia. Spence lands a good combination and seems to be heading downhill to a victory. Garcia just can't get close enough to Spence to hurt him. Nice left by Spence at the end of the round gives him another one.
LA Times Card: 10-9 Spence. Spence leads 80-72.
Round 7: Cautious first minute of the seventh round. The least amount of action since the first round. Both fighters might be getting a bit winded at this point. Closer round but it goes to Spence.
LA Times Card: 10-9 Spence. Spence leads 70-63.
Round 6: It seems like it'll be a difficult path to victory for Garcia. Spence is dominating the fight and Garcia has yet to hurt him. Nice combinations in the center of the ring. Spence is piling it on right now. A nice left-right combination by Spence draws some reaction from the crowd. A nice right hook by Spence wakes Garcia up and he responds with a nice combination. Garcia needs more of that. Spence continues his shutout, although Garcia had his moments.
LA Times Card: 10-9 Spence. Spence leads 60-54.
Round 5: Garcia's corner told him to start backing Spence up and that is exactly what he is doing. The best action from Garcia to start the round and it looks like he is going to go for it now. Wild miss by Spence with a left hook. Spence is back in charge of the round by mixing up his punches. Spence has evaded several of Garcia's more powerful punches. Good start by Garcia, but Spence finishes strong and takes the round.
LA Times Card: 10-9 Spence. Spence leads 50-45.
Round 4: A steady stream of jabs from Spence opens the round and he looks like he is taking control of the fight. Garcia just hasn't done much. A good combination at the 1:30 mark by Spence and this round has seen the most action so far. They are mixing it up much more. This should be where the fight gets good. Spence's jab is really a problem for Garcia and his reach is keeping him on the outside. Two good lefts by Spence to close the round and this is the most clear round of the fight for Spence.
LA Times Card: 10-9 Spence. Spence leads 40-36.
Round 3: Some boos in the crowd as there has been very little action. Another minute of very little punches landed. Spence is trying to work the body a bit more with his combinations and he catches Garcia with a left that is probably the best punch landed in the fight. Spence wins another round with two good power punches landed.
LA Times Card: 10-9 Spence. Spence leads 30-27.
Round 2: Garcia still being very cautious and it is looking a lot like the first round. Spence is more active and trying to establish the jab. Crowd has had nothing to get excited about yet after the first two minutes of the second round. Garcia is finally starting to wake up a bit by throwing his left hook. Little better action in the final minute of the round although Spence is still landing more punches. Close round goes to Spence again, but it can go either way
LA Times Card: 10-9 Spence. Spence leads 20-18.
Round 1: Spence starts out with some jabs in a cautious start to the fight. Not much action in the first minute of the first but Spence has been a bit more active. Spence does look like the bigger man and should be using his reach advantage as the fight goes on. Spence wins the first simply by landing a couple more punches. Garcia only landed punches in the single digits.
LA Times Card: 10-9 Spence.
8:38 p.m.: Big cheers for both fighters as they were introduced. The biggest fight of the year so far is getting ready to start. Buckle up.
8:35 p.m.: Spence is in the ring and he gives a hug to Floyd Mayweather. Crowd is buzzing as Jimmy Lennox Jr. makes the official introductions.
8:33 p.m.: The Lancaster High School marching band is leading Spence in. This must be a special moment for the Dallas kid. Interestingly, Spence is wearing a green, red and white robe, looking very much like a Mexican flag.
8:31 p.m.: LIghts go out for Spence as he prepares for his ringwalk in his home town. One slight correction, Garcia didn't have a belt over his shoulder, just a shirt that mimicked a championship belt.
8:30 p.m.: Garcia enters first with his trademark cowboy hat and a championship belt slung over his shoulder. He is led in by a banda band.
8: 25 p.m.: The lights have been turned off at AT&T Stadium and the promotional videos have begun. We should expect to see the fighters in the ring within the next five minutes.
8:20 p,m,: Lots os big-name fighters at the fight. One of them is Manny Pacquaio, who is being interviewed on Fox and says that he would like to face the winner of this Spence vs. Garcia match.
8:15 p.m.: The announced attendance at AT&T Stadium in Arlington, Texas is just over 47,000 people. A really great number for this fight. Will be interesting to see what the pay-per-view numbers show.
8:10 p.m.: The undercard fights are done and now we wait for the main event between Mikey Garcia and Errol Spence. My guess is the fight goes off a little past 8:30 p.m. but nothing official yet.
8:02 p.m.: David Benavidez sought a fresh start following a turbulent year, and the best way to bring that to reality was with heavy punches.
So Saturday night, in the co-main event to theErrol Spence Jr.-Mikey Garcia welterweight-title fight at AT&T Stadium, Benavidez battered Las Vegas' J'Leon Love with a second-round knockout.
Phoenix's Benavidez (21-0, 18 knockouts) finished Love (24-3-1) just 1 minute, 14 seconds into the second round with a vicious combination of blows to the head as Love sought to duck under the ropes.
"I knew it was going to happen," Benavidez said.
The heavy flurry answered the frustration of Benavidez losing the World Boxing Council super-middleweight belt he won in becoming the sport's youngest champion in 2017. He tested positive for cocaine, and Anthony Dirrell proceeded to capture the vacant belt.
Following the victory, Benavidez scanned the stadium of 47,525 fans and looked for Dirrell, whom he expects to meet in the summer.
"He can't call himself champ until he comes to fight me," Benavidez said. "I'm going to go get that belt back. That's mine."
7:55 p.m.: In a super middleweight matchup, J'Leon Love will be facing former champion David Benavidez. Both fighters are in the ring.
7:30 p.m.: The quick stoppages allowed former Mexico Olympian Lindolfo Delgado (9-0, nine knockouts) to land his swing bout on the pay-per-view, and he made good use of the exposure with a first-round knockout of Oklahoma's James Roach.
Delgado, who trains alongside Garcia in Riverside, hammered Roach (5-2) with a hard right to the head and a punishing left to the body to drop him for good; the end coming with one second left in the first.
7:05 p.m.: Former bantamweight champion Luis Nery of Tijuana flashed speed and power that Puerto Rico's McJoe Arroyo couldn't contain, getting knocked down four times before failing to answer the bell on the advice of his corner after the fourth round.
Nery (29-0) knocked down Arroyo (18-3) in both the second and third rounds. A counterpunch to the body dropped Arroyo in the second and the former super-flyweight champion touched the canvas again in the third on a right hand to the body.
Combinations to the body knocked down Arroyo twice more in the fourth as Nery, in his U.S. debut, satisfied those who've compared him favorably to Manny Pacquiao.
"I'm happy they make comparisons between me and Manny Pacquiao, and I'm even happier that he's here to see me fight," Nery said.
6:40 p.m.: Former three-time heavyweight title challenger Chris Arreola of Riverside opened the Fox pay-per-view with a convincing victory by third-round technical knockout over Haiti's Jean Pierre Augustin.
Arreola (38-5-1, 33 knockouts) first dropped Augustin (17-1-1) with a hard right hand early in the round, and after an extended inspection by referee Neal Young, the fight resumed.
Augustin wasn't too interested in continuing to exchange, and Arreola belted him with a hard left, then a power right convinced Young to charge in and end the bout 2:03 into the round.
6:20 p.m.: Just before the pay-per-view began, former heavyweight champion Charles Martin (26-2-1) won by disqualification in the eighth round when Dallas' Gregory Corbin (15-1) struck Martin with a fourth low blow.
Referee Mark Calo-oy deducted a point from Corbin in the fifth, sixth and seventh rounds. The first one was questionable because Calo-oy had not previously warned Corbin and Martin didn't show obvious discomfort.
But Martin, after landing several power blows to Corbin's head in the early rounds, did lean over after getting struck low during the sixth round and the hard shot in the eighth was the final straw for the referee, who waved the fight over 53 seconds into the round.
"I don't think he really wanted to fight. He wanted to hit me low and see how much he could get away with," Martin said. "I could sense that he didn't want to engage anymore."
::
Main Event: Errol Spence Jr., DeSoto, Texas, (24-0, 21 KOs) vs. Mikey Garcia, Oxnard, (39-0, 30 KOs) for Spence's IBF welterweight belt
Where: AT&T Stadium, Arlington, Texas
When: Saturday, pay-per-view portion begins at 6 p.m. Pacific
Television: Fox pay-per-view, $74.95; Preliminaries on FS1 at 5 p.m. Pacific
Undercard: David Benavidez (20-0, 17 KOs) vs. J'Leon Love (24-2-1, 13 KOs), super-middleweights; Luis Nery (28-0, 22 KOs) vs. McJoe Arroyo (18-2, eight KOs), bantamweights; Chris Arreola (37-5-1, 32 KOs) vs. Jean Pierre Augustin (17-0-1, 12 KOs), heavyweights; Charles Martin (25-2-1, 23 KOs) vs. Gregory Corbin (15-0, nine KOs), heavyweights
---
Get the latest on L.A.'s teams in the daily Sports Report newsletter.
You may occasionally receive promotional content from the Los Angeles Times.