After scrambling to make weight, Miesha Tate is eager to prove worthy of top billing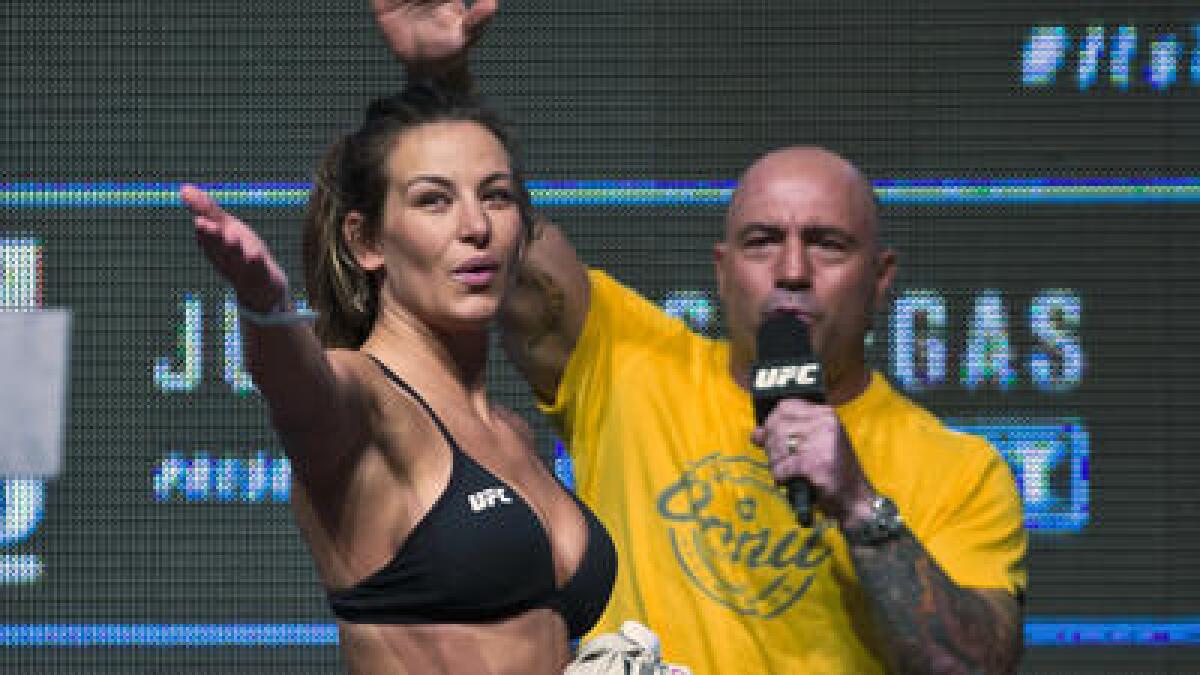 Reporting from LAS VEGAS —
It makes perfect sense that a sport popularized by surprise outcomes has been checkered all week by unexpected, dramatic happenings setting up Saturday's UFC 200.
Even Friday's weigh-in took an alarming turn when the seconds ticked toward a 10 a.m. deadline and main-event fighter Miesha Tate hadn't reached the scale.
Tate, making her first women's bantamweight title defense when she meets Brazilian Amanda Nunes, apparently was relying on a personal scale incorrectly calibrated, because after using the additional minutes to sweat off extra ounces, she met the limit by just half a pound at 134.5.
Tate spent nearly five years residing in Ronda Rousey's shadow after losing twice to the former champion from Venice.
Then, in March, Tate produced a compelling, acrobatic spin to get behind Rousey's conqueror, Holly Holm, and apply a late fifth-round submission choke to become champion.
That reversal of fortune paralleled Thursday evening, when she was working out at a Las Vegas gym and her boyfriend, Bryan Caraway, informed her she'd been elevated to the main event over the comeback of WWE star and former heavyweight champion Brock Lesnar versus Mark Hunt.
Tate smiled widely, Caraway said, thrilled by the idea that she'd reached the historic feat and "something she'd strived for her whole life, especially coming from the female aspect, where they weren't originally respected in the most masculine sport in the world.
"To rise to the top as a UFC champion and get the recognition that she can carry the biggest card in UFC history, that's pretty amazing."
At Friday afternoon's public weigh-in ceremony, Tate told the crowd, "I'm so excited. I'm going to go out there and rip her heart out of her chest."
UFC President Dana White said the move was based on the fact that two scheduled three-round fights would lead to the closing Tate-Nunes scrap, scheduled for five.
"Miesha is the woman who beat the woman who beat the woman. She's the champ," White said. "What Miesha accomplished, you can't disrespect that. She should be the main event. It's the right thing to do."
In what was already a jampacked week of events, including title bouts Thursday and Friday nights, the UFC hadn't planned on calling late-night news conferences Wednesday and Thursday, and an early morning gathering Thursday.
Reporters were hastily summoned for the Wednesday session at MGM Grand.
"How many of you think we're going to announce the sale?" White asked before it started, some hands rising as rumors continued to swirl that UFC Chairman Lorenzo Fertitta was entertaining the idea despite what appeared to be denials during a Tuesday interview with The Times.
Minutes later, White revealed that scheduled main-event fighter Jon Jones, the UFC's top active pound-for-pound fighter and a former light-heavyweight champion, had tested positive for a banned performance-enhancing substance and his rematch against champion Daniel Cormier was off.
Both White and Lesnar subsequently questioned Jones' professionalism.
In an emotional scene captured by UFC cameras, Cormier stamped his foot twice and buried his head in his hands as White told him, lamenting the waste of extensive training and a lost purse. Cormier desperately asked if he could sign a waiver to let the fight proceed, and as a moved White left the news conference, his cellphone vibrated.
It was Ed Soares, manager of Anderson Silva, 41, the former seven-year middleweight champion whom some consider the top pound-for-pound fighter in UFC history. "Anderson said he will fight Cormier," Soares texted, with Silva at his South Bay home.
The result of Jones' backup sample was also declared positive Friday by the U.S. Anti-Doping Agency. Losing the troubled Jones, 28, to a possible two-year competition ban, to be determined by the Nevada State Athletic Commission, was one thing.
Replacing him in a three-round, nontitle bout with frequent pay-per-view headliner Silva would cushion the blow as UFC 200 attempts to surpass the reported record 1.6 million pay-per-view buys of UFC 196 in March.
As Jones insisted during a Thursday morning meeting with reporters that he never knowingly took a banned substance, Silva had to pass extensive medical screening, given his age and the fact he was two months removed from gall bladder surgery.
"Passed with flying colors," White said in the Thursday night introduction of Silva as the replacement.
"I'm in good shape and I don't want anyone to think I'm underestimating the champion," Silva said. "I'm here to challenge myself."
The odds are stacked against Silva, who on Friday weighed 198½ pounds with clothes on while the 37-year-old Cormier (17-1) weighed 206 without clothing.
"If I was worried, I wouldn't be here tonight announcing this," Silva said, his eyes squinting into a determined glare when a reporter challenged him about his readiness. "A fight's a fight. I'm prepared."
As a towel-covered Tate walked off the scale Friday, the unpredictable UFC had found some temporary peace, ready for a card that features nine current or former champions.
The madness resumes Saturday night.
lance.pugmire@latimes.com
Get our high school sports newsletter
Prep Rally is devoted to the SoCal high school sports experience, bringing you scores, stories and a behind-the-scenes look at what makes prep sports so popular.
You may occasionally receive promotional content from the Los Angeles Times.