MMA fighter Jon Jones hopes to finally be done with all the controversy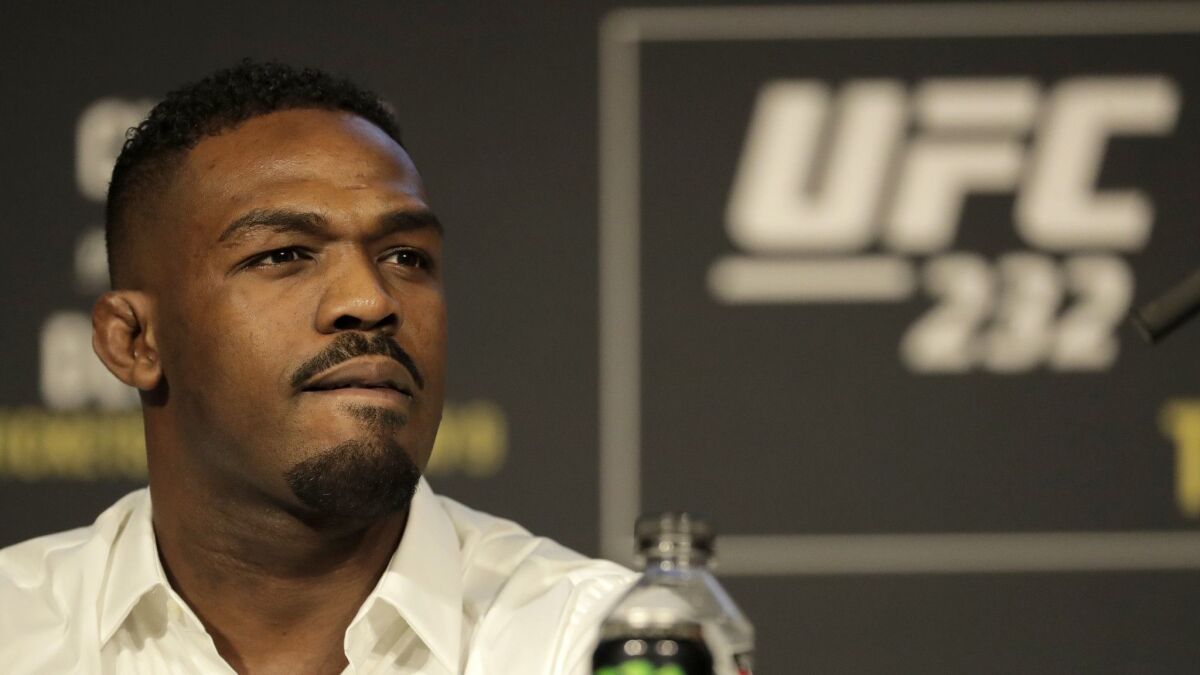 It almost wouldn't be a Jon Jones fight without controversy.
The latest crisis forced the UFC to move Saturday's UFC 232 card to the Forum from Las Vegas – all to preserve Jones' spot in his main-event, light-heavyweight title rematch against Alexander Gustafsson.
"When I first heard, I thought, 'Not again … ,'" Jones told the Los Angeles Times Wednesday of the positive test result for a steroid metabolite that caused the card to be moved because the Nevada Athletic Commission needed additional time to research the repercussions of the result when California's commission had already studied the subject at length and was aware of the metabolite's long-lasting effects.
"I was actually really saddened by it and when all of this was introduced to me, all that sadness of the past summer came back to me. … It drew tears out of me."
Since Jones (22-1) defeated current two-division champion Daniel Cormier by unanimous decision in January 2015 to defend his light-heavyweight belt for the eighth time, drama has followed the UFC's then-No. 1-rated pound-for-pound fighter.
He submitted a positive test for cocaine after the Cormier fight and later that year crashed his car into one driven by a pregnant woman, breaking her arm while fleeing the scene.
Days before a scheduled rematch with Cormier at UFC 200 in 2016, Jones was suspended for a year after he tested positive for a performance-enhancing substance. A rematch with Cormier finally took place last year in Anaheim, but Jones failed a post-fight drug test and was suspended for 15 months.
"This past summer was an absolute nightmare – my mom passed away, then they stripped me and I was being accused of being a steroid cheat. I lost my title, lost all my endorsements and my dog died. It was terrible," Jones said.
Rock bottom can be powerful motivation, however, and Jones said he learned from past experiences to help him deal with the fallout from another positive test.
When California ordered a steroid test, he boarded a plane from training camp in New Mexico and took it. The result was clean, and California accepted him back.
"I knew for some reason that it wasn't as bad. I was familiar with the steroid, the allegations, what happened from the cards I'd missed, rejecting a fight that canceled UFC 151 and the UFC 200 thing – I knew what I was like when it feels like the whole MMA community is hating you … all of these past scenarios made me stronger for this moment," Jones said.
Jones' four-years-long career roller coaster has also earned him another recognition, according to UFC President Dana White.
"Jon Jones has [screwed] up more than anyone in the history of this sport," White said. "People are absolutely going to doubt him and not believe him."
Jones, 31, whose only loss in the octagon was by a disputed disqualification several years ago, concedes partial defeat on the public-relations front.
"No, I know I'll never quite get a fresh, clean start," he said. "Some people will just hate you forever, and for those types of people, you just feel sorry for them. They're narrow minded. They just don't realize that time goes on, that people change over years and that people actually try to do things better, so what I try to do instead of trying to win every heart is to just be a better person and let time show my character."
That's why the fight with Gustafsson is so pivotal. Their 2013 main event in Toronto is considered the most action-packed light-heavyweight fight in UFC history, with a bloodied Jones prevailing by decision.
"What Jon Jones does with himself after this will determine what people think of him," White said.
Jones said he wants to fight twice in 2019, with another clash with bitter rival Cormier or a lucrative date with WWE performer and former UFC heavyweight champion Brock Lesnar a possibility.
Jones was open in detailing the inner demons that derailed his career.
"What led me into that lifestyle was a desire to be accepted, being someone who wanted to please people and be popular," he said. "I grew up underprivileged, from one of the only black families at the school. So I grew up not being invited to parties, never being able to afford to go out with the other kids.
"Achieving financial success and becoming popular for the first time in my life, it was like reliving my childhood in a way, getting to do all the things I never had a chance to do. It got out of control, and I started to live for the party instead of living for me … the DUI, the failed test for cocaine. It was a spiraling effect. I'm grateful now that I went through it so young because now I have the mind of what it all can lead to, and I try to put myself in the best situations now rather than going through those things."
He's returned to identifying with his boyhood name, Jonathan, referring to his fighter identity, Jon "Bones" Jones, as a "character."
"I had to be reminded," in therapy, "about self-worth and the things that really matter to me – my daughters, my fiancée, my relationship with God, having relationships of quality, not being the guy who buys everyone drinks at the bar," Jones said.
"I did a lot of soul searching, and the thing that ensured that was being suspended for about three of the last five years. It allows you to get to the core of, 'Who am I?' And I'm proud of the person I am today. I'm a stronger Jon "Bones" Jones because I've reconnected with Jonathan Jones, and I have to continue being him, loving him and taking care of him, and, eventually, the fans will see Jonathan shine through."
UFC 232
Main event: Jon Jones (22-1) vs. Alexander Gustafsson (18-4) for the UFC light-heavyweight belt.
Where: The Forum; tickets on sale now at box office and at www.axs.com
When: Saturday, pay-per-view portion begins at 7 p.m. Pacific, preliminaries on FS1 at 5 p.m.
Undercard: Cris Cyborg (20-1) vs. women's bantamweight champion Amanda Nunes (16-4) for Cyborg's women's featherweight belt; Michael Chiesa (14-4) vs. Carlos Condit (30-12), welterweights; Ilir Latifi (14-5) vs. Corey Anderson (11-4), light-heavyweights; Chad Mendes (18-4) vs. Alexander Volkanovski (18-1), featherweights
Twitter: @latimespugmire
---
Get our high school sports newsletter
Prep Rally is devoted to the SoCal high school sports experience, bringing you scores, stories and a behind-the-scenes look at what makes prep sports so popular.
You may occasionally receive promotional content from the Los Angeles Times.