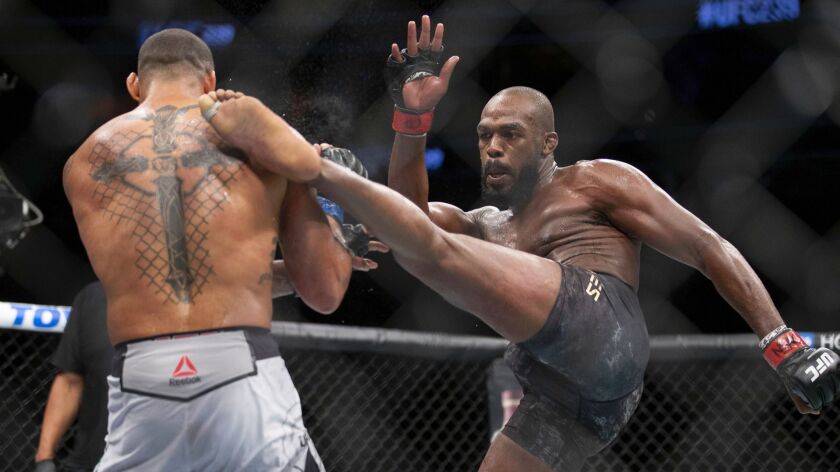 Jon Jones (24-1-0) will put his UFC light heavyweight title on the line tonight when he fights Thiago Santos (21-6-0) at T-Mobile Arena in Las Vegas. The card also features a UFC women's bantamweight title showdown between champion Amanda Nunes (17-4-0) and challenger Holly Holm (13-4-0). Follow along here for round-by-round, fight-by-fight updates.
In the preliminary open, Julia Avila scored a unanimous decision victory over Pannie Kianzad (30-27, 30-27, 30-26). Kianzad had some success in the clinch and opened up a cut by the eye of Avila. However, Avila's boxing proved to be the difference as she stunned Kianzad with punches a few times over the course of the fight en route to a wide decision win.
Ismail Naurdiev vs. Chance Rencountre
Ismail Naurdiev already holds an 18-2 professional MMA record at age 22 and the "Austrian Wonderboy" won his UFC debut last time out. Chance Rencountre is a decade older at 32 years old and is the underdog in this bout despite having won his last UFC contest by submission.
Round 1. Rencountre catches a kick but can't use it to secure a takedown. Rencountre attempts a throw moments later but again Naurdiev is able to avoid going to the mat. A third time Rencountre clinches and goes for a takedown but Naurdiev takes top position. Naurdiev returns to his feet and comes out throwing big punches. Naurdiev hurts Rencountre with knees to the body and follows with punches to the body and a body kick as well. Rencountre responds by taking Naurdiev down. Rencountre holds Naurdiev down against the cage before then placing Naurdiev's back on the canvas. Naurdiev has half guard while Rencountre lands some punches from the top. 10-9 Naurdiev.
Round 2. Rencountre gets Naurdiev's back early and he flattens him out on the ground. Rencountre looks to secure a rear naked choke. Rencountre lands a series of punches from that position but Naurdiev slides out and ends up with half guard again on the bottom. Rencountre's pace slows in the second half of the round but he continues to control Naurdiev, landing occasional punches and preventing Naurdiev from advancing any offense of his own. 10-8 Rencountre.
Round 3. Rencountre shoots for a takedown. Naurdiev blocks it. Naurdiev lands a flying knee and prevents Rencountre from getting a takedown. Rencountre lands a hard straight left hand and pushes in again for a takedown. Rencountre again takes Naurdiev's back from the standing position and pulls Naurdiev down. Rencountre lands a series of punches from the back and forces Naurdiev to turn. Rencountre ends up with full mount but Naurdiev nicely pushes him off and gets half guard again. Naurdiev is able to get back to his feet in the final minute and Naurdiev gets a takedown at the end. 10-9 Rencountre, 29-27 Rencountre.
Winner: Chance Rencountre, unanimous decision (29-27, 29-28, 30-27).
That was a high quality win for Rencountre, who was a big underdog but kept grinding with his wrestling and pulled off a well deserved decision win against a dangerous opponent.
Edmen Shahbazyan vs. Jack Marshman
Edmen Shahbazyan is another in a long line of successful Armenian-American fighters. He is unbeaten at 9-0 with 8 first round knockouts in those 9 wins. He takes on Jack Marshman, a Welsh veteran with a 3-3 UFC record.
Round 1. After exchanging some punches, Shahbazyan secures a takedown. Shahbazyan immediately opens up with heavy punches from top position. He moves from guard into side control, takes the back, and locks in a rear naked choke for the submission.
Winner: Edmen Shahbazyan, submission, round 1.
Shahbazyan has a lot of buzz and it's only going to increase after that performance. Shahbazyan has some great tools and he fights with ferocity. He made quick work out of a much more experienced foe.
Alejandro Perez vs. Song Yadong
Alejandro Perez has had a lot of success in the UFC, winning the Ultimate Fighter Latin America and going 7-2-1 in official UFC competition. The 21-year-old Song Yadong is 3-0 thus far in the UFC and is fighting for the first time outside of Asia.
Round 1. Yadong connects with a few hooks early. He then knocks Perez out with a brutal right hand.
Winner: Song Yadong, KO, round 1.
That was one heck of a way for Yadong to make his US debut. Perez had only lost by TKO once before and Yadong put the lights out in a hurry. Yadong looks like one of the cream of the crop of the emerging group of top Chinese MMA prospects.
Claudia Gadelha vs. Randa Markos
Claudia Gadelha was once considered one of the top 2 or 3 fighters in her weight class but she has struggled recently and is coming off a major upset loss to Nina Ansaroff. She is looking to rebound against Randa Markos, who has largely alternated wins and losses over the course of her career. She is coming off a win over Angela Hill.
Round 1. Both fighters are content to stand early, with the action largely tentative. Gadelha connects with the hardest combination of the early going a couple minutes in. They open up with about a minute left, trading hard punches from close range before returning to a more cautious pace. 10-9 Gadelha.
Round 2. The fight continues at a slow pace. Gadelha connects with a crisp three punch combination near the cage a minute and a half in. Markos lands a few nice punches with less than two minutes left. Markos goes for a spinning backfist but eats a straight right hand for her troubles. Gadelha goes for a takedown at the end of the round but is rebuffed. 10-9 Gadelha.
Round 3. The pace slows in the third, even relative to a lackluster first two rounds. The fighters taunt each other a little bit and then open up briefly afterwards. Gadelha is outboxing Markos in the exchanges. The crowd boos at the end. 10-9 Gadelha, 30-27 Gadelha.
Winner: Claudia Gadelha, unanimous decision (30-27, 30-27, 30-27).
That wasn't a bout that's likely the raise the stock of either competitor. Still, Gadelha rebounded from a disappointing loss and picked up a much needed win.
Marlon Vera vs. Nohelin Hernandez
Marlon Vera is a promising young fighter from Ecuador who has won his last three UFC fights and has some wins against name opponents. Nohelin Hernandez is taking this fight on short notice and has a 9-2 record.
Round 1. Vera catches a leg kick and takes Hernandez's back. Vera uses a body triangle and looks to set up a rear naked choke. Vera transitions from the rear naked choke attempt to an arm bar attempt. Vera loses it and Hernandez gets top position. Hernandez lands some punches as the round comes to a close. 10-9 Vera.
Round 2. Hernandez shoots for a takedown and he secures it. Hernandez lands some punches from the top and postures up to get more power behind his blows. Hernandez lets Vera back up with two minutes left and an aggressive attacks with a flying knee. Hernandez goes down and Vera takes mount. Hernandez turns his back and Vera locks in a rear naked choke for the submission.
Winner: Marlon Vera, submission, round 2.
Nohelin Hernandez showed some potential with his performance but Marlon Vera capitalized on his opportunity in the second and picked up another nice win in what's shaping up as a quality UFC career.
Gilbert Melendez vs. Arnold Allen
Gilbert Melendez has had a great career, winning titles in WEC and Strikeforce while fighting many of the best fighters of his generation. Now 37, Melendez has lost four straight and hasn't won since 2013. This could be his final UFC bout. Arnold Allen is an English fighter who is 14-1 overall and 5-0 in the UFC, so this is a stiff challenge for Melendez.
Round 1. In the early striking, both fighters are employing different styles. Allen is relying principally on straight punches up the middle while Melendez prefers looping punches from angles. Allen connects with a hard punch to the body and then follows with some solid punches to the head. Melendez is finding himself more on the defensive as the round progresses. Melendez goes for a takedown but it is stuffed easily. 10-9 Allen.
Round 2. A confident Allen goes right back to work, backing Melendez up and mixing in kicks with his boxing attacks. Allen lands a nice combination at the midpoint of the round. Melendez is trying to fire back but Allen is faster on the trigger. Allen continues to attack the body after having returns on that front in the first. 10-9 Allen.
Round 3. Allen clinches and takes Melendez down a minute in. Melendez accepts the position and utilizes a full guard but Allen then stands back up. Melendez tries to press the action back on the feet but Allen is countering well. Allen is also attacking Melendez's leg repeatedly with kicks and Melendez isn't moving well. 10-9 Allen, 30-27 Allen.
Winner: Arnold Allen, unanimous decision (30-27, 30-27, 30-27).
Arnold Allen was dominant in that fight as he got the best of Gilbert Melendez in all aspects of the game. Still, it was sad to see Melendez so far removed from his competitive peak.
Diego Sanchez vs. Michael Chiesa
Remarkably, Diego Sanchez has been fighting in the UFC since 2005 and he is coming off an excellent performance in a victory over Mickey Gall in March. He is facing another excellent ground fighter in Michael Chiesa. Chiesa is coming off a win over Carlos Condit and he has fought name contenders for years now.
Round 1. Sanchez shoots for a takedown. Chiesa looks to set up a submission in the process but cannot get anything set up and returns to his feet. On the feet, Chiesa attacks with some punches and knees before returning to a clinch. Chiesa gets Sanchez to the ground and takes his back in the process. Chiesa looks to set up a rear naked choke. He doesn't get it so he lands a series of elbows to the ear. Sanchez escapes and he looks to take Chiesa down but Chiesa reverses and takes top position. Sanchez works his way back up at the close and takes a knee before the round ends. 10-9 Chiesa.
Round 2. Chiesa gets Sanchez down again and lands a series of punches with Sanchez tied down. Chiesa is really pouring it on but Sanchez stands back up. Chiesa opens up with some major punches on the feet and Sanchez goes back down. Sanchez takes full mount and lands constant punches. Sanchez turns his back and the abuse continues. Sanchez gets out and returns to his feet. Chiesa takes Sanchez back down and looks for a kimura. He can't set it up before the round ends. 10-8 Chiesa.
Round 3. Chiesa grabs a leg and takes Sanchez back down. Sanchez momentarily has top position but then he loses it. They return to the feet. Chiesa gets Sanchez down again. To Sanchez's credit, he's been able to control Chiesa's offense much more this round. Chiesa locks in a body triangle and tries for a rear naked choke but Sanchez is able to defend as the fight comes to an end. 10-8 Chiesa, 30-25 Chiesa.
Winner: Michael Chiesa, unanimous decision (30-26, 30-26, 30-26).
Michael Chiesa was dominant throughout that fight. He was more skillful than Sanchez and stronger in the grappling, forcing Sanchez to play defense pretty much the entirety of the contest. In hindsight, it was a perfect matchup for Chiesa stylistically.
Luke Rockhold vs. Jan Blachowicz
With the UFC light heavyweight division not particularly deep, former UFC middleweight champion Luke Rockhold is moving up. If Rockhold can string together a few wins, he could find himself quickly in the title mix. Rockhold was always a big middleweight and he could pose some problems for many of the best light heavyweights. Jan Blachowicz has won four of five and is a solid challenge for Rockhold in his new division.
Round 1. Rockhold opens with a series of kicks from different angles. Rockhold then shoots in for a takedown. Blachowicz defends well and they battle for position by the cage. Rockhold is struggling to get Blachowicz down. Rockhold briefly looks for a guillotine choke but doesn't get it. Blachowicz lands a nice short elbow. Blachowicz then lands another. Blachowicz connects with another punch on the break. Rockhold goes back to work with kicks, throwing them at different levels. Blachowicz stuns Rockhold with a punch and throws a head kick right at the close of the round. Close round. 10-9 Rockhold.
Round 2. Rockhold moves in with some straight punches but then moves back after taking a counter. Blachowicz lands a few nice low kicks. Rockhold again looks for a takedown. Blachowicz knocks Rockhold loopy with a left hand and then knocks him out on the ground.
Winner: Jan Blachowicz, KO, round 2.
It has been a rough night for bigger name fighters and another one went down there. In his mid 30s and having been knocked out in 3 of his last 4, Luke Rockhold's run as a top contender may be over. The focus is likely to be more on Rockhold after this fight, but it is a big win for Jan Blachowicz who has been trying to move into the top mix at 205 for quite some time.
Ben Askren vs. Jorge Masvidal
Ben Askren is one of the sport's most colorful personalities and the undefeated elite wrestler is looking to fight for the UFC welterweight title sooner rather than later. Jorge Masvidal has been a perpetually underappreciated fighter but he is on the upswing after knocking out Darren Till. A win over Ben Askren would be key for his career.
Round 1. Masvidal runs across the cage and knocks Askren out unconscious with a knee. He landed a couple extra punches on the ground before the referee stepped in and taunted Askren a little for good measure as well.
Winner: Jorge Masvidal, KO, round 1.
Jorge Masvidal just set the record for the fastest knockout in UFC history and it was as vicious as imaginable. This is likely to elevate Masvidal's star stature as it was the sort of exclamation point he has long sought. Askren went undefeated for years and it came to an end suddenly and violently.
Amanda Nunes vs. Holly Holm
After knocking out Cris "Cyborg" Justino in quick order, Amanda Nunes is getting discussion as arguably the greatest female MMA fighter of all time. She returns after that performance to defend her bantamweight title. Having already beaten Cyborg, Ronda Rousey, Valentina Shevchenko and Miesha Tate, Nunes has the opportunity to defeat another of the sport's most recognized female stars. For Holly Holm, it's an opportunity to regain the title she won from Rousey. Holm since then has gone 2-4 so a win here would go a long way towards cementing her legacy.
Round 1. After some feeling out, Nunes lands a big head kick that is partially blocked. Holm is regularly firing low kicks to maintain distance. They clinch and Nunes goes for a trip takedown but Holm pops back up. Nunes connects with a two punch combination. Nunes knocks Holm down with a head kick and adds a few punches on the ground before it is stopped.
Winner: Amanda Nunes, TKO, round 1.
Nunes' run continues. There is no precedent in women's MMA history for the run Nunes has had over her last nine fights. Nobody has won so impressively over such a medley of elite opponents and she did it again tonight.
Jon Jones vs. Thiago Santos
Jon Jones is in the conversation with only a handful of other fighters for the title of greatest fighter of all time. Ostensibly unbeaten, Jones has reigned over the light heavyweight title for nearly a decade now. Thiago Santos is the distinct underdog for this bout but he possesses one major attribute he can use against Jones: prodigious knockout power. If Santos connects, he can knock out any opponent.
Round 1. Jones lands a leg kick and then a front kick. Santos knocks Jones off balance with a heavy leg kick of his own. Santos throws a series of kicks of his own. It's interesting how much of the offense of each man early has consisted of kicks. Jones switches stances, putting the leg Santos has been attacking behind him. Santos throws a combination of punches and knocks Jones' mouthpiece out. Santos connects with a big punch to the chin. Santos lands another leg kick. Jones throws a spinning kick at the close. 10-9 Santos.
Round 2. Santos hurts his leg throwing a leg kick at Jones but he recovers and appears to be okay. Jones is exercising a lot of caution moving in on Santos. Jones knocks an off balance Santos down with a kick to the body. Jones follows with a leg kick. Santos lands a few big punches and then a heavy head kick that Jones is able to block. 10-9 Jones.
Round 3. Santos throws a head kick that is partially caught. Santos opens up with a series of punches from close range. Jones knocks Santos down and puts the pressure on. Jones throws a flying knee. Santos is fine. Jones attacks with a couple leg kicks. Santos retaliates with a couple leg kicks of his own. Jones uses an elbow to the forehead that cuts Santos open. Jones throws a few kicks. He has Santos backing up and you can see the confidence growing in Jones. Santos attacks the leg with a couple more kicks. Jones throws a spinning elbow late. 10-9 Jones.
Round 4. Santos lands a leg kick and then a couple punches to the head, leading Jones to retreat across the Octagon to get into a safer position. Jones attacks the lead leg with some kicks. Jones continues to attack that leg. Santos responds with a leg kick of his own. Santos lands a leg kick and winces in pain as he backs away. 10-9 Jones.
Round 5. Both fighters continue to target each other's legs. Santos lands a nice combination featuring a head kick and a few punches mixed in as well. Jones lands a hard leg kick. Santos lands a leg kick and limps away off balance. Santos is clearly compromised physically at this point when it comes to his mobility but he's hanging tough. 10-9 Jones, 49-46 Jones.
Winner: Jon Jones, split decision (48-47, 47-48, 48-47).
That ended up being a very close decision and it was fitting given the fight Thiago Santos put up. Jon Jones clearly had a lot of respect for the power of Thiago Santos and he was cautious throughout because of that. It would be interesting to see how Santos would have done were it not for the mobility issues he was facing.
---