Peter Berg: The Hollywood star, his Santa Monica gym and his mission to nurture boxers
Film director Peter Berg remembers the moment he decided he wasn't going to close down Santa Monica's Wild Card West boxing gym.
It was 2012. Berg was on location in New Mexico working on the war movie "Lone Survivor" when his assistant phoned, crying hysterically.
The assistant had bad news, telling Berg on a Friday that a sewage pipe had exploded, that the downstairs was flooded, and that he should "get out here now!"
"I flew back Saturday. There was no one to clean it up but me," Berg said. "So I got someone from work, we got into some rubber suits and hosed it down.
"After we disinfected the whole thing, I came back to the gym on Sunday, sitting there, thinking, 'I can't do this. It's too much work, the business is shady as it is. …' I got a little emotional and decided I'm going to close it down."
At that instant, in a vision reflected from a mirror to his rear, Berg saw a splash of red hair atop a young man who said he was looking for Berg.
"I'm Saul 'Canelo' Alvarez," said Mexico's most popular boxer. "Freddie Roach says maybe I can do my camp here. Can I train here?"
Berg called it a "Field of Dreams" moment. He gave Alvarez a tour of the freshly cleaned gym to win the fighter's approval, then watched him hurry outside.
"To three Suburbans full of Mexicans, Canelo says, 'Come on!'" Berg recalled. "His whole crew gets out. They put on the music immediately. They sent out for food. The gym turns into this instant scene. Everyone comes back. And the gym is saved.
"But I was that close to shutting it down."
Nearly five years later, Wild Card West has become a vibrant melting pot that welcomes a cross-section of rich and poor, pros and novices, celebrities and everyday folk who box and join Berg in a healthy escape.
"The physical fitness is a huge part, but for those of us inclined to spar, when we get in the ring, it's almost a meditation — a singular focus, a being in the moment that's very calming and relaxing," said Berg, who has also directed "Friday Night Lights" and "Patriots Day" and recently worked on a Rhianna documentary in addition to boxing-related ventures like HBO's "On Freddie Roach" and "The Fight Game with Jim Lampley."
Berg has a multitude of projects continually in his mind; one of his hardest gym rules is to not pitch him other projects.
"In a world that's so hectic and chaotic, and inherently makes concentration and focus so difficult, getting in that ring for three minutes is a wonderful way to get in the present quick," Berg said. "And that feels good."
Wild Card West is developing into something beyond a home for its 100 members and a training or media-day stop for the likes of Alvarez, Gennady Golovkin, Roman "Chocolatito" Gonzalez and Julio Cesar Chavez Jr.
In a business that's really struggling with rivalries based on corporate competitions and egos, we strive to sidestep that.
Peter Berg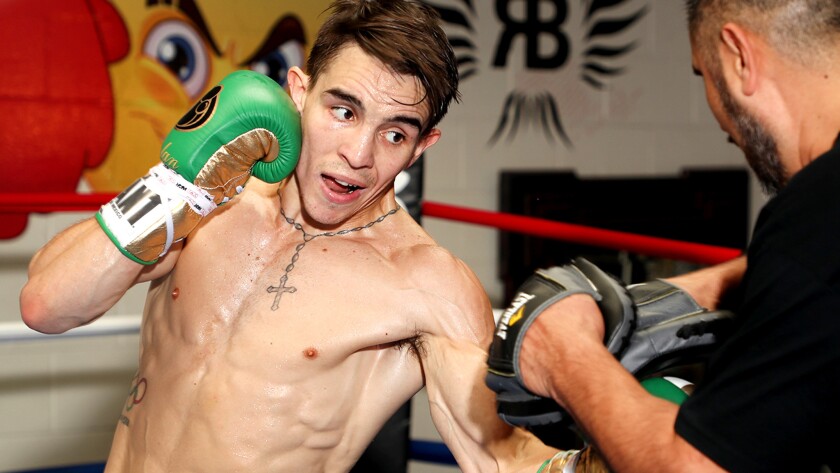 Berg has formed a boxing management company with his actor friend Mark Wahlberg ("Deepwater Horizon," "Patriots Day") and others. He's signed one fighter — unbeaten welterweight Alex Saucedo (23-0, 14 knockouts) of Oklahoma City — with an interest in landing more, given his ties to powerful manager Al Haymon and promoters Oscar De La Hoya, Bob Arum and Tom Loeffler.
It's not about making a buck, Berg said.
"In a business that's really struggling with rivalries based on corporate competitions and egos, we strive to sidestep that. This is not our primary business. It's something we feel passionate about — that the fighters need better representation," Berg said.
"Suddenly, I was getting pulled into the world of boxing, and it doesn't take long for someone like me to meet a guy like Alex and hear his story, learn about his family, get a sense of how hard his life is in this business — to survive in such a hard, physical job and to navigate this confounding world."
Saucedo said Berg's involvement is "very needed in the sport, to help get you started."
Berg heard accounts from fighters that convinced him he needed to take a more active role in the sport.
"I couldn't help but want to get involved," he said. "The more I heard the stories, the angrier I would get at how little money these guys were making and what a lack of control they had. These guys get it the worse. They're lucky to get a fight and because of the multiple promoters; it's hard to get anybody to watch the fight and make any money. So you've got these incredible athletes who are struggling.
"Our idea was, if this young man is willing to do his work — knock people out and create excitement, then we can help. …"
Although he's best friends with UFC Chairman Ari Emanuel, Berg is such a boxing purist he requested that UFC greats Georges St-Pierre and Ronda Rousey limit their practice purely to striking while in his gym.
The gym's clientele breeds eclectic conversation.
"We're not SoulCycle or Equinox," Berg said. "We have billionaires in here, Santa Monica SWAT, firefighters, … gangsters, housewives, kids. And pro fighters. Everyone gets along.
"To have that connection in the community is important to me. Our doors are open, and if homeless guys come in here and they want to work out — and they're polite — they can work out. They might be right next to some big movie star. It's a special and unique environment."
Berg also wants his fighters, members and neighbors to attend a frequent speaker series at Wild Card West, which has featured military heroes and human-performance experts, with the real "Lone Survivor," Marcus Luttrell, expected next.
"Meeting people completely out of your world — it's like what I say to my son: 'You want to be a well-rounded person, not just focused on one thing,'" Berg said. "We talk politics, art, and I want people in here to engage. It's not going to hurt to be exposed. We encourage that dynamic."
---
Get our high school sports newsletter
Prep Rally is devoted to the SoCal high school sports experience, bringing you scores, stories and a behind-the-scenes look at what makes prep sports so popular.
You may occasionally receive promotional content from the Los Angeles Times.