L.A.'s 'Old Man Rivers' still gets a charge out of hanging with the young guys in the locker room
Chargers wide receiver Keenan Allen is always there on third down, using his footwork, his deceptive strength and his sure hands to catch passes. Travis Benjamin and Tyrell Williams are speedsters who can run past the defense. Mike Williams is a big target.
On the field, Philip Rivers has the people he can count on when he needs to make a play. Off of it, he's at least eight years older than any of his receivers.
So when he needs to know who sings a song they're talking about, he goes elsewhere.
"My oldest daughter is 16," Rivers said with a smile, "she helps."
On the field, the 36-year-old quarterback is counted on to make the right play. Off the field he still has to be one of the guys in a locker room that manages to get younger and younger every season. And Rivers somehow has to keep up.
When teammates want to play a digital game of pool or a quick round of cellphone putt putt, Rivers is game — even though he's the same guy who avoids social media like it's Von Miller or Justin Houston.
"When it comes to certain details, who's singing this, what song is that, which app does this, I just have no clue," Rivers said this week, completely at ease with being one of the Chargers' old guys. "The general chatter? I can chime in and hold my own."
But it takes effort.
Because he's the team's general, he has to be able to chatter — his youngest teammates say he's great at it — even if he uses words they're not used to hearing.
Williams, the team's first-round pick in 2017, started to chuckle as he imitated Rivers when he's heated — rearranging the letters from expletives to end up with phrases such as "dag gummit!"
"Whenever he replaces curse words, that's the funniest thing," Williams said, as 25-year-old tight end Sean Culkin did his best Rivers impersonation one locker over.
Earlier this week Rivers was the oldest player on the roster, and then 38-year-old Antonio Gates was re-signed. In addition to having one of his favorite targets on the field, Rivers welcomed the return of conversation that just wouldn't have flown without the veteran tight end around.
Early Wednesday, the two old teammates talked about the changes in high school football around the country — the sophisticated offenses, the high-tech scoreboards, the summer leagues and the improved facilities. For most of the team, it's all they've known.
Said Rivers: "I can't talk about not having seven-on-seven passing camps with these guys, 'They used to not have seven-on-seven camps?' In the '90s, we just worked out and ran in the summer. You showed up and the play sheet was 10 plays."
Gates is the only Charger remaining from Rivers' earliest days as a pro, the rest of his closest teammates either retired or playing elsewhere. That could cause a veteran to disconnect, but Rivers won't let that happen.
"The thing I think you want to do as your core guys have come and gone, you still want to be a teammate," he said. "I say this with all honesty — it's my favorite part of this game, being a teammate. You don't want to lose that."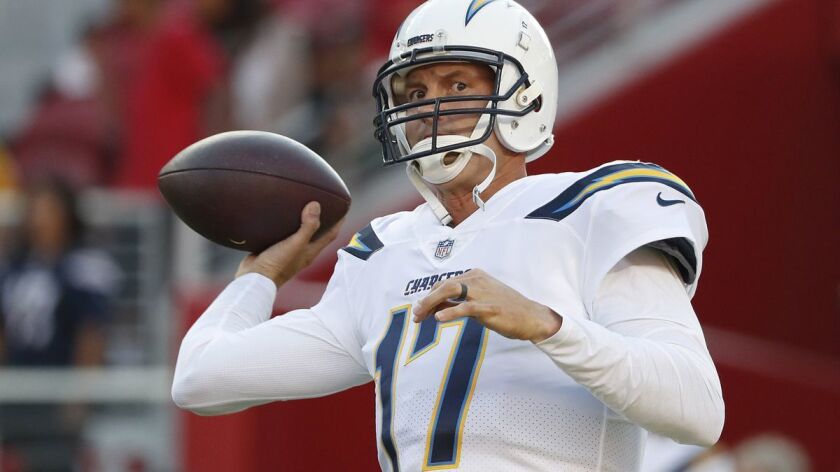 On defense, 33-year-old tackle Brandon Mebane is the resident old head, annoying the rest of the defensive lineman when he tries to take control of the music. He complains about the quality of modern lyrics — he prefers R&B — and talks about how practices and training camp used to be so much tougher.
These are classic "old guy" moves.
"I don't try — at all," Mebane said about acting young. "I stick to what I know. I try to be the DJ, and nobody wants to hear what I want to play."
Being the old guy comes with other challenges. If Rivers catches a teammate sneaking a nap or snacking too often, part of him bristles. But, then he remembers ...
"Why am I going to let that drive me crazy? Why not encourage them along to do all [the right] things, and let them be who they are," he said. "They're 24!"
While his teammates might not go to Rivers for dating advice or for the latest in pop culture, they can talk about football. Ultimately, that matters most.
"He plays like he's been in the league a long time. He plays old, like he sees everything before it comes," Williams said. "He reacts faster. He's seen it all. Whatever comes at him, he knows what adjustments to make."
Whether Rivers or Mebane, the Chargers vets don't walk around the locker room trying to be who they're not, offering opinions on the latest trends or newest styles. That's just not them, and their younger teammates can appreciate that.
"I think what makes [Rivers] relatable, it's just him being who he is," 23-year-old defensive end Isaac Rochell said. "For a lot of young guys, we see him as this old, wise football character. And he is that. Because that's our expectation — a good old-fashioned quarterback. He's relatable.
"Mebane's that way too. If a guy is in that position, you have to be transparent. What you see has to be what you get, to meet the expectation and give good advice when good advice is necessary. That's what they do."
Twitter: @DanWoikeSports
---
Get the latest on L.A.'s teams in the daily Sports Report newsletter.
You may occasionally receive promotional content from the Los Angeles Times.