Column: If Chargers are truly special, it starts with wild-card game against Ravens ... or nevermore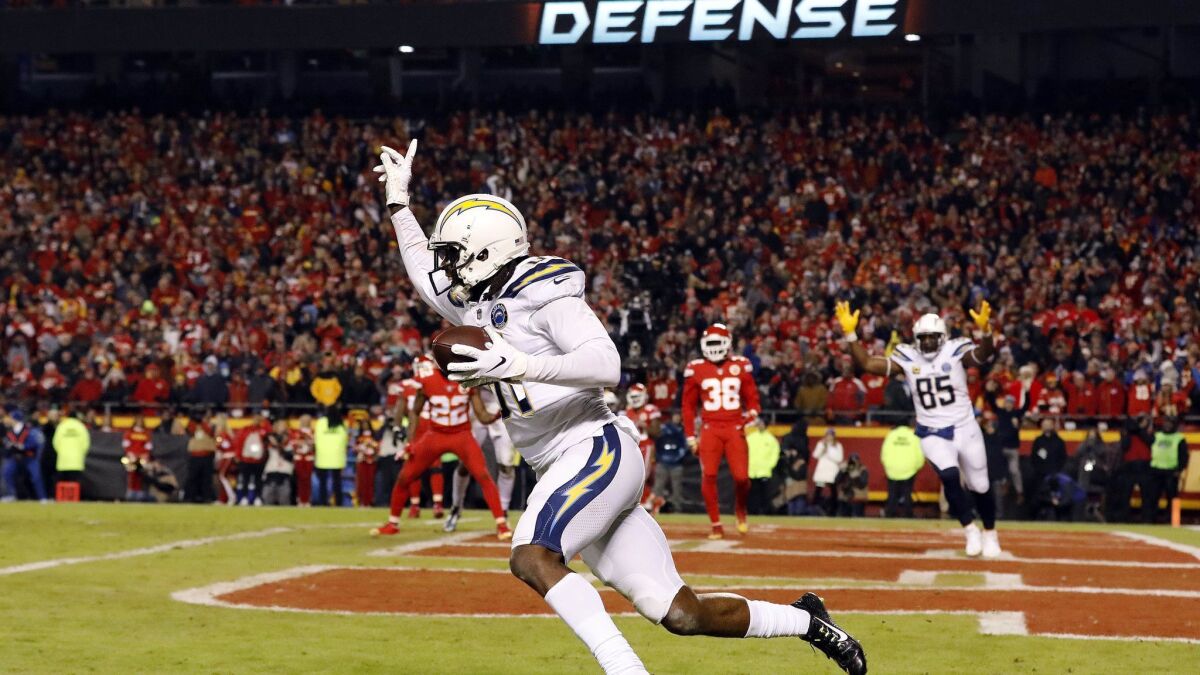 They first said it during training camp, insisting they had the potential to be special and to do something exceptional as a team.
Chargers players repeated that mantra every step of the way, through setbacks and comebacks and everything in between. The team was unified, they said. More resilient than in the past. More determined defensively and deeper offensively.
Their confidence and assurance built as they shrugged off losing two of their first three games and pulled off victories in hostile settings in Cleveland, Seattle, Pittsburgh and Kansas City.
They also won in the hostile setting they call home, where visiting teams' fans continued to dominate the atmosphere at the StubHub Center in number and in noise.
The Chargers backed their words with their performances. They won seven of eight road games and in London too, as a league-leading seven Pro Bowl picks carried them to their sixth 12-win season in franchise history and to the playoffs for the first time since 2013.
On Sunday, in their AFC wild-card matchup against the Ravens in Baltimore, the Chargers must show if they're as exceptional as they've been saying all along.
It's put up or shut up. Be special or be gone.
"Exactly," offensive lineman Michael Schofield said. "We went 12-4, but none of that really matters in the playoffs. It's level, 0-0. You're playing for your season. It's time for us to prove it."
They will have to do that against a staunch defensive team that ranks first in the NFL in total defense, fourth in rush defense, fifth in pass defense and second-best in the league with 4.81 yards allowed per play. The Chargers, of course, know about the Ravens' stifling defense from recent and painful first-hand experience.
Quarterback Philip Rivers' streak of 27 games with a touchdown pass ended against the Ravens on Dec. 22, in a 22-10 Baltimore victory in Carson. He was held to 181 yards on 23-for-37 passing and was sacked four times, a stark contrast to mobile Ravens rookie quarterback Lamar Jackson's 12-for-22 performance with one touchdown and 204 yards passing, the first 200-yard passing performance of Jackson's promising career.
Asked this week to evaluate Jackson's running ability — the Chargers did well to hold Jackson to 39 of the 695 yards rushing he gained this season — Rivers smiled.
"I certainly don't know from personal experience," he said. "It's certainly fun to watch. When I'm moving around, it's moving around hoping somebody comes open in a hurry."
That victory sustained the playoff drive for the Ravens, who were 4-5 before Jackson took over for the injured Joe Flacco. They won six of their last seven games to grab the AFC North title and they're the slight favorites Sunday, the day before Jackson's 22nd birthday.
"Two weeks ago we were the hottest team in football and front-runners and now it seems like the scenario has flipped," Rivers mused. "We've got a tough road ahead and this is the new favorite, so who knows? We'll find out."
The Chargers never got any rhythm to their running game two weeks ago against the Ravens, gaining only 51 yards in 16 carries. But this time, the Chargers will have a vital option in running back Austin Ekeler, who missed the first meeting because of a neck injury.
"Finally we're somewhat to the point where we're all healthy, and that's awesome, especially this late in the year," said Ekeler, who gained 58 yards in eight carries in the Chargers' regular-season finale at Denver. "We've got a lot of different things to throw at them."
And a lot of things to prove.
"We set ourselves up and put ourselves in an opportunity where we have something to go forward to," Ekeler said. "Some teams aren't like that. There's 12 left right now so we've got to take advantage of what we have right now."
The playoffs will be a strange, new world for many of the Chargers, who will look to veterans such as Rivers for leadership.
"I think it's important for us, the guys who have been there, not make it something frightening or anything crazy," he said. "It's what you dream about in the offseason and spring and training camp. You're excited about this time."
The time to be special … or be gone.
"The last 12 teams all have good team camaraderie and are all together and play well together, and it all comes down to who plays a little bit better that day," rookie running back Justin Jackson said. "We have all the tools in this locker room. We've just got to go out and do it."
Follow Helene Elliott on Twitter @helenenothelen
---
Get the latest on L.A.'s teams in the daily Sports Report newsletter.
You may occasionally receive promotional content from the Los Angeles Times.