Melvin Ingram declares Chargers are 'definitely going to win the Super Bowl'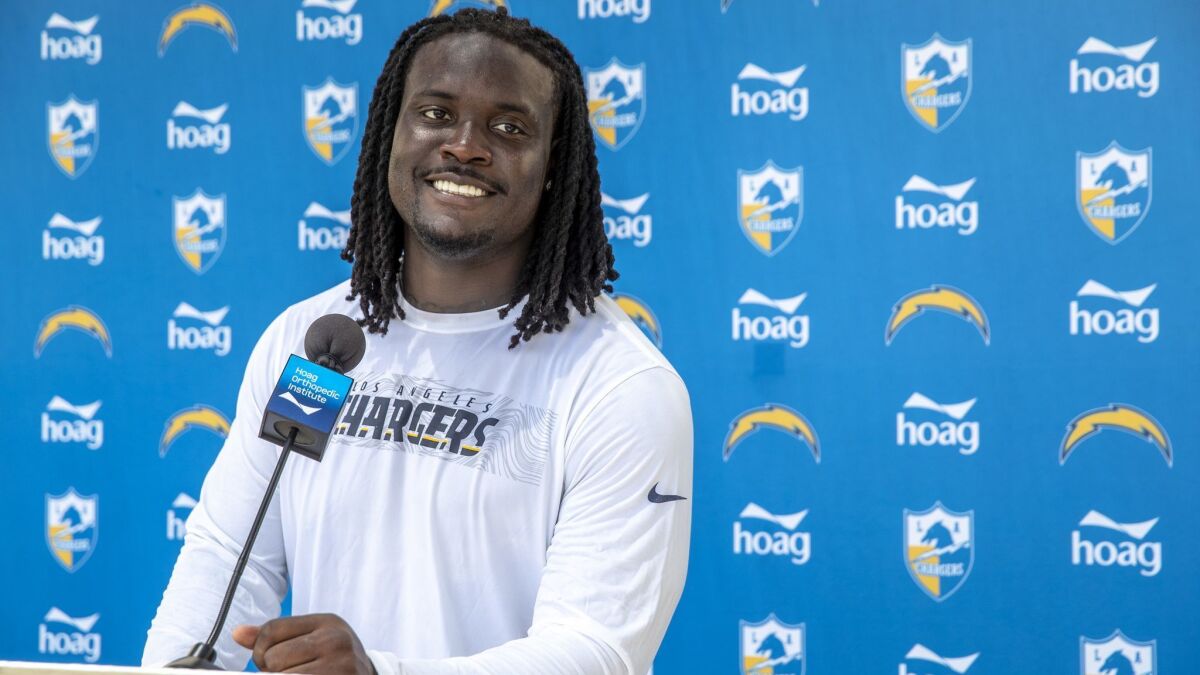 He wasn't part of the Chargers' offseason program until minicamp.
When he finally arrived, Melvin Ingram did so boisterously.
"We're definitely going to win the Super Bowl," he announced this week. "Still ASAP — Any Squad Any Place. That's what we're about."
Ingram, a two-time Pro Bowl defensive end entering his eighth season, never has been shy about making brash, sweeping statements.
After the Chargers were eliminated from the playoffs in January by New England, he said: "We didn't win the Super Bowl. We didn't accomplish nothing."
The Chargers are considered to be among the top teams in the NFL. At 12-4, they finished tied with Kansas City for the AFC's best record in 2018.
Their roster has remained mostly intact, their offense led by a likely Hall of Fame-bound quarterback and their defense featuring speed and versatility.
Running back Melvin Gordon also recently touted his team's prospects on ESPN's "NFL Live" show, saying the Chargers will be the ones to beat in a difficult AFC West, a division he called "no joke."
"We're the team to beat in the NFL, not just the AFC West, it's the NFL," Ingram insisted. "We feel like when we're going against our offense that we need to beat them because they're the best. They need to beat us because we're the best. That's how we're going to get better."
Asked about Ingram's supreme confidence, Gordon smiled and said: "That's Mel being Mel. Mel's gonna talk that talk … I like to talk that talk too. But I'm going to be cool, man, and just see what's gonna happen."
The Chargers completed their mandatory three-day minicamp Thursday in Costa Mesa. The only player missing was left tackle Russell Okung, who remains sidelined by an undisclosed injury.
Coach Anthony Lynn refused to offer an update on Okung and also hasn't given a timetable for his return.
Otherwise, the Chargers figure to be mostly healthy entering a training camp they hope is the foundation of the franchise's first Super Bowl championship.
Even with his players trumpeting their 2019 potential six weeks before those practices begin, Lynn was reluctant to join them.
"Most players feel that way, that they're the team to beat, especially when everyone's undefeated," he said. "But I don't like to talk about it. In our division … until someone tops Kansas City, they're the team to beat.
"Till someone knocks New England off, they're the team to beat. I mean, they won the championship. No, I'm not comfortable with anyone saying that we're the team to beat right now because we've got a lot of prove."
Until defeating Baltimore 23-17 on Jan. 6, the Chargers hadn't won a playoff game since the 2013 season.
Lynn took over as head coach in 2017 and lost his first four games. The Chargers then rallied to finish 9-7 and miss the playoffs via a tie-breaker.
Since that 0-4 stretch, they are 21-7, their notable victories last season including prime-time, December triumphs at Pittsburgh and Kansas City.
Quarterback Philip Rivers, who at 37 is about to start his 16th season, said the experience of the past two years should help the Chargers handle any pressure to perform.
"I think we'll be able to manage those expectations," he said. "I don't think those will have any effect on us. I think that's really how you want it. You hope you get to a point where the expectation on the outside is similar to what's on the inside."
When the Chargers next gather together, in the final week of July, they'll try to continue building upon what began in Week 5 of the 2017 season.
One thing is for certain: there will be no shortage of belief.
"There's a thin line between cocky and confident," Gordon said. "When we talk, it's not because we feel like we're cocky. We're confident in what we can do. We see guys out here making crazy plays all the time. I feel like we got a real good team."
Sign up for our daily sports newsletter »
Etc.
Starting late this month, Lynn is scheduled to spend eight days in Africa, where he is helping build a school through his Lynn Family Foundation. Before that, he'll host a charity golf tournament near his hometown of Dallas.
"When you're building schools," Lynn said, "you gotta raise money."
In July, he's scheduled to participate in the American Century Championship, an annual celebrity golf tournament in Lake Tahoe.
Admitting he's "a little nervous," Lynn said he was surprised to see the size of the galleries from past years when he researched the event on-line.
He particularly noted how tight the fairways seem to be with everyone standing along the ropes as the golfers tee off.
"It's a pretty good crowd," Lynn said. "They're going to have to back up when I'm up there."
Former Dallas Cowboys quarterback Tony Romo won the event last year. Other past winners with an NFL connection include Mark Rypien and Billy Joe Tolliver.
Though he isn't expecting to win, Lynn sounded confident that he won't be the worst golfer there since Charles Barkley is expected to again participate.
"Because Barkley's playing," Lynn said, "I won't finish last."
Twitter: @JeffMillerLAT
---
Get the latest on L.A.'s teams in the daily Sports Report newsletter.
You may occasionally receive promotional content from the Los Angeles Times.