Slow-starting Chargers can't recover from Mile High deficit in Denver
DENVER — They began the game in the worst of all positions — their one-yard line — looking at a destination that couldn't have been farther away.
That desperate starting point proved to be fitting on an all-uphill day when the Chargers set out on a reasonable enough journey but instead came up well short.
Too many crushing mistakes, blown opportunities and empty possessions doomed them in a 28-13 loss to Denver.
"We had a chance to make winning plays today," coach Brandon Staley said, "and we didn't make enough of them."
The loss dropped the Chargers to 6-5, leaving them in a three-way tie for second place in the AFC West, one game behind Kansas City.
They fell behind 14-0 barely 17 minutes into the game when their offense generated nothing and their defense made enough errors to escort the Broncos into the end zone.
Jared Cook's acrobatic catch is Chargers final gasp in 28-13 loss
Jared Cook came down with a desperate third-down heave from Justin Herbert for a 16-yard touchdown as the Chargers pulled within 28-13.
The veteran tight end went up in a crowd and secured the ball along the back line of the end zone.
The Chargers went for two but the attempt failed when Keenan Allen couldn't hold on to Herbert's pass.
Herbert is 28 for 44 for 303 yards and two touchdowns. He has been intercepted twice and sacked three times. Denver has been credited with 10 hits on Herbert as the Broncos have pressured him throughout the game.
The Chargers would not get the ball back again.
Broncos 28, Chargers 13, Final
Justin Herbert intercepted on second straight drive; this one goes for six
Denver took a 28-7 lead when Patrick Surtain II returned a Justin Herbert interception 70 yards for a touchdown.
It was Surtain's second pickoff of the day, the other coming in the end zone in the third quarter.
On this one, Herbert's pass was slightly behind Austin Ekeler, who got both hands on the ball but couldn't hold on. It deflected into Surtain's waiting hands.
Broncos 28, Chargers 7, 7:28 left in fourth quarter
Costly Herbert interception is followed by long Broncos scoring drive
After dominating the third quarter but failing to score, the Chargers fell two touchdowns behind when Denver's Teddy Bridgewater hit Eric Saubert for a one-yard touchdown.
The connection put the Broncos up 21-7.
Denver moved into position to score when Bridgewater passed short to Javonte Williams and the running back turned it into a 42-yard gain, threading his way through the Chargers' flailing defense.
The Chargers controlled the ball throughout the third quarter, putting together a drives of 11 and 13 plays but couldn't produce points.
Dustin Hopkins missed a 52-yard field goal and Justin Herbert was intercepted by Patrick Surtain II in the end zone.
Broncos 21, Chargers 7, 8:54 left in fourth quarter
Derwin James pick gives Chargers late first-half life; Austin Ekeler cuts lead in half
The Chargers pulled within 14-7 with 31 seconds left before halftime when Austin Ekeler scored on a 12-yard pass from Justin Herbert.
The series was set up by a brilliant diving interception by safety Derwin James, who gave the Chargers the ball at the Denver 47-yard line.
Herbert hit Keenan Allen for an 18-yard gain to convert a third down, then connected with Allen again for 14 more yards on the drive.
For Ekeler, the touchdown was his 14th of the season. Only Indianapolis Jonathan Taylor (15) has more.
Ekeler became the second player in the past 60 years to have seven rushing touchdowns and seven receiving touchdowns in his team's first 11 games of a season.
Chargers will get the ball to start the second half.
Broncos 14, Chargers 7, Halftime
Broncos continue to tenderize Chargers defensive front, up lead to 14-0
The Chargers' defensive front was gashed repeatedly as Denver scored again to take a 14-0 lead.
Javonte Williams went in from nine yards out on third and goal.
The Broncos already have 91 yards rushing on 15 attempts, an average of 6.1 per play.
Denver lost starting quarterback Teddy Bridgewater to a lower leg injury during the series. He was replaced by former starter Drew Lock.
Bridgewater was hurt when he was hit from behind by a blitzing Derwin James. The ball came loose and was originally ruled to be a fumble that was recovered by linebacker Kyzir White.
That call was reversed by replay and ruled to be an incompletion, allowing the Broncos to retain possession.
The Broncos later converted a third down when Lock was sacked by Joey Bosa and fumbled forward, where wide receiver Tim Patrick recovered it.
Broncos 14, Chargers 0, 12:46 left in second quarter
Teddy Bridgewater punches it in to give Broncos early 7-0 lead
Denver scored the game's first points on an 11-yard scramble by Teddy Bridgewater late in the first quarter.
The play ended an eight-play, 50-yard drive. The Broncos started at midfield after holding the Chargers to a three-and-out on their first series that began at their own one-yard line.
Tim Patrick beat Tevaugh Campbell for a 19-yard reception during the scoring drive. Defensive tackle Breiden Fehoko gave the Broncos another first down with a holding penalty.
Meanwhile, the Chargers have gone three-and-out on their first two possessions.
Broncos 7, Chargers 0, 4:31 left in first quarter

Quietly, Denver's Vic Fangio helped Chargers' Brandon Staley rise in NFL ranks
They will meet Sunday for the first time as head coaches, Brandon Staley and Vic Fangio matching up when the Chargers visit Denver.
No matter what happens in this key AFC West showdown, it won't be the pair's most monumental meeting, Fangio the one who gave Staley his start in the NFL in 2017 when he hired Staley in Chicago.
"During the interview, he didn't say anything to me," Staley recalled Wednesday. "It was a really tough deal because I'm not getting any feedback on what's going down in this interview. I mean, silence. Nothing.
"He's the type of guy no expression, nothing. I have no idea how I'm doing. I'm trying my best. I feel like I'm killing it. But I got nothing from this guy. We take a break and they ask me and I tell them, 'I have no idea what's going on with this guy.' And they're like, 'That's a good thing.' "
Matt Feiler among the inactives for the Chargers vs. Broncos
Chargers starting left guard Matt Feiler will not play today against Denver because of an ankle injury.
The veteran was injured last weekend against Pittsburgh. He worked out briefly before the game Sunday in Denver but was ruled out a short time later.
Feiler has played all of the team's offensive snaps this season. Coach Brandon Staley said Friday that in the event Feiler was unavailable veteran Senio Kelemete or rookie Brenden Jaimes would start.
The Chargers' other inactives against the Broncos are cornerback Asante Samuel Jr. (concussion), safety Alohi Gilman (quadriceps), quarterback Easton Stick, fullback Gabe Nabers and running back Larry Rountree III.
Chargers no longer on defensive about stopping the run
They still rank last in the NFL, the two teams closest to them — Detroit and Houston — a combined 2-18-1.
Yet to be fair, any discussion of the Chargers' season-long rushing defense must include what has recently happened.
The Chargers have limited their last four opponents to an average of 3.7 yards per carry, which would rank No. 2 over the course of the season.
They have given up 476 yards on the ground during that stretch, but it has taken the opposition 129 attempts to get there.
With renewed confidence, Chargers look forward to playing at Denver
DENVER — He was worked up to the point he had to work out, the Chargers' collapse so epic that Austin Ekeler was left on the floor.
And he didn't even play.
"I just remember doing pushups after that game," Ekeler recalled. "I was just so mad…For whatever reason, when I get mad, I have to vent. I have to start working out."
This is a running back who, pound for pound, is generally accepted to be the Chargers' strongest player. Still, Ekeler was powerless to prevent his team from blowing a 21-point lead last season in a loss at Denver.
Sidelined at the time because of a hamstring injury, Ekeler was marooned in Southern California as the Chargers fell to the Broncos 31-30 on a touchdown scored as time expired.
He'll play Sunday, though, when the Chargers return to Colorado, coming off an emotional, gripping victory and — based on a publicly professed belief that seems to be growing in the locker room — now a changed team.
Chargers vs. Denver Broncos: Betting odds, lines and spread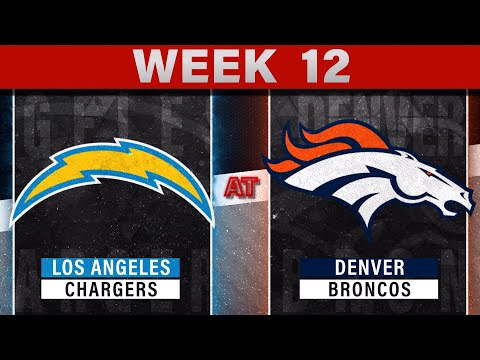 Chargers (-2.5, Over/Under 48) at Denver Broncos, 1:05 p.m., CBS
The Chargers visit the Denver Broncos on Sunday in what has become a key game in the AFC West.
The Chargers started the season 4-1 and looked to be in control of the division with the Chiefs off to a slow start, but they've dropped three of their last five games to stand at 6-4, half a game behind the 7-4 Chiefs. The Broncos also started fast at 3-0 but are 5-5 entering this game and in the midst of the AFC wild-card race.
Las Vegas oddsmakers have installed the Chargers as 2.5-point road favorites.
Chargers vs. Denver Broncos matchups, start time and how to watch
Breaking down how the Chargers (6-4) and the Denver Broncos (5-5) match up heading into their game at 1:05 p.m. PST on Sunday at Empower Field at Mile High. The game will be carried on CBS.
When Chargers have the ball: A week ago, the Chargers scored on all five possessions — three touchdowns and two field goals — through the first three quarters against Pittsburgh. They ended up totaling 41 points in a fit of productivity that followed some extended empty stretches over the previous four games.
Denver is among the NFL's top 10 in total defense and third in points allowed. The Broncos have held three of the last four opponents to 17 points or fewer. Denver likes to disguise looks, but a lot of what it does should be familiar to the Chargers' Justin Herbert. Under coach Brandon Staley, L.A. runs a defensive scheme similar to what Denver's Vic Fangio employs.
When coaching in college, Staley studied Fangio, who then hired Staley in 2017 in Chicago. The two also worked together for a season in Denver. Running back Austin Ekeler will return to his home state coming off a career-best four-touchdown game.
"Yeah, it's special because that's where I started," Ekeler said. "I have some roots there. I still have family back in Colorado. It's always a great time to get back to the state."
Something else to note: Denver returns from its off week, while the Chargers won a draining, emotional game that featured 41 points in the fourth quarter.