Austin Rivers agrees to two-year, $6.4-million contract with Clippers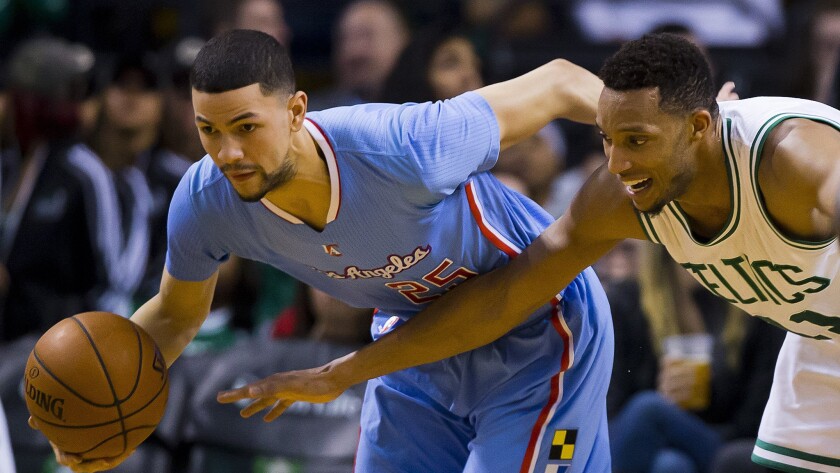 The Clippers are close to completing one of the least suspenseful transactions of the summer, keeping things within the family when it comes to their backup point guard.
Austin Rivers, the middle son of Coach Doc Rivers, has agreed in principle to a two-year, $6.4-million contract that includes a player option in the second year. He will make $3.1 million in the first year of the deal, the maximum the Clippers could have offered after his previous team, the New Orleans Pelicans, declined his fourth-year option.
"two [sic] more years with my baby bro," tweeted Austin's sister, Callie, adding a pair of heart emojis, "& he's been working hard this summer."
The Clippers acquired Austin Rivers in a midseason trade, making them the first NBA team with a father-son combination as coach and player. Doc Rivers said at the time he was largely interested in his son for his defensive length and aggressiveness on offense.
Then Austin produced a series of breakthrough performances in the playoffs that showed the potential of a player who will turn 23 next month. He scored 16 points in a must-win Game 4 against the San Antonio Spurs in the first round and followed that with 17 points as a fill-in starter for the injured Chris Paul in the opener of the Western Conference semifinals against the Houston Rockets.
His most memorable showing came two games later when he made 10 of 13 shots and scored 25 points in only 23 minutes despite Paul's return.
Rivers averaged 8.4 points per game on 43.8% shooting in the playoffs, up from his average of 7.1 points on 42.7% shooting in 41 games with the Clippers during the regular season.
Rivers briefly sparked speculation he might be headed elsewhere this summer when he tweeted that he had "to do what I got to do. No hard feelings" before swiftly removing the post.
Doc Rivers signaled that he wanted to retain Austin after the Rockets eliminated the Clippers in the playoffs, joking that negotiations wouldn't be difficult for one reason.
"I'll call his mom," the coach said.
There was apparently no need for that.
Follow Ben Bolch on Twitter: @latbbolch
---
Get the latest on L.A.'s teams in the daily Sports Report newsletter.
You may occasionally receive promotional content from the Los Angeles Times.