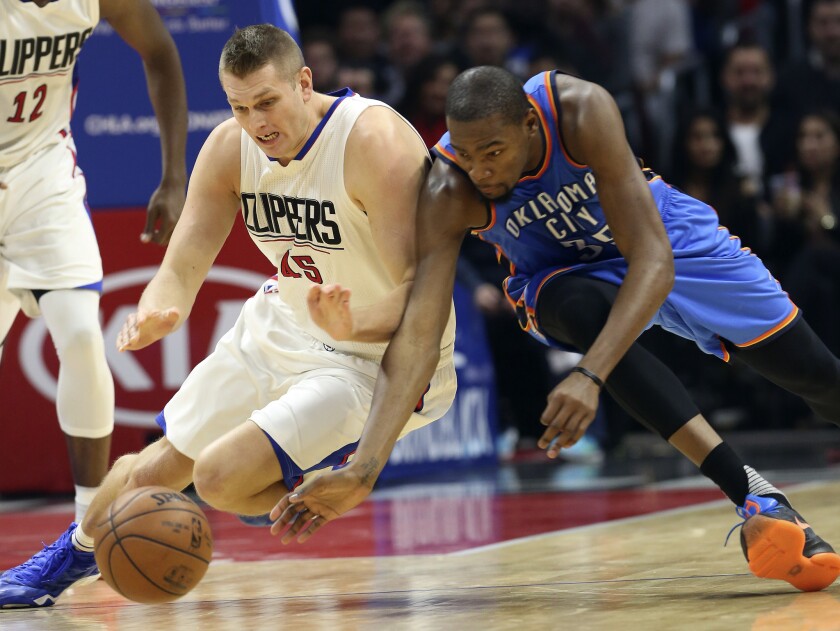 The Clippers needed a win over an elite team. Kevin Durant robbed them of that Monday.
With 5.8 seconds left and the Clippers up, 99-98, Durant made a pull-up jumper to give the Oklahoma City Thunder a 100-99 win.
So far this season, the Clippers have not beaten a Western Conference team with a better record than theirs. They've lost to Golden State (26-1) twice, and fell to San Antonio (24-5) last week.
They had a chance to change that Monday.
With 48.8 seconds left and the Clippers up, 95-93, Russell Westbrook made a three-pointer to give the Thunder a one-point advantage. Blake Griffin then made a dunk with 37.8 seconds left to put the Clippers up, 97-96.
Westbrook responded by making a jumper with 29.1 seconds left to give the Thunder back a one-point lead. With 14 seconds left, Clippers guard J.J. Redick had a turnover the ball. Dion Waiters then committed a turnover for the Thunder, and Chris Paul made a layup with 10.9 seconds left to give the Clippers a one-point lead, 99-98.
After Durant scored with just under six seconds left, Chris Paul attempted a heavily contested jumper with 0.9 seconds left, but it was partially blocked.
Paul led the Clippers with 32 points, 10 assists and five rebounds. Redick had 15 points. Griffin, who opened the game shooting one-for-10 from the field, finished with 15 points, seven rebounds and five assists.
The Clippers were playing without Austin Rivers (sprained ankle) and Paul Pierce (sore back).
Westbrook led the Thunder with 33 points and seven assists. Durant had 24 points, nine rebounds and seven assists.
The Clippers (16-13) have lost their last three games. The Thunder (19-9) have now won eight of their last nine.
---