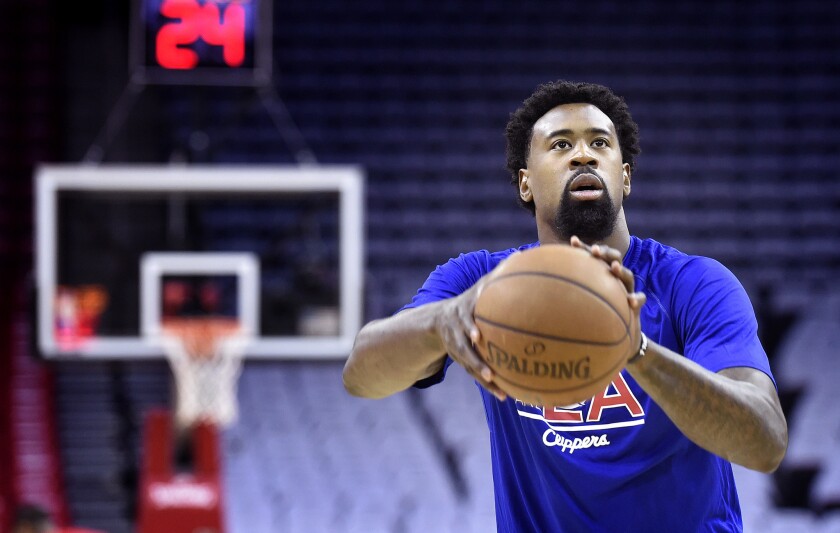 In a stunning reversal involving 11th-hour pleas from teammates, a Twitter war of emojis and a midnight home encampment, DeAndre Jordan decided he wanted to remain with the only NBA team he has known.
He is staying with the Clippers.
The free-agent center backed out of a five-day commitment to the Dallas Mavericks on Wednesday, re-signing with the Clippers for four years and $87.6 million—with an opportunity to opt out after the third year—during one of the wildest days in franchise history.
The strange sequence hit a dramatic climax when several Clippers players and executives remained at Jordan's home in Houston until midnight EDT to stave off any last-minute attempts of Dallas owner Mark Cuban to persuade Jordan to fulfill his pledge to sign with the Mavericks.
Part of the Clippers' traveling party dispersed after Cuban acknowledged defeat, informing team employees that Jordan would return to the Clippers.
"I thought I had a good pump fake," tweeted Dallas forward Chandler Parsons, his team's lead recruiter in its pursuit of Jordan.
The Clippers were far more ebullient, with newcomer Paul Pierce tweeting an emoji of a smiley face and a bottle of champagne. The team's official website tweeted a welcome-back message for one of the NBA's top defenders and rebounders who has been with the Clippers since they drafted him in the second round in 2008.
Jordan had agreed Friday to sign a four-year contract with the Mavericks, but the commitment could not become binding until Jordan signed with the team. There are no formal NBA rules against players backing out of commitments, but it is widely frowned upon because it disrupts plans made by teams throughout the league.
Jordan started having second thoughts not long after making his vow and reached out Monday to Clippers Coach Doc Rivers and forward Blake Griffin, who were among a contingent that traveled to Houston. The group also included team owner Steve Ballmer and players Chris Paul, J.J. Redick and Pierce. Paul, whose strained relationship with Jordan contributed to Jordan's initial decision to leave the Clippers, re-routed his itinerary to make the meeting after concluding a vacation in the Bahamas.
Paul posted a picture of Jordan embracing him on Instagram late Wednesday night along with a quote attributed to Edgar Allan Poe: "Believe only half of what you see, and nothing that you hear."
------------
FOR THE RECORD
July 9, 10:45 a.m.: An earlier version of this article misspelled Edgar Allan Poe's middle name as Allen.
------------
Dallas has been famously spurned during free agency before. Point guard Jason Kidd backed out of a commitment to re-sign with the Mavericks in 2013 to play for the New York Knicks.
The Clippers had long made it clear that keeping Jordan, the All-NBA third-team center and a member of the league's first-team defense, would be the focus of their free-agency plans. They appeared to have increased their odds of retaining him after trading for Lance Stephenson and agreeing to sign Pierce, a veteran small forward with championship pedigree.
After they initially failed to secure a commitment from Jordan, the Clippers disappointed not only their fans but Redick, who gave them a failing grade for their efforts in free agency during an interview with Bleacher Report Radio. Redick had a quick change of heart, tweeting an "A+" after Jordan's signing became official.
Clippers players did not attend their team's first pitch meeting with Jordan, having made their desire for him to re-sign known individually. But they were utilizing nearly all modes of transportation to reach Houston on Wednesday.
Parsons touched off a Twitter war of emojis when he tweeted one of an airplane, suggesting he was en route to meet with Jordan. That prompted Redick to respond with a car emoji since he could presumably have driven to Houston from his home in Austin, Texas.
Players were just starting to get creative. Griffin, who was returning from a Hawaiian vacation, tweeted emojis of an airplane, a helicopter and a car. Paul joined the fun when he tweeted emojis of a banana and a boat, a reference to the banana boat he rode earlier this week in the Bahamas. Clippers assistant coach Mike Woodson weighed in with a swimming emoji and Pierce, who at 37 was apparently unsure how to attach an emoji, instead inserted a picture of a rocket ship.
Griffin later tweeted a picture of a chair wedged against a doorknob inside Jordan's home with the caption, "Don't agree with the furniture layout but I'm not an interior designer."
Dallas had initially impressed Jordan with its relentless pursuit as well as plans to make him a focal point of its offense. One league executive said the Clippers were not happy the Mavericks were granted a dinner with Jordan in addition to a formal pitch meeting once the free-agency process started last week.
But Jordan never commented publicly since making his initial pledge to play for the Mavericks even as Cuban drew a $25,000 fine from the NBA for saying he envisioned Jordan being "Shaq-like" with his new team.
Jordan's Twitter profile still featured a picture of him dunking in a Clippers jersey, something that will happen once again after his decision to return on a day unlike any other in NBA history.
Twitter: @latbbolch
Twitter: @BA_Turner
Times corresponded Eric Pincus contributed to this report.
---