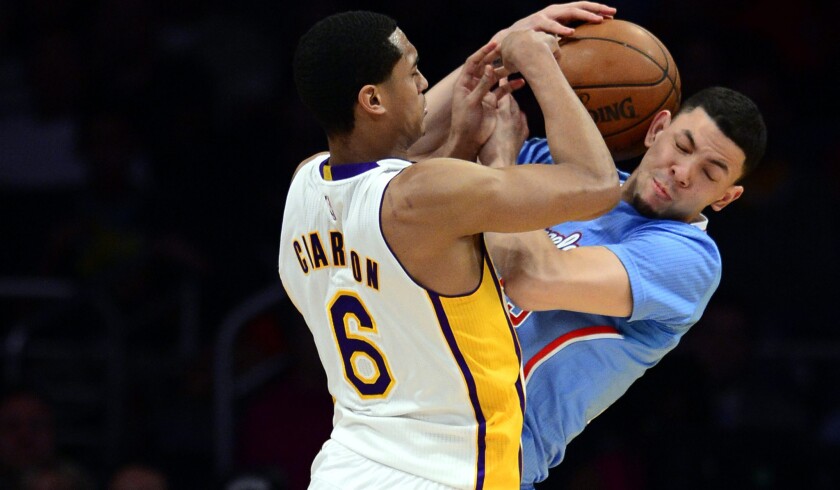 Kobe Bryant will be playing in his final Christmas game when the Lakers host the Clippers at 7:30 p.m. at Staples Center.
"It's about us winning the game; that's our focus," Clippers Coach Doc Rivers said. "But Kobe deserves everything you give him. He's earned it. I say it all the time. There are guys in the league that have given so much to the league that they deserve everything you give them. Kobe's one of those guys."
Bryant is 6-9 in Christmas games, and has scored an NBA-record 383 points over his 15 performances on Dec. 25.
The Lakers (5-24) are in the cellar of the Western Conference, though Bryant has been putting on a show as of late, averaging 23.8 points on 46.2% shooting over the team's last five games.
The Clippers (16-13) have dropped to fifth place in the Western Conference after losing their last three games.
Rivers said Friday's game will be special because it features two future Hall of Famers in Bryant and Paul Pierce at the tail end of their careers.
"We're going through this golden age right now, with not just Kobe, but with Tim Duncan, with Paul [Pierce], KG [Kevin Garnett], Dirk [Nowitzki] -- there's five or six of the greatest players that ever played the game that we're not going to see in the next two years," Rivers said. "So I think we should cherish that every time we see them."
The Clippers have won seven consecutive games over the Lakers by an average margin of 24.6 points.
---