Takeaways from Clippers' 111-107 loss to San Antonio Spurs in Game 5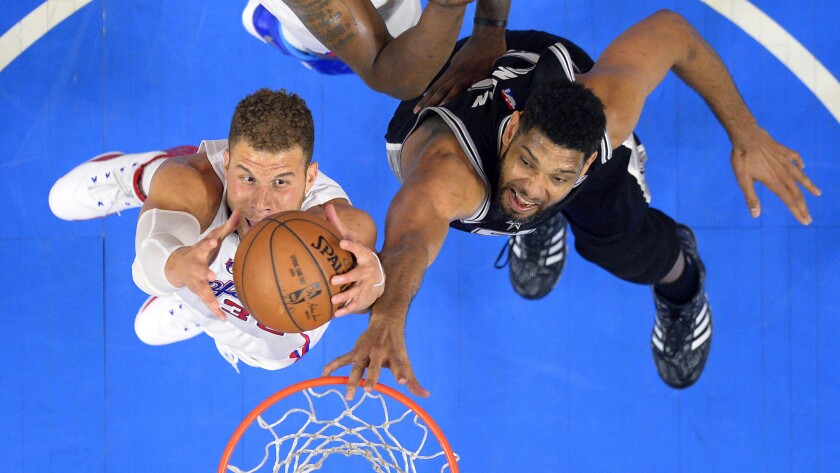 If nothing else, the Clippers and San Antonio Spurs have saved the first round of the NBA playoffs from utter indifference. The most compelling series took a big turn in the Spurs' favor Tuesday night at Staples Center with their 111-107 victory over the Clippers in Game 5. Here are five takeaways from an outcome that gave the Spurs a 3-2 lead in a series that resumes Thursday with Game 6 at the AT&T Center in San Antonio:
1. It was another brutal ending for the Clippers on their home court. For the second consecutive game at Staples Center, the Clippers wiped out a sizable fourth-quarter deficit only to fall short. This time, it was center DeAndre Jordan's basket interference on a tip-in of a Blake Griffin shot that may have been good anyway that cost the Clippers the game. "You can't blame anybody for that but me," Jordan said. "I tipped the ball. I was under the basket, so I couldn't really [tell whether the ball was going in]. I was trying to make a play on the ball, but it ended up being a dumb play."
2. Mr. Mo Mentum changed uniforms again. The Clippers took the series opener. The Spurs counterpunched with two consecutive victories. The Clippers won on San Antonio's homecourt. The Spurs came back to Staples Center and squeaked out a thriller. What's next? Who knows. "There is no momentum in this series," Clippers Coach Doc Rivers said. "The two teams have been — shoot, they've been evenly matched and it keeps coming down to the buzzer and they've won two close ones in our building." It's your move, Clippers.
3. Griffin seemed clearly fatigued in the fourth quarter. He made only one of nine shots and missed two free throws in the fourth quarter of a game in which he finished with 30 points. "Down the stretch everybody is tired," Griffin said, "but it's a factor. But it's a factor for everybody, so it's not really an advantage or disadvantage for anybody, I don't think." It also didn't help Griffin that the Spurs put Tim Duncan on him for the first time in the series and Duncan came up with a huge block of a Griffin shot near the basket. "He has a hard time jumping over a piece of paper," Spurs Coach Gregg Popovich quipped of Duncan, "and he gets in position. He knows where to be."
4. The officiating was an issue. There were controversial calls galore, including basket interference on Matt Barnes, traveling on Blake Griffin and a foul on J.J. Redick for apparently just standing there. There was also a fourth-quarter technical foul on Chris Paul that gave the Spurs a point when it looked as if Paul did nothing more than throw the ball to a referee after a Spurs basket to accelerate the start of a Clippers' possession. "I thought if anything, it was a delay of game," Paul said. "In the other 82 games it would have been a delay of game but tonight they didn't call it." Rivers was clearly irritated about the calls when he met with reporters. "It's not why we lost," Rivers said, "but those were big plays for us."
5. Can the Clippers muster the fortitude to win a second game on the Spurs' home court and force a Game 7? They were widely counted out after falling behind, two games to one, in the series before winning Game 5 at the AT&T Center in San Antonio. But this is a harder challenge, winning a second game there with no cushion should they lose. "We can win anywhere," Clippers sixth man Jamal Crawford said. "I have total confidence in our team. Most people had us losing this series, but for us, we feel like we have a great shot. We just have to go there and get one … and come back home." A loss would mark a third consecutive crushing ending to a season for the Clippers, who were clearly outclassed by San Antonio in the 2012 Western Conference semifinals before squandering a 2-0 lead in a first-round series against Memphis in 2013 and collapsing in the final minute of Game 5 against Oklahoma City in the conference semifinals last season. Griffin wasn't ready to concede anything. "Close-out game, elimination game for them," Griffin said, "so we've got to be ready to go. Series isn't over, though."
---
Get our high school sports newsletter
Prep Rally is devoted to the SoCal high school sports experience, bringing you scores, stories and a behind-the-scenes look at what makes prep sports so popular.
You may occasionally receive promotional content from the Los Angeles Times.