Clippers' Dahntay Jones hopes 10-day contract turns into something more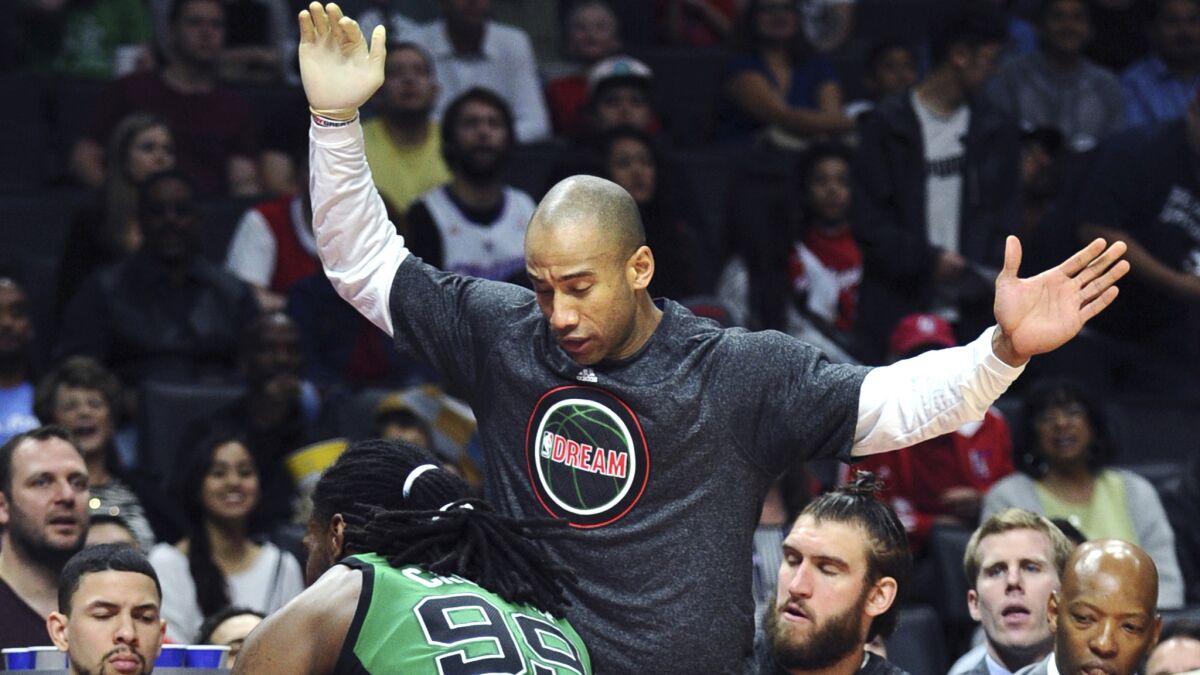 Dahntay Jones was in the middle of a game on Jan. 13 with the Mad Ants, an NBA Development League team, when he found out he was headed to the Clippers.
The Clippers signed the 34-year-old to a 10-day contract.
The league veteran, who has played with seven NBA teams, understands how to be successful in this stint with team.
"I have to lose myself in this team and do whatever they need me to do, whether that's cheer on the bench, go in and play defense, talk through everything with guys, whatever we need to do," Jones said. "If I lose myself in that overall goal then I'll be successful, and I'll have a chance to stay on the team longer. But if I worry about my individual game, that's not going to work out for anybody on this team."
Jones, a 6-foot-6 shooting guard/small forward, was acquired by the Clippers after they dealt Reggie Bullock to the Phoenix Suns and Chris Douglas Roberts to the Boston Celtics in a three-team trade to sign Austin Rivers. The Clippers also waived Jordan Farmar.
Jones has a career average of 5.6 points and 1.8 rebounds in 16.3 minutes a game over 592 games in the league.
He acknowledged that having to prove his importance in such a short period of time is not an easy task.
"It's definitely a little nerve-racking at times, I'm not going to lie to you," Jones said. "I just have to lose myself into winning and what we're trying to do. It helps me not worry about what I'm going through as a person to worry about what the team's going through."
So far Jones has averaged two points in 15 minutes a game over three games. But the players and Clippers Coach Doc Rivers recognize his great attitude and potential.
"I like what I see," Rivers said.
Added Chris Paul: "He's been great. I've known Dahntay for a long time. He went to that other ACC school (Duke). We joke about it all the time. Dahntay was one of those guys, whatever team he was on, he used to guard me. He's a defender. I played against him in the playoffs and he guarded me. He's selfless. He does whatever the team needs you to do."
Jones will get a chance to practice with the team Wednesday. Rivers said he hopes to teach both Jones and his son, Austin, how to fit in with the Clippers' transition defense.
The veteran said he's ready and willing to do anything and everything to help the team.
"I've been on a lot of good teams and I'd rather be the small pig on a championship team than be the man on the worst team in the NBA," Jones said. "Everybody remembers a champion, no matter if you're the 15th man or the first man. Everybody remembers who was on the great Celtics or the great Lakers teams. They remember all of those 15 guys, but they don't remember the leading scorer who was on the 76ers this year, not being disrespectful. If you lose yourself in the championship effort then all of your goals will come true."
Jones attributes his maturity to his age, adding that he's not sure he'd have the perspective he has now if he were a younger player.
"You learn a lot of things over your life as a man and as a basketball player, and you learn what's most important," Jones said. "You learn that winning is the most important thing in this game of basketball."
---
Get our high school sports newsletter
Prep Rally is devoted to the SoCal high school sports experience, bringing you scores, stories and a behind-the-scenes look at what makes prep sports so popular.
You may occasionally receive promotional content from the Los Angeles Times.