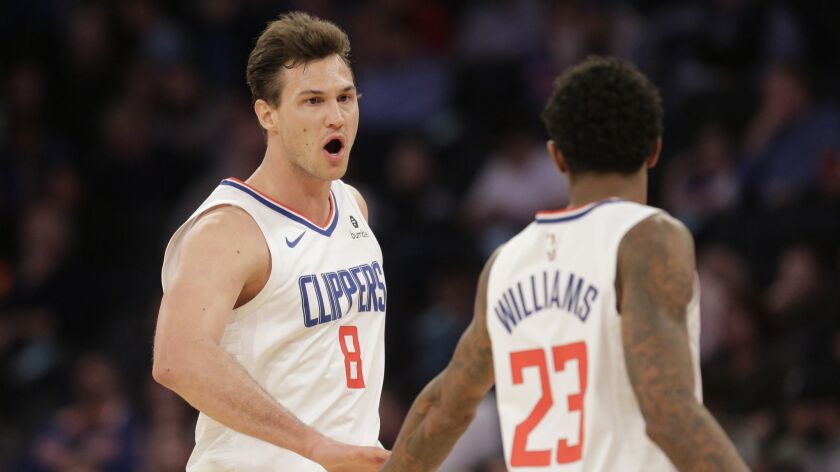 Consider this: The only local men's basketball teams that exceeded expectations were UC Irvine and the Clippers. Just as everyone predicted.
"Exactly," Clippers coach Doc Rivers said with a smile that reflected great pride in his team and in the Anteaters, whose roster included his son Spencer as a reserve guard.
It's absurd and marvelous that the Clippers, widely predicted to miss the playoffs, have clinched a postseason berth and can finish as high as fourth, a cause they advanced with their 132-108 victory over Cleveland on Saturday. The Lob City era was fun, but it ended without the Clippers getting past the second round. This group's fate will play out soon enough, but its chemistry is different and feels good. The Clippers' teamwork, togetherness, and depth can compensate for the absence of a superstar. According to the Elias Sports Bureau, the Clippers are only the sixth team in NBA history to win 45 games without a current or former All-Star on their roster.
"The big three never got to the Western Conference finals," Ivica Zubac said, referring to Lob City stars Chris Paul, DeAndre Jordan and Blake Griffin, "and I think if we have a good playoff run we can change the image about the Clippers being a successful team, and even attract some fans, I hope."
Although they've thrived after they traded leading scorer Tobias Harris and shooting guard Avery Bradley in salary cap-clearing moves, they have no familiar faces or big personalities. And for better or for worse the NBA is fueled by personalities like LeBron James, whose season was cut short Saturday when the Lakers announced they'd rest him the remainder of a season that isn't going to end in a playoff appearance. That absence of star power apparently has turned off fans who were dazzled by the Lob City exploits: The Clippers' home attendance average is up slightly compared to last season but they've played to only 90.8% of capacity, down from 100.1% in 2016-17.
The Lakers have tradition and banners and LeBron. The Clippers can't match that but they're trying to improve their corner of the sports landscape. "The Lakers didn't make it the last [six] years. The picture is obviously changing," Zubac said. "People know the Clippers were being the better team the last couple of years. It shouldn't matter what the Lakers do. We've just got to focus on ourselves and trying to be as successful as we can, trying to win as many games as we can in the playoffs. We're going to start attracting some fans, and I think in a couple years it's going to be a different picture about Clippers."
Rivers said he never focused on the Lakers and the popular notion James would carry them at least to the Western conference finals. "Truth be told I did believe, and I said it from Day One, that we would be there and I thought they would, too, and that didn't bother me one way or the other," Rivers said. "I actually thought they could be a first-round opponent in some ways. But what they did or didn't do, never controlled anything we did. It was almost like we were in separate towns in the way we viewed it. Like, let's be us, and not worry about anything else, and I think we did a good job of that."
Despite their success so far, the Clippers think they're still under the radar. "We're fine with that," guard Patrick Beverley said after Rivers rested all of his starters in the fourth quarter Saturday, an ideal example of load management with another game looming Sunday night at Staples Center against Memphis.
"We're not a flashy team," Beverley said. "We don't go in there with dunks, and oohs and ahhs and all that. We play the right way and next thing you know we're up 15. We play the right way and next thing you know we're up 20 points and we're walking out the door with a win. We don't really care about the oohs and ahhs. We continue to do the right things, play the right way."
Wooing high-caliber free agents this summer and next summer remains a priority for the Clippers, and their postseason performance this spring could enhance their chances of luring a premier player. "We're playing well and good free agents are going to see we're a good spot to be at," Zubac said. "Everyone wants to live in L.A., and being a successful team in L.A. is definitely going to attract some guys."
A good playoff run "would open a lot of people's eyes, a lot of free agents' eyes," reserve guard Sindarius Thornwell said. "I think it would open up a lot of people around L.A. A lot of people would start to take the Clippers seriously. We don't have no superstar. We don't have no max contracts. We don't have no guy that everybody wants to see, but we're a team that's winning and finds a way every night. And with there being a lot of stars, a lot of free agents coming up, you have a chance to go to a team with no stars, no go-to guy, and they're winning, they're competing with the top teams, that's like the best situation for a top player to go to."
Thornwell volunteered to assist Clippers executives with their recruiting pitches. "I feel like our situation here is the perfect situation for a talented guy to come to just because of how our team is right now," Thornwell said. "Young guys, good vets, great coach, great team chemistry, great team environment. And I think that's the best thing anybody would want to be in is a situation that is not as stressful, not as crazy, egos and stuff. I think that's the best thing in pro sports that you can be around, is guys not battling each other."
Sounds persuasive. Sounds good. Soon, they'll find out if it will propel them into a new and more successful era than Lob City ever was.
Sign up for our daily sports newsletter »
---