Clippers' Patrick Beverley and Garrett Temple have mutual respect for carving out a career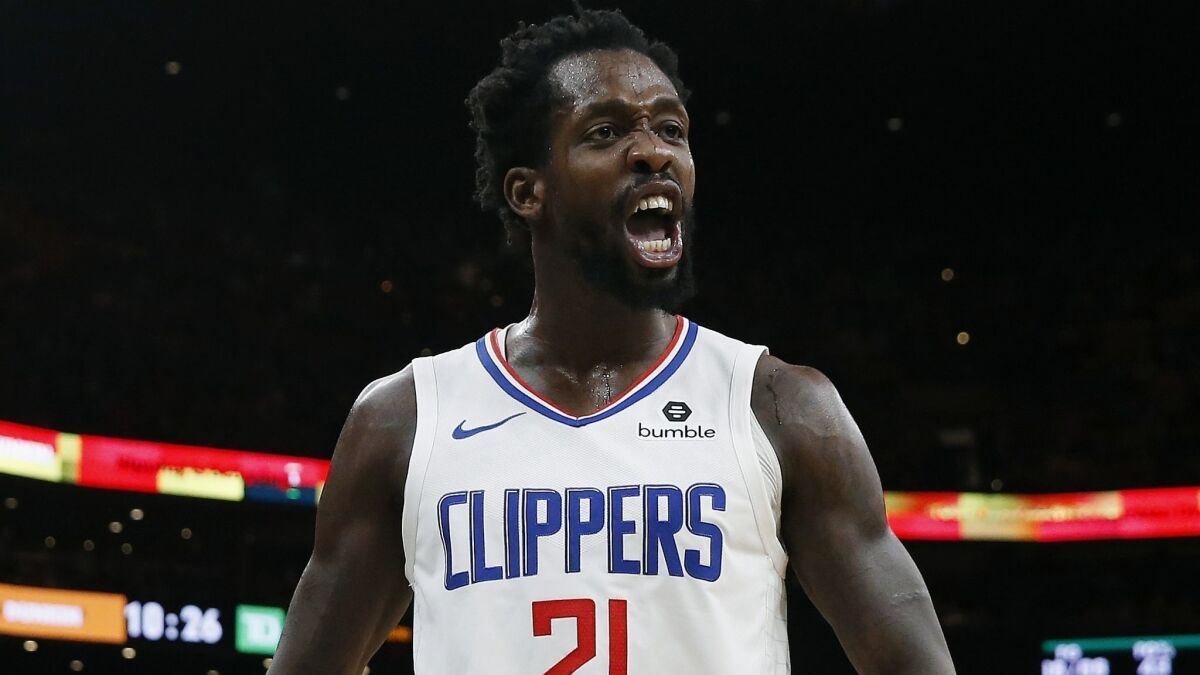 As then-Grizzlies coach Lionel Hollins watched inside a Memphis gym, guards Garrett Temple and Patrick Beverley went at each other in a game of one-on-one.
They competed as if a job depended on the workout because, as free agents, it was true.
"He barely let me get the ball past halfcourt," Temple said Monday.
"I blocked you!" Beverley said.
Beverley smiled, searching for more details, but they're hazy. Both Beverley, 30, and Temple, 32, took the long way to becoming NBA veterans, taking part in numerous workouts under similar circumstances as they scratched and clawed to carve out their careers.
Perhaps it is fitting that Temple and Beverley are now working together to help the Clippers fight for a Western Conference playoff berth and impress a next potential employer in the process. When they look across the locker room, as they did Monday in Minnesota, they recognize a kinship.
"It's not that everybody else takes it for granted, but we know that [teams] got guys that are trying to get our spot just like we were guys trying to get spots," Temple said. "I think that has a lot to do with why we play the way we play."
Temple communicates Clippers' coverages on the court but is hardly effusive, while the only thing moving more intensely than Beverley's feet is his mouth. When a play is blown dead, he lobbies officials with a verve that would make a lawyer take notes.
Each, however, has the competitiveness and seriousness that link those who know what it is like to play overseas, in the G League, and on 10-day contracts. "NBA survivors," as coach Doc Rivers calls them.
A standout at LSU who played in a Final Four, Temple was undrafted in 2009 and has signed 10-day contracts nine times in his nine NBA seasons while playing for eight teams. Beverley, who played against Temple while at Arkansas, was a second-round pick by the Lakers in 2009 after playing in Ukraine. He almost played on a dynastic Miami team with LeBron James, Dwyane Wade and Chris Bosh in 2010 but Beverley was cut at the end of training camp.
"We call it 'the grind,'" Beverley said. "I feel like my path, I got more out of it going through the back door, in the window, crawling up the wall, than through the front door. I appreciate it more."
A player's uneven path to and around the league is reflected in the way they play, many within the Clippers' organization believe. Players able to rise from basketball's lower ranks fight to stay in the NBA and doing so requires one or two skills that act as a business card.
Coaches point to Temple's professionalism and Beverley's drive.
"Garrett is the nicer version of Pat," Rivers said. "He plays with an edge."
Said Beverley: "I've been at the bottom of the bottom, and been fortunate to be blessed to stick through it and make something out of nothing."
Nothing much was expected from the Clippers until they were in first place in the West after six weeks of the season. They fell percentage points behind Sacramento for the eighth and final playoff spot following Monday's loss, meaning the arrivals of Temple, forward JaMychal Green, rookie guard Landry Shamet and center Ivica Zubac last week via trades came at a critical juncture with 24 games left.
There is also something personal on the line. The contracts for Beverley and Temple expire after this season. The Clippers hope to build a championship contender in 2019, and every performance from here until the end of this season is another data point as the front office weighs whom to keep around next season.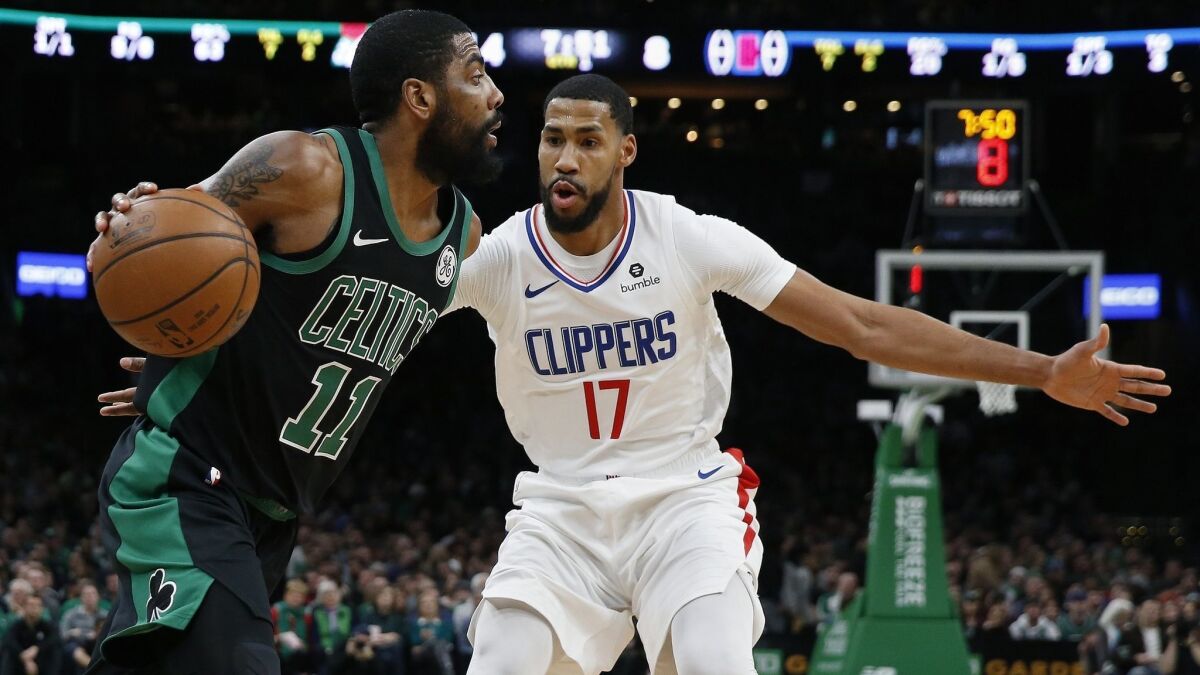 But that's down the road. Now they pull in the same direction. Monday night in Minneapolis, no one quite figured out who held the upper hand during their one-on-one workout.
What was undisputed is this: The edge each saw in the other then remains now.
"You remember the guys that grind to get up the same way," Temple said. "It's a mutual respect."
UP NEXT
VS. PHOENIX
When: 7:30 p.m., Wednesday.
On Air: TV: Prime Ticket; Radio: 570, 1330.
Update: After scoring 45 points Minnesota, Lou Williams is averaging 19.7 points a game. That's the second-highest average by a reserve in the last 25 seasons and trails only the 21.9 points a game Williams averaged last season, when he started 19 times. The Clippers (31-27) have trailed by 20 points or more in each of their last six games, and by double-digits in their last eight. They are 3-5 over that span. Phoenix (11-47) has lost 11 consecutive games to the Clippers.
Sign up for our daily sports newsletter »
Twitter: @andrewgreif
---
Get our high school sports newsletter
Prep Rally is devoted to the SoCal high school sports experience, bringing you scores, stories and a behind-the-scenes look at what makes prep sports so popular.
You may occasionally receive promotional content from the Los Angeles Times.