Clippers beat Trail Blazers as CJ McCollum sits due to clerical error
Reporting from PORTLAND, Ore. —
It was an odd game before it started, the Portland Trail Blazers missing their second-leading scorer because the wrong name was circled on a roster sheet.
The Clippers then somehow looked outnumbered for much of the second half before persevering, 109-98, Wednesday night at the Moda Center thanks to another ensemble performance.
Almost every member of the Clippers' lineup contributed in the final minutes as they averted an epic collapse while stretching their winning streak to a season-high seven games.
There was celebratory dancing in the locker room after Clippers point guard Chris Paul collected 21 points and 19 assists, the latter figure his highest total in his five seasons with the team and two short of tying his career high.
Paul logged six assists in the final 5:52 to help the Clippers hold on after what had been a 23-point halftime lead was reduced to six on a few occasions in the fourth quarter. Clippers Coach Doc Rivers said that with the exception of one play he called that led to a J.J. Redick three-pointer, all of the decision-making rested with Paul.
"What I love about what Chris is doing," Rivers said, "he's picking the right plays out of our play sheet without looking to me."
Redick finished with 20 points, Paul Pierce made five three-pointers on the way to 17 points and DeAndre Jordan was strong in his usual categories with 14 points and 14 rebounds. Austin Rivers added 16 points off the bench in his latest strong performance, making seven of 10 shots.
Clippers forward Wesley Johnson, who had missed practice the previous two days with plantar fasciitis in his right foot, missed his first five shots but made his first make meaningful, burying a three-pointer midway through the fourth quarter. Then he took a charge on Ed Davis that helped put the momentum squarely back in the Clippers' favor.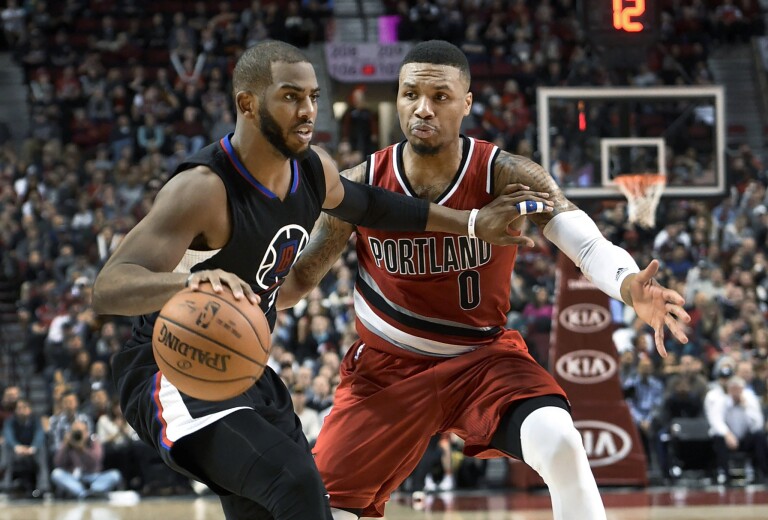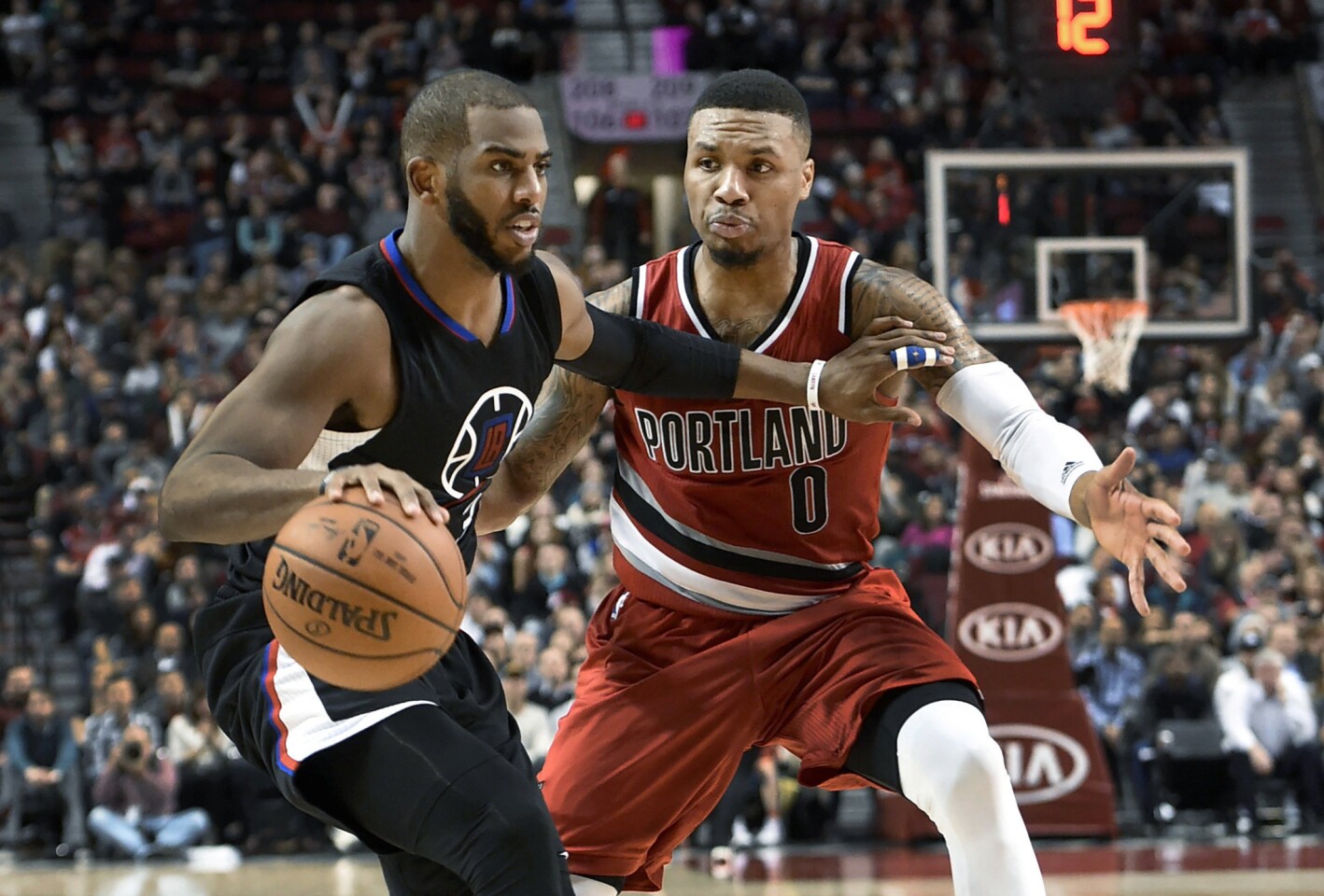 Clippers guard Chris Paul (3) tries to get past Trail Blazers guard Damian Lillard during the second half.
(Steve Dykes / Associated Press)
Trail Blazers guard C.J. McCollum sits on the bench during the second half. McCollum was inadvertently left off the roster and did not play in the game.
(Steve Dykes / Associated Press)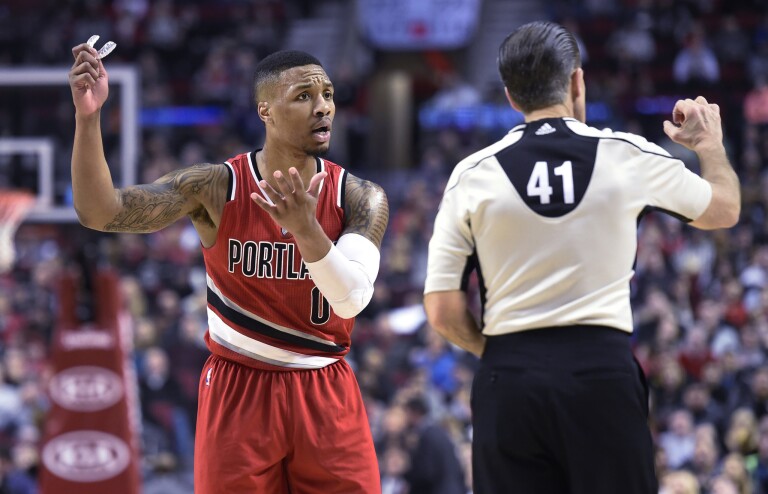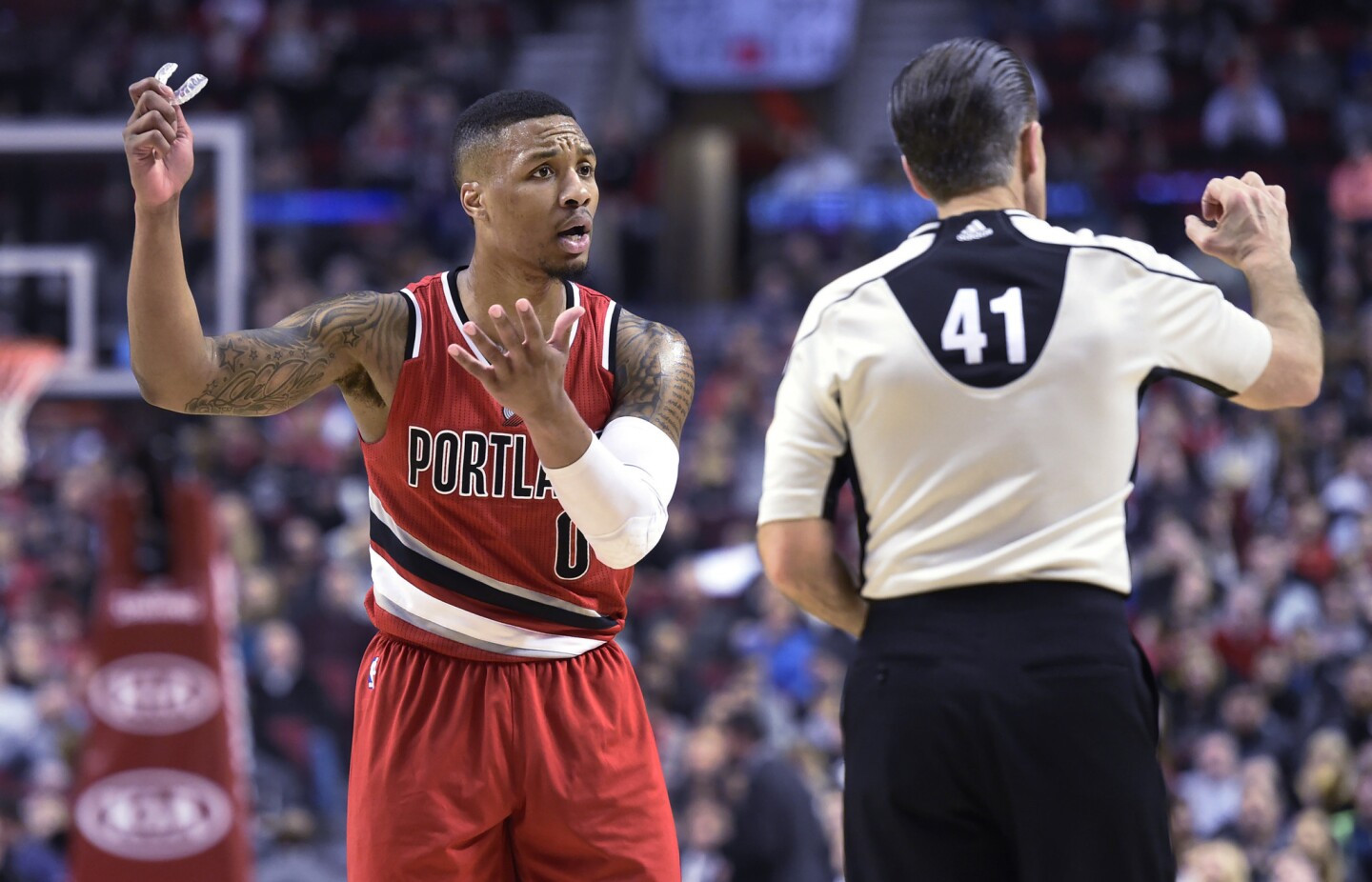 Trail Blazers guard Damian Lillard (0) has some words with referee Ken Mauer (41) after being called for a foul during the first half of a game against the Clippers.
(Steve Dykes / Associated Press)
Trail Blazers coach Terry Stotts reacts to an official's call during the second half of a game against the Clippers.
(Steve Dykes / Associated Press)
Trail Blazers guard Damian Lillard (0) fouls Clippers point guard Chris Paul (3) as he goes up for a shot during the first half.
(Steve Dykes / Associated Press)
Clippers Coach Doc Rivers has some words with the officials during the first half.
(Steve Dykes / Associated Press)
"Plays like that coming from guys like that are huge," Redick said.
Damian Lillard had 20 points on an inefficient seven-for-25 shooting night for the Trail Blazers, who were missing C.J. McCollum because of a pregame clerical error.
The McCollum mess started when Portland submitted a roster sheet before the game with reserve guard Luis Montero circled as active instead of McCollum, who averages 21 points a game. The Trail Blazers tried to correct the mistake by presenting a new roster but did so after the 60-minute cutoff prior to tipoff.
Officials from both teams were present during a subsequent call to the NBA, with the Clippers wanting to know why McCollum could be active if Danny Granger was ruled inactive in March 2014 when the Clippers made a similar mistake. The league ruled that McCollum should remain inactive.
"I signed the paper without really noticing it, but it's my fault for not looking at it," Portland Coach Terry Stotts said. "Although we caught the error, we thought that we caught it in time [but] apparently we did not."
Doc Rivers, noting that he had twice submitted incorrect rosters, wondered about the point of the pregame paperwork.
"The bottom line is, honestly, there should be no active list," Rivers said. "I mean, I've been fighting this for three years. Someone explain to me why there is an active list and we can't get it changed."
Austin Rivers said he heard a hubbub near the scorer's table during warmups as Portland officials panicked about McCollum's availability.
"I was sitting there like, somebody's in trouble," Rivers said.
Allen Crabbe started in place of McCollum and it felt like Portland was short-handed as the Clippers raced to a 63-40 halftime lead. It was a void, and a deficit, the Trail Blazers couldn't overcome.
"Hey, listen, we'll take it," Austin Rivers said. "He's a hell of a player."
ben.bolch@latimes.com
Twitter: @latbbolch
---
Get our high school sports newsletter
Prep Rally is devoted to the SoCal high school sports experience, bringing you scores, stories and a behind-the-scenes look at what makes prep sports so popular.
You may occasionally receive promotional content from the Los Angeles Times.