Lou Williams' first NBA triple-double lifts Clippers to win over Bulls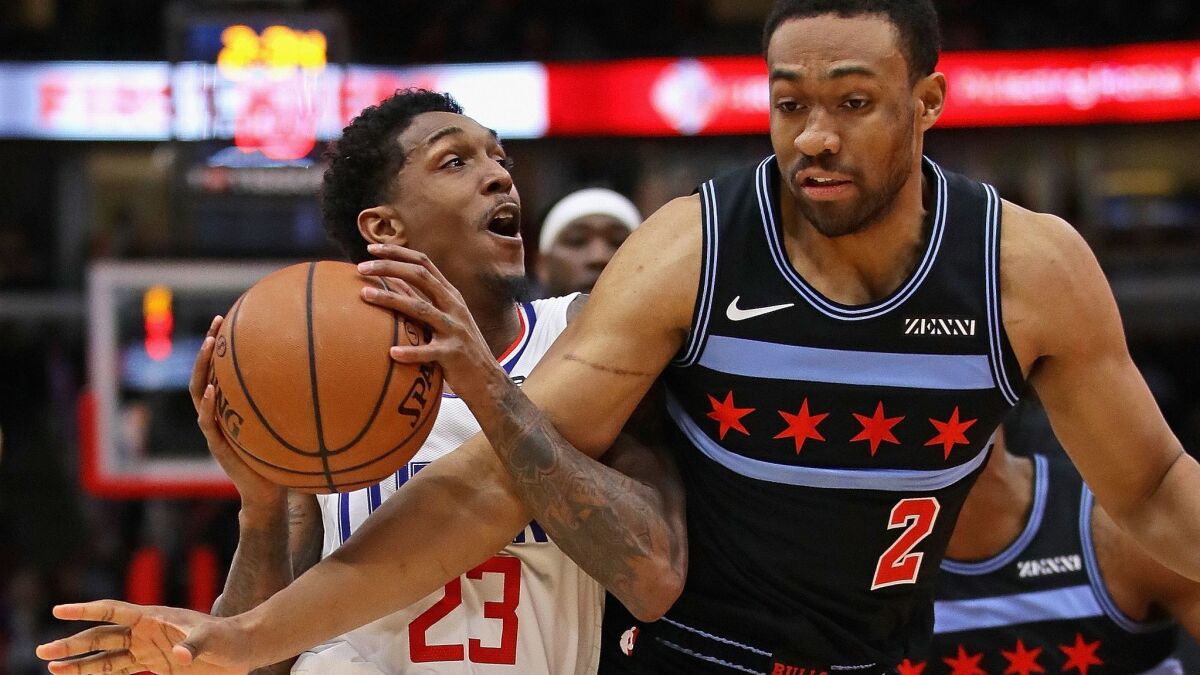 Reporting from Chicago —
Less than an hour remained before Friday's tipoff when it dawned on Clippers forward Tobias Harris, while sitting at his locker inside United Center, that something was wrong.
The room was almost empty.
"Where is everybody?" he asked.
Harris and six teammates had been at the arena for more than an hour by then, having taken the first bus to leave the team's downtown hotel at 4 p.m., three hours before tipoff, and arrived without incident.
The other half of the roster, which left on the 4:30 and 5 p.m. buses, wasn't so lucky.
Immediately, they were ensnared in a combination of rush-hour traffic, the beginnings of a snowstorm and zero-degree temperatures. Ninety minutes into the ride on the 4:30 bus, native Chicagoans Patrick Beverley, a starting guard, and Corey Maggette, a team broadcaster, pleaded in vain with the driver to take a different route. Four players and a handful of assistants and staffers stepped off the bus 1 hour and 41 minutes after they boarded.
The third bus, carrying guards Avery Bradley and Lou Williams, coach Doc Rivers and more, showed up 35 minutes before tipoff. Broadcasters hosting the team's pregame show sat down in their chairs on the arena floor less than a minute before they went on the air.
"Longest bus ride ever," starting guard Bradley said, never breaking stride while hurrying into the visitor's locker room.
The buses weren't the only things that took unexpectedly long to arrive Friday.
Los Angeles needed every minute of game time to seal its 106-101 victory against the lowly Bulls, who entered the game with the fourth-worst winning percentage in the league but played a reinvigorated Clippers team gamely, leading by as many as 12 points in the third quarter.
"That was an earned win," Rivers said.
A four-point play by Williams with 1:44 left in the fourth quarter gave the Clippers a 100-97 lead and they never trailed again. Beverley's eight-foot floater with 37 seconds remaining — his first field goal of the night — kept the lead at three, then Williams assisted on an alley-oop to Montrezl Harrell with 16 seconds left before making two free throws with six seconds remaining.
The win capped a 3-1 road trip and a performance unlike any other of Williams' career. It was his first triple-double, in his 904th career game, and with 31 points, 10 points and 10 rebounds, he joins Detlef Schrempf as the only reserves in NBA history with a 30-point triple-double.
"This one I'll celebrate," he said.
Clippers coaches shook their heads describing Williams' performance. Six days after missing the first game of this four-game road trip because of a hamstring injury, and four days after playing on a minutes restriction out of caution for the injury, Williams shined in 32 minutes despite going through an abbreviated warmup.
He entered the arena without an air of concern, rapping the lyrics playing in his headphones, but that was because he mistakenly thought the game began at 7:30 p.m., not 7. Once he realized he had less than a half-hour to prepare, Williams "just locked in, threw out everything I had as far as just my routine goes and went out and played."
Before tipoff, he told Rivers and his teammates in a now-full locker room to treat it as they would an Amateur Athletic Union game of their youth.
"A lot of times you go into a game like that where your regular routine is off kind of looking for an out, to have a reason why things didn't go your way," he said. "All of these guys at one point have played AAU basketball, they've been the best player on an AAU team that didn't warm up, that didn't sit in a gym two hours before the game. So I just wanted guys to tap into that."
Several Clippers said they'd never encountered such traffic as Friday's en route to a game, but Rivers felt it hadn't affected the start. Indeed, his team led by seven after one quarter.
Then Chicago made eight of its first 10 shots in the second quarter to take a four-point halftime lead. Sixteen Clippers turnovers led to 23 Bulls points overall. Zach LaVine led the Bulls (11-38) with 29 points, 13 of which came in the fourth quarter.
LaVine's baskets couldn't help his teammates overcome their scoring outage in the final five minutes as the Clippers (27-22) outscored Chicago, 15-9.
Williams, who entered the game tied for second in the league in fourth-quarter scoring, either scored or assisted on 10 of those points during the final five minutes.
It turned out Harris had nothing to worry about, after all.
Williams' heroics arrived right on schedule.
Sign up for our daily sports newsletter »
Twitter: @andrewgreif
---
Get our high school sports newsletter
Prep Rally is devoted to the SoCal high school sports experience, bringing you scores, stories and a behind-the-scenes look at what makes prep sports so popular.
You may occasionally receive promotional content from the Los Angeles Times.