Clippers dodge a bullet against Jordan Clarkson and Cavaliers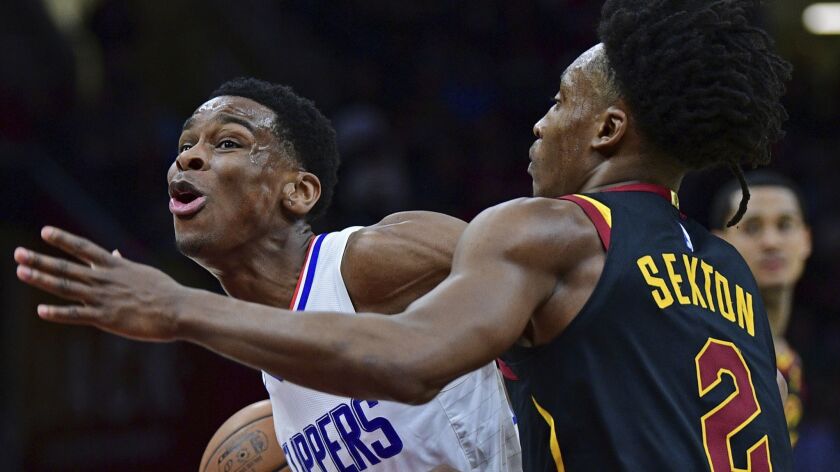 Reporting from Cleveland —
Clippers coach Doc Rivers spent Friday afternoon keeping tabs on UC Irvine's upset of Kansas State in the NCAA tournament because his son, Spencer, is a senior Irvine guard. Irvine's victory was its 17th consecutive and first ever in the tournament, and when Rivers greeted reporters before tip-off inside Quicken Loans Arena, one of the nation's hottest teams was on his mind.
"What do you guys want to talk about, the Anteaters?" he asked.
He then spent the next several hours ensuring that one upset was enough for the Rivers family Friday.
The Clippers trailed by 15 in the first half, led by 10 following a resurgent third quarter and did enough to hold off a late rally by the Cleveland Cavaliers, who own the NBA's third-worst record, and win 110-108.
The Clippers (43-30) have won nine of their last 10 games and are tied with Oklahoma City for the fifth-best record in the West.
Trailing by two with 6.2 seconds remaining after Clippers guard Patrick Beverley missed the second of two free throws, Cleveland had a chance to win on the final possession. Out of a timeout, the Clippers failed to foul as instructed, and Cavaliers guard Jordan Clarkson attempted a three-pointer from 27 feet. It rimmed out and the Clippers "got lucky," Rivers said.
"It was halfway in," said Clarkson, who scored 20 points off the bench, "and just rolled out."
Every lucky bounce matters for the Clippers, who with nine games to play in the regular season are amid a logjam with Oklahoma City, Utah and San Antonio. Those four teams finished the night fifth through eighth in the West, separated by one game.
Considering the Clippers led by seven with 3:34 to play, desperately holding off one of the NBA's worst teams wasn't how anyone inside the visiting locker room hoped to begin a four-game trip — yet the test wasn't without its benefits.
"I'd rather win by 20 of course," said Danilo Gallinari, who scored a game-high 27 points to extend his streak of games with at least 20 to eight. "But it's something that prepares you for the kind of games you'll play in the playoffs. The games are going to be more like this than winning by 20 or 30. That's something that helps."
Their offensive movement stagnant, and their defense unable to stop Cleveland (19-54) from scoring a season-high 40 first-quarter points, the Clippers trailed by 15 early on. After entering the game riding a Cavaliers rookie record seven consecutive games with at least 23 points, rookie Collin Sexton scored nine in the first 15 minutes amid his team's 62% shooting. He finished with 20 points, guarded primarily by fellow rookie Shai Gilgeous-Alexander.
Sexton remained hot until halftime, scoring 17 first-half points, but the Cavaliers as a whole could not. The Clippers ripped off a 10-0 run in two minutes midway through the second quarter and it was Gallinari, the only sure thing offensively all night, who began the comeback with a long two-pointer, followed by an assist in transition to JaMychal Green, who'd camped in the key. After transition baskets by Lou Williams and Gilgeous-Alexander, Gallinari curled off a pindown screen for a midrange basket, slicing the lead to four with 5:09 left before halftime. The Clippers entered the half down only two.
They led by as many as 10 in the second half after outscoring Cleveland by 11 in the third quarter. The Clippers improved to 34-1 when leading after three quarters, but it wasn't easy after scoring only 18 points in the final quarter. It marked a rare flat finish for a team whose net rating in the fourth quarter ranks sixth best in the NBA.
Beverley, who had nine points and five assists, was miffed by the zone defense Cleveland used late.
"It is so frustrating," he said. "We just want teams to play us like we play them. If we play y'all man, play us man. All this zone [stuff] man, stupid."
The Clippers made 20 of 23 free throws, but two three misses came in the final 14 seconds. Landry Shamet made the second of two for a 109-106 lead before a basket by Kevin Love cut the lead to one with 10.7 seconds remaining. Then Beverley missed one, allowing Clarkson a shot for a win.
"I will live with his decision," Cavaliers coach Larry Drew said, "because he got a good look."
The Rivers family went 3-0 for the day, after Austin Rivers' Houston Rockets also won.
"It was one of those nights where you felt like we did just enough to win," Doc Rivers said. "You're proud of the win but we know there's a better us in us. Hopefully that will send a message to all of our guys for the rest of the trip."
ETC.
The Clippers are signing Justin Bibbs to a second 10-day contract Saturday, a source not authorized to speak publicly said. Bibbs, a 6-foot-5 rookie guard out of Virginia Tech, spent almost all of his first 10-day contract with the Clippers' G-League affiliate, averaging 9.8 points, 4.3 rebounds, and 2.0 assists in four games while shooting 51.7%.
Sign up for our daily sports newsletter »
Twitter: @andrewgreif
---
Get the latest on L.A.'s teams in the daily Sports Report newsletter.
You may occasionally receive promotional content from the Los Angeles Times.