This Clippers season might be Doc Rivers' best coaching job of his career
Before making the case for Doc Rivers as NBA coach of the year, let's take a trip back in time, to the summer of 1999, and a little place we like to call Orlando.
After another disappointing finish to the season, the Magic front office decides to trade its only star — Penny Hardaway — with the goal of securing draft picks and hopefully signing a pair of top free agents the following summer.
Once a star-studded franchise with great promise, the Magic began its rebuilding season with four starters who had not been drafted, led by an ex-player who had never coached before. Basically, the textbook definition of tanking if ever there was one.
Thing is, someone forgot to tell the new guy — Rivers.
There are three paths to winning coach of the year: Meet high expectations; greatly exceed low ones, which is how Rivers won his first year in Orlando; or overcome adversity, the path that should take Rivers to his second.
Every team faces unforeseen circumstances, such as Nate McMillan losing Victor Oladipo, but what other coach is winning while the front office is actively trying to rebuild?
The deadline trade of Tobias Harris, at the time the Clippers' best player, for subs and picks wasn't just about positioning financially to make a run at top free agents this summer. There was a lottery-protected 2019 first-round pick in play. If the Clippers miss the playoffs, there's a slim chance the team lands Zion Williamson. Make it, and the pick likely goes to Boston.
Rivers didn't care. He kept his foot on the coaching pedal anyway. "I never got the instruction to lose," Rivers said. "We knew winning would be hard, but management never told me we were tanking. And believe it or not, I still thought we could win. Even after trading our best player, I told everyone in the building we were still going to compete and win.
"Now when I said that, a lot of people rolled their eyes. And when you trade Tobias away, you're probably not going to make the playoffs. But I was committed to making sure we were going to make an effort to try anyway, and the guys bought in. Look, I don't care what players you have, if you don't have buy-in, you're not going to win. I was worried after the trade that the new guys would not buy in, but they did. That's why we've been able to keep winning … guys believe in each other."
And they clearly believe in him.
The last 10 NBA MVP trophies reside with players currently playing at a high level in the Western Conference. The two-time defending champions are in the West. The best player of his generation, if not of all time, is in the West. And Rivers has this team on the verge of the playoffs with three starters under 23 and not a single player on the roster who has ever been chosen for the league's all-star game.
"Doc has been tremendous," Charles Barkley said. "Best coaching job ever. Won't win coach of the year, but McMillan, [Mike] Budenholzer, [Michael] Malone and Rivers have all been tremendous."
True, the field is crowded. But with all due respect to the other gentlemen, they have the luxury of playing with more proven talent. Budenholzer and Malone have MVP candidates on their squads; McMillan's veteran Pacers are anchored by nine players over 25.
The Clippers list nine players on the roster under 25. Starting point guard Shai Gilgeous-Alexander can't even buy alcohol legally.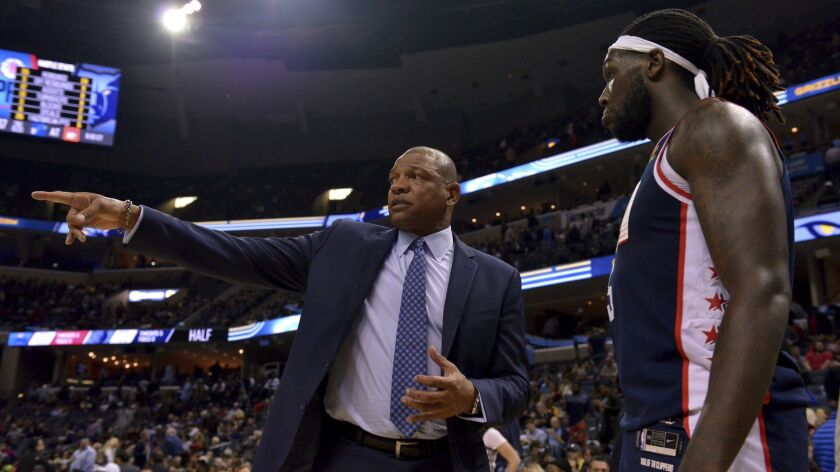 "Youth is an excuse for not having experience, but it is not an excuse for not playing hard," Rivers said. "You can always play hard.
"When you have guys who want to win and are willing to make the sacrifices to win, that makes it enjoyable. I don't know if this is my best coaching job, but it is my most enjoyable."
There is a reason why Rivers has been mentioned as a possible successor to Lakers coach Luke Walton, should he be fired, and it's not so Jeanie Buss can save a few pennies on packing and moving a new hire. Rivers has proven he can win it all with superstars and he can win a lot without them. He can win with healthy players and he can win with key guys in and out of the infirmary.
These are things Walton has been unable to do. These are things most coaches in the league have been unable to do.
In 19 seasons, Rivers has finished with a losing record three times. He's won more than 300 games for two different franchises. His best player got traded away and these Clippers got better. The Lakers shouldn't be the only team trying to poach him.
Some people might look back at Lob City and ask how a team with Blake Griffin, Chris Paul and DeAndre Jordan could not at least make a Western Conference Finals appearance. No doubt, that collection of talent underachieved, for which Rivers deserves some blame.
But this team traded Griffin and Paul, let Jordan walk and is still in position to host a playoff series without a bona fide star to replace any of them, for which Rivers deserves credit.
"I think this has been one of Doc's best coaching campaigns, based on what his roster looks like," Chauncey Billups said via text. "Lost two future HOFers and still has the team afloat. His ability to connect with every player is the reason why he gets the most out of his guys."
That's something Ryan Hollins echoed when he listed three things that make Rivers successful: "X and O's, relatability, practical."
Regardless of how voting goes for coach of the year, Rivers said he will be unchanged.
"I don't think about it," he said. "I try to be honest, I try to be positive. People say I'm relentless and I guess that's true because I'm not going to let certain things go. I believe in the fact that there are certain ways to be a winner and there are a lot of choices a player can make that can stop us from winning. My job is to help them eliminate those bad choices from their thinking.
"I love coaching superstars because they're experienced and it's fun trying to get them to buy into a scheme.… And I love coaching young players because the goal is to make them into winners. Even if it's not what people expect out of them, it's what I expect. I expect us to win."
Which explains why, in a year in which a lot of men are deserving of coach of the year recognition, Rivers stands head and shoulders above them.
---
Get our high school sports newsletter
Prep Rally is devoted to the SoCal high school sports experience, bringing you scores, stories and a behind-the-scenes look at what makes prep sports so popular.
You may occasionally receive promotional content from the Los Angeles Times.