Clippers erase 28-point deficit to defeat Celtics 123-112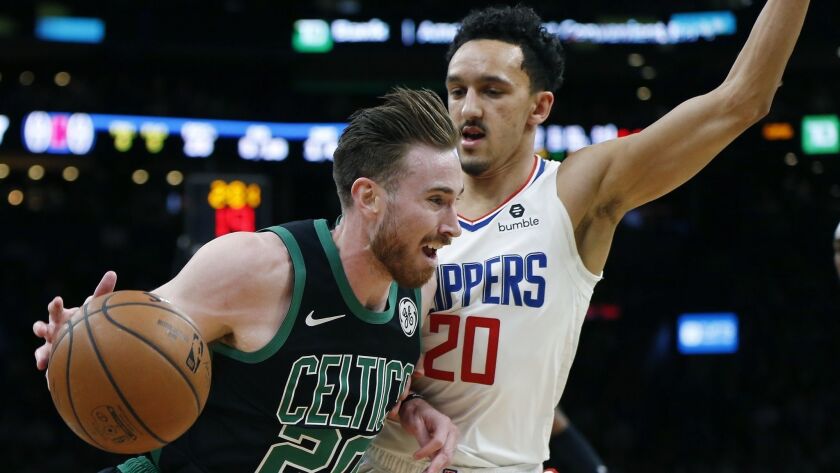 Reporting from BOSTON —
The yelling and laughing in the locker room full of Clippers coaches Saturday was so loud it could be heard through a thick metal door out in a hallway underneath TD Garden.
As the volume rose, following the largest comeback in Clippers history, Boston coach Brad Stevens happened to walked by, his head down and lips pursed, on his way to a news conference where he tried to explain the nearly unexplainable.
A Clippers team incorporating four new players from trades, using a mishmash of lineups and running only a handful of plays stunned one of the Eastern Conference's most talented rosters with a 28-point comeback thatfueled a 123-112 victory.
When it was over, the fans who hadn't already left as the Clippers took control in the final three minutes showered the Celtics with boos. It was the third victory in the Clippers' last five games when trailing by 20 points or more.
The roster that won after trailing by 25 points in Detroit and 20 in Charlotte was much different than the one that shocked Boston. Six players who began this trip are no longer on the roster.
And yet for all that had changed, some things apparently remain the same.
"Team full of fighters," point guard Shai Gilgeous-Alexander. "We know we can come back."
Less than a week after leading scorer Tobias Harris was traded to Philadelphia, the Clippers sputtered at the start before overwhelming Boston with depth.
Eight Clippers scored in double figures, led by Montrezl Harrell's 21 points. Patrick Beverley had 12 points, nine rebounds and seven assists. Danilo Gallinari had 19 points and 10 rebounds, and new center Ivica Zubac had 12 points and nine rebounds.
"We talked yesterday, down the stretch if we get to a close game we're going to run two things and we're going to run them over and over again and that's exactly what they did," coach Doc Rivers said. "It was limited, but it worked."
Rookie Landry Shamet scored 17 points, making four of seven three-point shots, in his Clippers debut after arriving from Philadelphia. He more than lived up to his billing as the most accurate shooter among rookies with 14 points after halftime.
"Shots he made today were ridiculous," Beverley said. "Like, ridiculous."
The Clippers laughed and howled in the locker room afterward, new faces joking with established teammates, but their miscommunication was severe to start. Shamet didn't know whether plays were called in by the point guard or the coach. The Clippers installed an extremely simplified number of read-and-react plays but struggled to execute even that.
They had 10 turnovers at halftime and the Celtics had one.
For much of the first half, the Celtics carried on their rout while barely missing star guard Kyrie Irving, who scored 14 points in 14 minutes before leaving for good because of a strained right knee.
"We didn't have anything," Rivers said. "At halftime I told the guys, 'Everybody's playing uptight, stop trying to impress each other. Get out of each other's way and just start playing.' "
The Clippers were down by five points at the end of the third quarter following a 41-18 run. Groans followed every Clippers basket and every Celtics miss, and there were plenty.
Boston made four of its 22 field-goal attempts in the third quarter and scored 12 points, the fewest given up by the Clippers in one quarter since Nov. 25, 2017.
When Shamet curled off a screen at the post for a three-pointer on the Clippers' first possession of the fourth quarter, the Celtics lead was only 87-84. Six minutes later, he made three-pointers on consecutive trips for a 100-100 tie as boos were heard.
"Lou [Williams] was putting them on the money for me, Pat was putting them on the money to me, guys were putting it right in my pocket, making it easy," Shamet said. "I just had to shoot it."
If the Celtics thought Thursday was bad after leading the Lakers by double digits only to lose at the buzzer, then Saturday was agony.
"It is disappointing to have 20-point leads in consecutive games and lose," Stevens said. "That's for sure."
Clippers stormed back from being 28-points down in the second quarter for the team's largest regular-season comeback ever in a 123-112 victory over the Celtics in TD Garden.
Sign up for our daily sports newsletter »
Twitter: @andrewgreif
---
Get the latest on L.A.'s teams in the daily Sports Report newsletter.
You may occasionally receive promotional content from the Los Angeles Times.