Clippers' Lou Williams becomes NBA's all-time leader in bench points in win over Celtics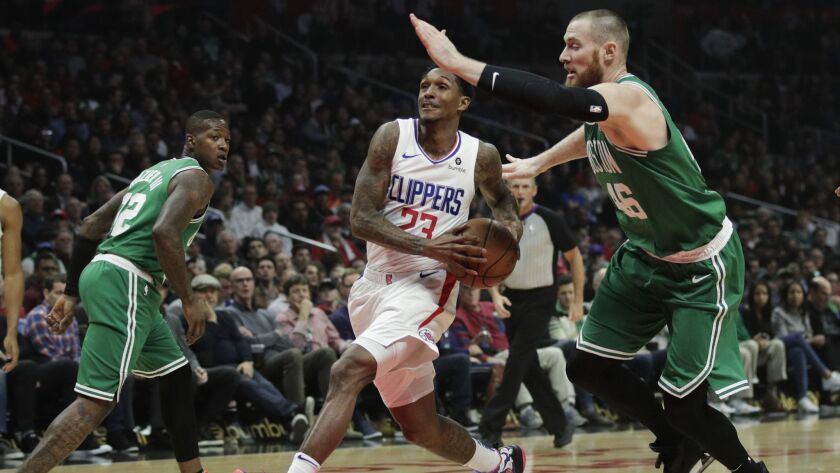 Brad Stevens remembers it well.
Lou Williams, then one of the top high school players in the nation, was running late to an open gym that Stevens, then an assistant at Butler, was attending.
When he finally got there, Stevens saw firsthand the skill that would define Williams' career.
"He said 'Check ball' and killed everybody," the Boston Celtics coach said. "…That's kind of the way he's been his whole NBA career. He just walks in and scores. He's got a knack for it."
And Monday night, Williams did it again — something he's done better than anyone else who's played the game.
Williams strolled off the bench and scored on whomever the Celtics put in front of him, pushing the Clippers to a 140-115 win, and with 34 points, becoming the NBA's all-time best bench scorer, passing Dell Curry.
"You love that he likes coming off the bench," coach Doc Rivers said. "A lot of players think that if you don't start, it's a knock."
Williams thought that too at first. But soon he fell in love with it.
"I've always embraced this role. I think that's part of my legacy. I'm not a starter," Williams said. "…It's part of what people are going to remember me for, so you might as well be the best at it."
The Clippers have won five straight games, matching their season best, and the 140 points they scored were the most allowed by the Celtics since they let the Washington Bullets score 142 on April 17, 1994.
"That was a lot of points. We played terrific," Rivers said after his team shot 61% from the field.
The Clippers (39-29) also moved into the No. 6 spot in the Western Conference thanks to Utah's loss, which dropped the Jazz to eighth.
Williams had his eighth game this season with at least 30 — all off the bench — in only 23 minutes. He has 11,154 points off the bench in 14 seasons, two sixth man of the year awards, and possibly a third on the way.
"He's been able to score forever," Stevens said. "He can walk into the gym and score without warming up."
Monday night, it seemed as if every one of the Clippers came into the game warm.
Forward Danilo Gallinari continued his recent stretch of great shooting, scoring 11 of the team's first 13 points. He finished with 25 in only 27 minutes. Gallinari's shooting nearly 60% from the field over the last four games.
The Clippers' other four starters all scored in double figures. But like so many times this season, it wasn't the first wave from the Clippers that did the most damage. It was the second.
Williams walked into the game late in the first quarter and immediately got to the rim whenever he wanted. And after he got going, center Montrezl Harrell, maybe Williams' top competition for sixth man, played with more energy and effort than the Celtics' big men, scoring 20 on only 12 shots.
"It almost honestly makes me mad, just how easy he can walk into the lane," Clippers guard Landry Shamet said of Williams. "It's crazy. He's just so talented."
Boston, which has been in Los Angeles since Thursday and was 3-0 on its West Coast trip after whipping the Lakers, was sluggish defensively in the first half, slow to protect the rim and close out on shooters. In the second half, as if to say that this isn't how championship-minded teams play, the Celtics' intensity ratcheted up.
But for every run the Celtics went on, the Clippers answered, with Boston unable to stop them.
"We keep fighting. That's an area I think we've improved on as the year's gone on," Rivers said. "Earlier in the year, I remember Oklahoma [City] got into us in the second half and we went away. Someone else did it and we went away. Oklahoma did it [Friday] night and we just held our ground and won the game. …Tonight, they got up, they were aggressive. You could see their intent. And we just kind of weathered it.
"...It didn't shake us. And that's growth."
UP NEXT
VS. PORTLAND
When: 7:30.
On the air: TV: Prime; Radio: 570, 1220.
Update: Portland is in the midst of a 15-game stretch with only three home games.
Twitter @DanWoikeSports
---
Get the latest on L.A.'s teams in the daily Sports Report newsletter.
You may occasionally receive promotional content from the Los Angeles Times.