Danilo Gallinari looks to take the next step in his development as a star for the Clippers
Danilo Gallinari lives near the beach in a city he loves where the weather is ideal and he is paid $21.5 million to play the game of basketball.
Since agreeing to a three-year deal worth $65 million and moving to Los Angeles last year, the Clippers' forward has walked the red carpet at the premieres of "Venom" and "It." He once spied one of his favorite actors while out to dinner, then was stunned when the star, Omari Hardwick of "Power," walked to his table to introduce himself.
"He came to find me and I'm like, 'Holy …'" Gallinari said. "It's crazy, because you see these famous actors or actresses and I'm like, 'Oh, I want a picture with you!' and they're like 'No, I want a picture with you!'"
As a child growing up in a small farming community south of Milan, Italy, where his family owned the only basketball hoop in town, Gallinari would have had difficulty predicting a life this good.
But what Gallinari wants now is a truly great season.
A career 36% three-point shooter who, at 6-foot-10, has the length to guard multiple positions, Gallinari is tailor-made for the modern NBA. Coach Doc Rivers envisions him as a floor-spacing shooter with freedom to create off the dribble, saying he's the team's best facilitator with the ball in his hands.
"Gallo is probably our best facilitator on the team, so when you take him out of the lineup, you can see the extra passes missed," Rivers said.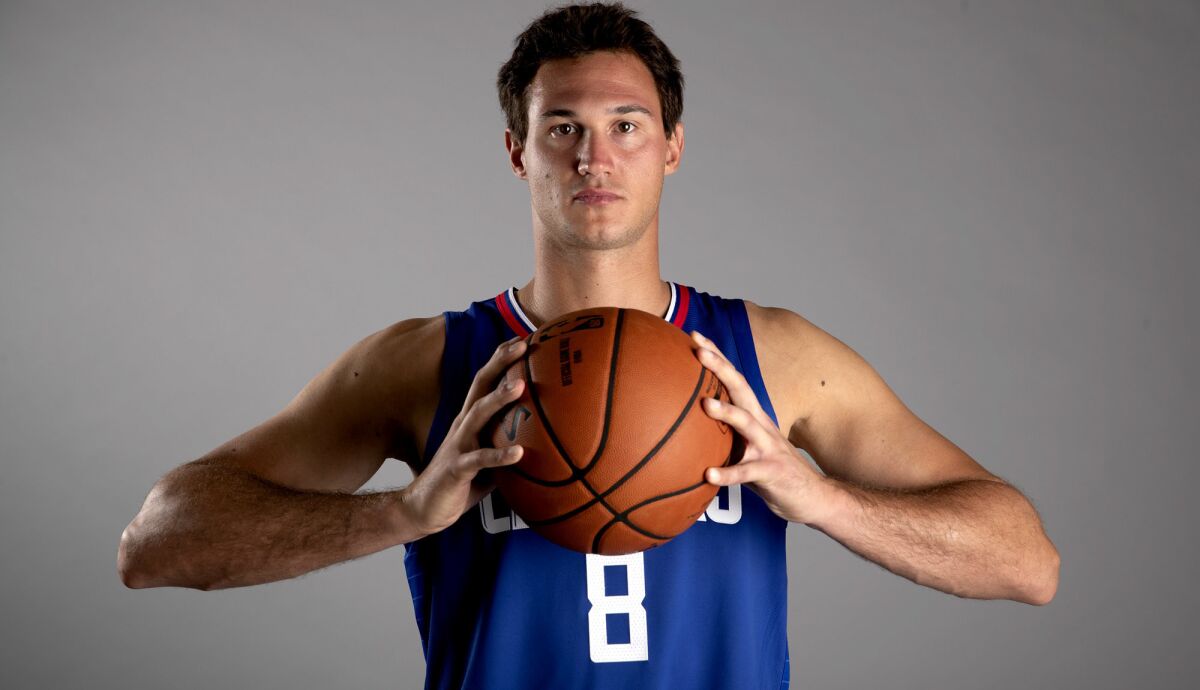 At his best, Gallinari could unlock the Clippers' potential as they fight for relevance in a city dominated by LeBron James' arrival to the Lakers and a conference topped by the dynastic Golden State Warriors.
To do that, however, the oft-hurt Gallinari must first unlock his own potential.
He has sat out a third of his regular-season games in the NBA, a total that doesn't include missing the entire 2013-14 season in Denver because of a torn knee ligament. Recurring hand and glute injuries sent him in and out of the Clippers lineup last year and limited him to 21 games in what he called "maybe the toughest season of my career."
The frustrating experience was a reason why All Sport Yoga's Kent Katich found himself working with Gallinari weeks earlier than usual this offseason, and sensed a different focus from a player he'd long regarded as mature and easygoing.
"I think he knows that this is his team now and it wasn't before," said Katich, who met Gallinari in 2008. "It was Blake [Griffin's] team and it was DeAndre [Jordan's] team, this is my opinion, I could tell by watching him he was deferring. He was letting them do what they do because he was the new kid on the block.
"Now they're both gone, I think he understands that he makes the most money and he's the longest-tenured and probably the most talented, so it's on him. He takes it personal and I think he's taking that responsibility that he's going to do everything in his capability to lead. Being a leader means you've got to be on the court."
On the advice of his father, Vittorio, a former pro player in Milan alongside Mike D'Antoni, Gallinari has for years disregarded what is said or written about him. He avoids newspapers, doesn't watch the NBA in his downtime and, if not for his personal branding, would happily close his social media accounts.
He knows his injury-prone reputation despite attempts at insulation.
"It's tough because it's not the truth," he said. "I had two big injuries, one in my back my rookie year and when I was in Denver, my knee. Other than that, I played every season. … I had small injuries that everybody else has. A little strain, you're out one week. Twist your ankle, out two weeks."
Whether the injuries were big or small, Gallinari acknowledged they have kept him from playing his best basketball. In hopes of changing that, he skipped international games this summer with the Italian national team and underwent a revamped regimen of yoga, Pilates and pickup games in L.A. His one-hour sessions with Katich are as much about developing confidence in his mind as flexibility in his hips.
"You get hurt and people say stuff and it kind of can take a toll on you emotionally as well as physically," Katich said. "For me, it was getting him confident with his body and what it can do again."
It was the first summer that Gallinari focused solely on his own development, according to his father.
"I think that Danilo feels the right pressure," his father wrote by email. "Last year when he signed with Clippers [he] wanted to prove to be an important player for the team, unfortunately due to injuries he had not the opportunity to prove it. This year he wants to do it."
Early returns have encouraged Rivers, who said Gallinari is "in the best place that I've seen him since we've had him."
Should it stay that way, it could lead to a rare season in which his potential aligns with that of his team. The closest he perhaps came was 2012-13, when the Nuggets won 57 games, 19 more than the season before, and Gallinari averaged 16.2 points before tearing a knee ligament just weeks before the playoffs.
The injury aside, it remains one of Gallinari's favorite professional seasons because the Nuggets bucked middling expectations to become a surprise Western Conference contender.
He believes that something similar could happen with the Clippers. Only in this version, he stays healthy.
"We can do well this season," Gallinari said, "and have maybe the best year, the most fun year, in all of our careers."
Twitter: @andrewgreif
---
Get our high school sports newsletter
Prep Rally is devoted to the SoCal high school sports experience, bringing you scores, stories and a behind-the-scenes look at what makes prep sports so popular.
You may occasionally receive promotional content from the Los Angeles Times.