Column: Nobody Clippers are becoming a team that is feisty and fun to watch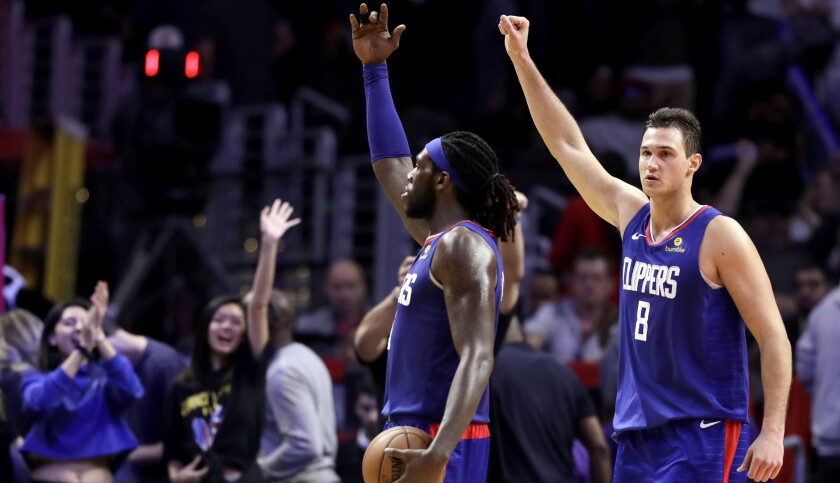 The Clippers no longer have any superstars. No single player is the face of the franchise. They're fueled by feistiness instead of finesse, reliant on teamwork instead of the spectacular individual feats that made their Lob City era a highlight reel that never included the ultimate highlight of a long playoff run.
After DeAndre Jordan followed Chris Paul and Blake Griffin out the door, the Clippers were considered a fringe playoff contender this season, deep and hard-working but not the equal of their flashy predecessors. But here they are, leading the Pacific Division and in a four-way tie atop the Western Conference before Portland faced Golden State on Friday night. The nobodies have become a somebody, and they're enjoying every dramatic minute of it.
"I didn't know lobs was the only thing in a basketball game," forward-center Montrezl Harrell said after he contributed team highs of 22 points and 11 rebounds to the Clippers' 112-107 overtime comeback victory over the Memphis Grizzlies at Staples Center.
Harrell, like the Clippers, had a spotty first half Friday. But like his teammates, he saved his best for last, scoring five points and pulling down two defensive rebounds in overtime. He was set up by Lou Williams for the cutting layup that gave the Clippers a 106-103 lead with 1 minute 21 seconds left and soared to make a two-handed catch of a pass by Avery Bradley in midair and finished the alley-oop for a 108-105 lead with 44 seconds left.
Harrell has scored 20 or more points in three straight games and five of his last seven and has five double-doubles this season, including three of his last four games. He has scored at least 20 points six times this season; he had nine games of 20 points or more in his first three NBA seasons. His teammates now expect performances like he had on Friday. There's no greater compliment than that.
"He's the most improved player in the league," Williams said after his own 15-point, six-assist performance off the bench. "He has my vote early on if he can keep up that pace, but he's been playing at a high clip. We're going to need him to continue that way and he's been just playing great."
Harrell embodies the scrappy qualities that are forming the Clippers' new identity. Coach Doc Rivers calls them gamers, not necessarily the most skilled guys but the most competitive and hungry. "If you were picking teams on the blacktop, we have a lot of guys that you would pick," Rivers said. "Guys who grew up there know you don't always pick the best guys — you pick the guys that can keep playing the next game and the next game. We have a lot of guys you would pick in a pickup game." Harrell fits that mold. "He's perfect. A hard player, rugged, tough, attack guy," Rivers said.
That didn't happen by accident. Nor did Harrell's improvement.
He made his presence felt a bit last season playing behind Jordan, averaging 11 points and 17 minutes per game in 76 appearances that included three starts. That wasn't enough for him. "In general I've been working on my game all summer. I've been working on my game ever since we ended the season last year," Harrell said, reciting a list of the leagues and stops he made. "I'm just doing anything and everything I can to better myself as a player because I know it's going to help my team overall."
It's significant that the Clippers bounced back to beat the Grizzlies after they'd squandered a 24-point lead Tuesday in losing to Washington, but Harrell insisted he didn't read much into it. "This just a start. It's nothing that we can really hang our hats on right now," he said.
"It's nothing that we can be comfortable with. We've got to keep going every game, taking it one game at a time, coming out with defensive schemes … to take the other team out of what they do well. And just going in and playing Clippers basketball, playing our style of basketball, keeping our pace, make sure we're in the right mind-set coming into the game."
Let others doubt them. Harrell believes in what the Clippers are doing and what they have the potential to accomplish this season.
The dire predictions, he said, "is what outside people say that haven't been around this team or been in this locker room or haven't watched us jell over the summer, going to retreats and stuff like that before the season started. Going to training camp in Hawaii building team chemistry. We don't let the outside noise really bother us because honestly we don't care. We know what we have in this locker room. We know the guys we have in this locker room and we know what we bring coming onto the floor.
"As far as that stuff with DeAndre and Blake [Griffin], I tip my hat to those guys. Those are guys that put in a lot of years in this uniform playing for this organization, but that was then. This is now."
Now is a good time for the Clippers. Better, certainly, than anyone expected and a lot of fun, besides.
Follow Helene Elliott on Twitter @helenenothelen
---
Get our high school sports newsletter
Prep Rally is devoted to the SoCal high school sports experience, bringing you scores, stories and a behind-the-scenes look at what makes prep sports so popular.
You may occasionally receive promotional content from the Los Angeles Times.