Text message from Matt Barnes motivates Clippers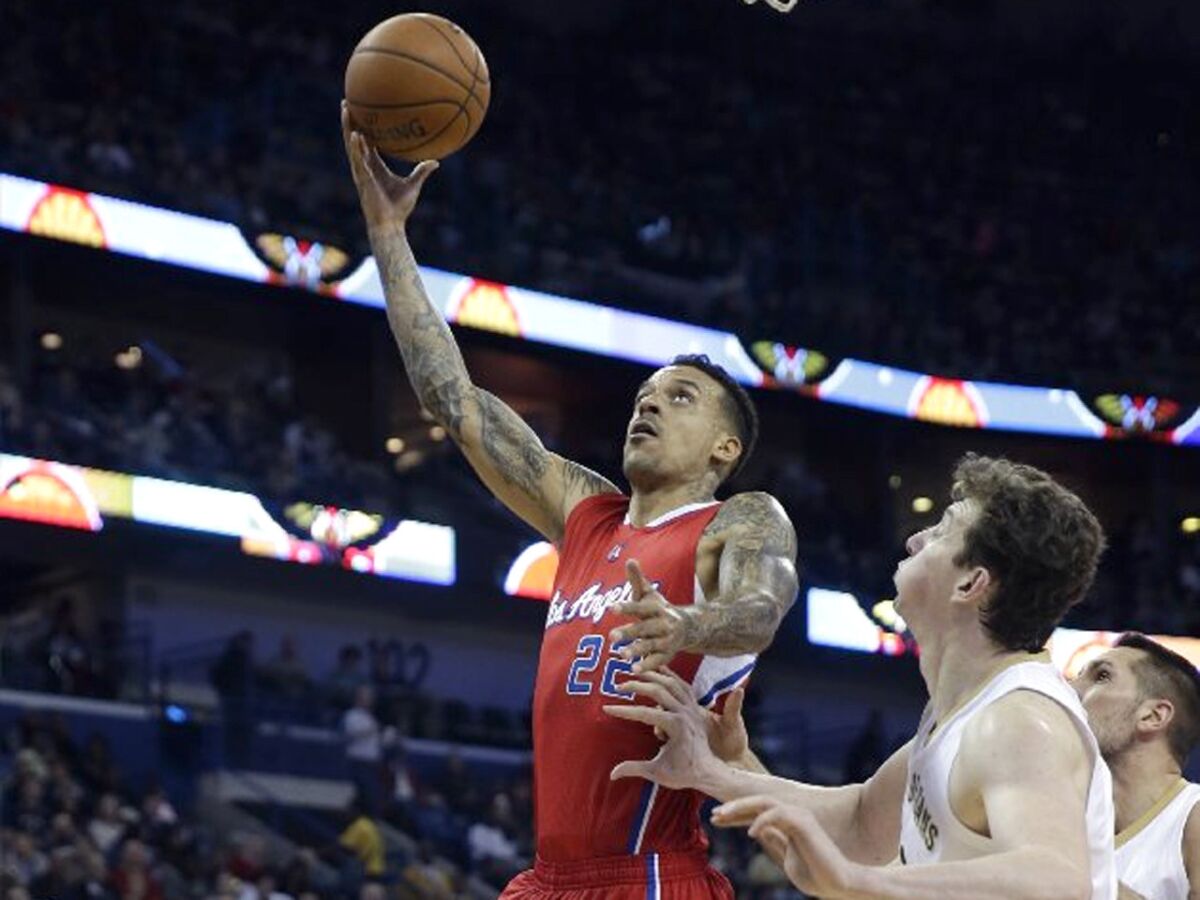 Reporting from New York —
The Clippers needed a jolt after a bad loss, so Matt Barnes did what comes naturally.
He reached for his cell phone.
"The infamous group text," Barnes said, smiling.
Barnes usually likes to dispatch profane jokes or random pictures of people who look like his teammates, but the small forward figured some motivation was needed after the Clippers lost to the short-handed New Orleans Pelicans on Friday.
His message to his teammates was simple: They had let a game get away and needed to refocus 24 hours later against the defending NBA champion San Antonio Spurs.
"I just told everybody to lock in and get ready to go," Barnes said of his text.
The Clippers did just that Saturday night at San Antonio, playing perhaps their most crisp game of the season during a 105-85 victory. They outrebounded the Spurs by 20 and held the star trio of Tim Duncan, Tony Parker and Manu Ginobili to a combined 18 points.
Interestingly, Barnes may have been the only Clipper to not heed his message. He missed all six shots and struggled to defend Kawhi Leonard (24 points).
But his teammates more than compensated, with Blake Griffin and Chris Paul combining for 51 points and multiple contributors making plays off the bench.
"We were sick about that loss [Friday] night," Griffin said. "So I think it was just the mindset of everybody. Matt sent a text, but it's not just what's said, it's what's actually done and we responded."
The Clippers' group text started as a way to dispense mundane pieces of information such as when and where team meals and practices will be held. Barnes didn't want it to stop there.
"I just started posting funny pictures of people I thought looked like other people and it started going from there and now everyone kind of does it and says this is someone and someone else," Barnes said. "It's all in good spirit and we have the whole team dying in laughter daily."
Said Griffin: "There's 10 to 15 a day that are hilarious. Matt is always cracking jokes on people. So if you don't want to get cracked on, just don't say anything about Matt."
What's the funniest thing someone has texted?
"A lot of it's inappropriate, so I can't really say," Barnes said. "It's all R rated. We really take low blows at each other, but it's all in good fun and usually everyone responds and everybody laughs.
"Most of the time it's joking but people put motivational stuff up there all the time. I just think every once in a while you need to be reminded" what's important.
Chuck-it list
Jamal Crawford has had reason to be extra chatty with some of his basketball peers.
The shooting guard recently passed Clippers assistant Sam Cassell on the NBA's all-time scoring list and is one three-point basket away from topping Rashard Lewis for No. 8 on the all-time three-point list. Crawford and Lewis, who each has 1,787 three-pointers, once co-hosted a charity softball game in Seattle.
"I had to give Sam a hard time because I passed him the other day," said Crawford, who has scored 15,682 points, putting him at No. 110 all-time. "It's fun to see the names for sure."
Up next on the three-point list is former Clippers teammate Chauncey Billups, who made 1,830. Billups may be hearing from Crawford soon.
"When I get within range, a game or two," Crawford said, "I'll tell him."
CLIPPERS VS. BROOKLYN
When: 4:30 p.m. PST, Monday.
Where: Barclays Center.
On the air: TV: Prime Ticket; Radio: 980, 1330.
Records: Clippers 33-15, Nets 18-28.
Record vs. Nets: 1-0.
Update: The Clippers throttled the Nets by 39 points Jan. 22 at Staples Center in one of their easiest victories of the season. They could use another breather with games against Cleveland, Toronto, Oklahoma City and Dallas remaining on their Grammy Awards trip.
---
Get our high school sports newsletter
Prep Rally is devoted to the SoCal high school sports experience, bringing you scores, stories and a behind-the-scenes look at what makes prep sports so popular.
You may occasionally receive promotional content from the Los Angeles Times.