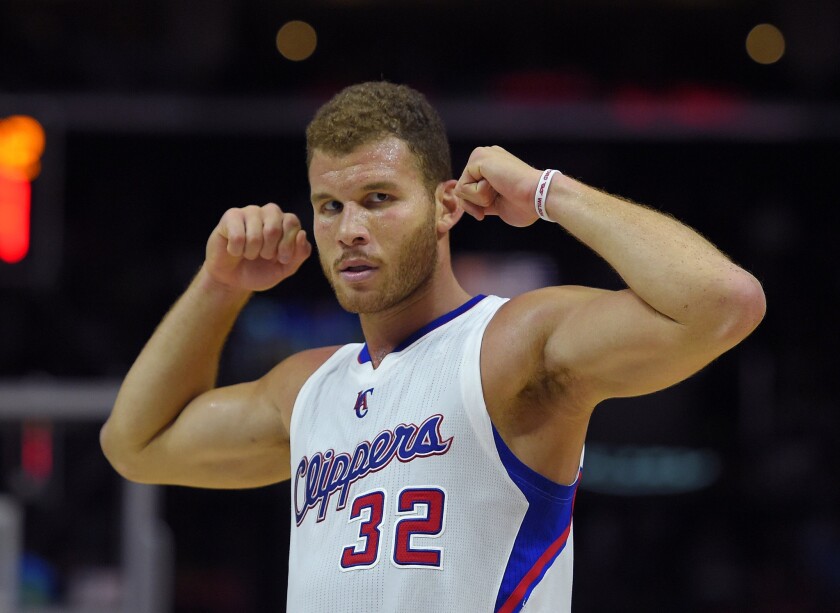 Reporting from MINNEAPOLIS —
Blake Griffin has intensified his workouts since undergoing elbow surgery and could return as soon as Sunday, which would qualify as perfect timing for the Clippers and the NBA.
The Clippers play the Golden State Warriors, the team with the best record in the Western Conference, that day in a nationally televised game at Oracle Arena in Oakland.
"I guess it's possible, yeah," Clippers Coach Doc Rivers said Monday when asked whether Griffin could play against the Warriors exactly four weeks after learning he would need surgery to remove a staph infection from his right elbow.
Rivers described Griffin as going "full-tilt" in his workouts but cautioned that team doctors would ultimately need to clear the All-Star forward before he was allowed to play again.
If he returned Sunday, Griffin would have sat out 11 games. The Clippers also play Monday against Minnesota at Staples Center.
Griffin was averaging a team-leading 22.5 points, 7.5 rebounds and 5.1 assists per game when he was first sidelined Feb. 9. The Clippers have gone 7-3 in his absence.
Rest of the story
The Clippers were playing the team with the worst record in their conference Monday night, so Matt Barnes figured he could sit this one out.
The small forward who had strained his right hamstring the previous day against the Chicago Bulls decided it would be best not to return too quickly and risk aggravating his injury.
"No disrespect to the Timberwolves," Barnes said before the Clippers' 110-105 victory at Target Center, "but if this is the playoffs, I think I would play."
Barnes said he would reevaluate his status before the Clippers played the Portland Trail Blazers on Wednesday at Staples Center. If he sat that game out, he would have had six days off by the time the Clippers play their next game Sunday against Golden State.
Double standard?
Barnes tweeted that if he had kicked Cleveland superstar LeBron James, the NBA would try to put him in jail, a reference to Barnes' thuggish reputation in the league that he thinks has been held against him.
"I might have been making my one phone call to you guys right now," Barnes quipped to reporters.
Houston's James Harden was suspended one game after kicking James in the inner groin Sunday during the Rockets' victory over the Cavaliers.
Etc.
Clippers shooting guard Jamal Crawford did not play in the second half against the Timberwolves after sustaining a right calf bruise early in the second quarter. He was limping around the locker room after the game. … Chris Paul's 14 assists against the Timberwolves gave him 6,724 for his career, moving him past Kevin Johnson (6,711) for No. 17 on the NBA's all-time list. Up next on the list is Muggsy Bogues, who had 6,726.
---